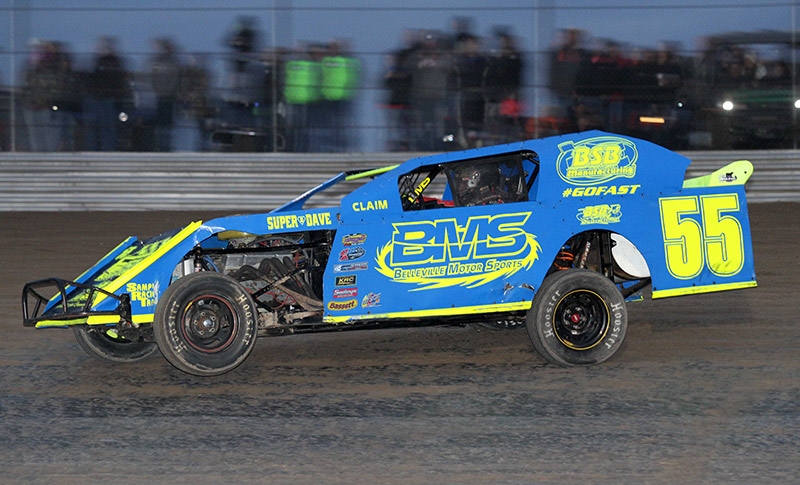 BELLEVILLE, Kan. ­– After an uncharacteristic 2014, Tyler Frye got back into a chassis he'd had so much success with in the past.
The result was 33 feature wins, three track titles and his career first Karl Chevrolet Northern SportMod national crown.
"After last year, there was a huge feeling of relief. We were all in shock for a while," Frye admit­ted. "We were pretty sure we'd won the national championship but it was nerve wracking waiting for the official call from IMCA."
The Belleville, Kan., clipper had averaged better than 20 feature wins each of the five previous seasons before winning just 14 times last year.
"We used the same shocks and setup that we had before but we just never got the car to work for us," he explained. "So we went back to a DMR by BMS car this year, ran second on opening night of Spring Nationals at Beatrice and won the second night. We knew we were onto something and just had to fine tune it a little."
After getting his 10th win in late May, at U.S. 30 Speedway, Frye and his team began a more ear­nest pursuit of the national title.
"What we've always done is make sure we didn't have any mechanical DNFs. The time you spend in the shop is as important as when you're on the track," said Frye. "We checked every single nut and bolt every night and that paid off for us in the end."
The attention to detail paid off with his single-season career best feature win total – Frye leads all drivers in the division with 156 for his career – and track championships at Oberlin Speedway, Thunder Hill Speedway and U.S. 30.
"Looking back at everything I accomplished, I owe a lot to my dad, family and a lot of friends," he said. "I wouldn't have been able to drive a race car without everything they've done for me."
A 13-time winner at Columbus, Frye won another nine outings at Mayetta and six shows at Be­atrice.
"One of the highlights of the season has to be getting my 30th win (on Aug. 30) at U.S. 30," Frye said. "That was something I'd never done before so it was special to pick that up for the first time."
He ended the point season with back-to-back wins at Fall Nationals in Beatrice, then continued his special events streak with a career fifth Fall Nationals title at RPM Speedway before sweeping Thunder on the Hill features at Mayetta the following weekend.
"I was able to win races three weeks in a row that you're usually just happy to qualify for," Frye said. "I don't know if we could finish the season any better. The only way I could do that is by win­ning the Duel in the Desert at Las Vegas."
While there's been scuttlebutt about what division he'll be racing in, Frye made it clear that noth­ing has been set in stone for 2016.
"We haven't decided anything. The Modified is a wait and see," he said. "Right now we want to enjoy what we accomplished this season."
Starts-60 … Wins-33 … Additional Top Fives-21
HIS CREW: Wife Diana, son Trevin, father Troy and stepmother Berdina Frye, Dave Wilber and Stacy Saip.
HIS SPONSORS: Belleville Motorsports, the Vanous family, KR92 Radio, Purple Splash, Jensen Earthworks, Tammy Frye, Jensen Ag Service and Wicked by Design, all of Belleville; BSB Manufacturing of Wellington; Jeff Cyphers of Concordia; EngineQuest of Las Vegas, Nev.; Stephenville Starter of Stephenville, Texas; Sample Rac­ing Transmissions of Hastings, Neb.; Fisher Race Engines of Oshkosh, Wis.; the Myers family of Axtell, Neb.; Jake Olmstead of Kearney, Neb.; Hoops Seed of Byron, Neb.; Icon Pistons of Carson City, Nev.; High Velocity Heads of Knoxville, Tenn.; and Dirt Defender Mud Plugs of Red Oak, Texas.