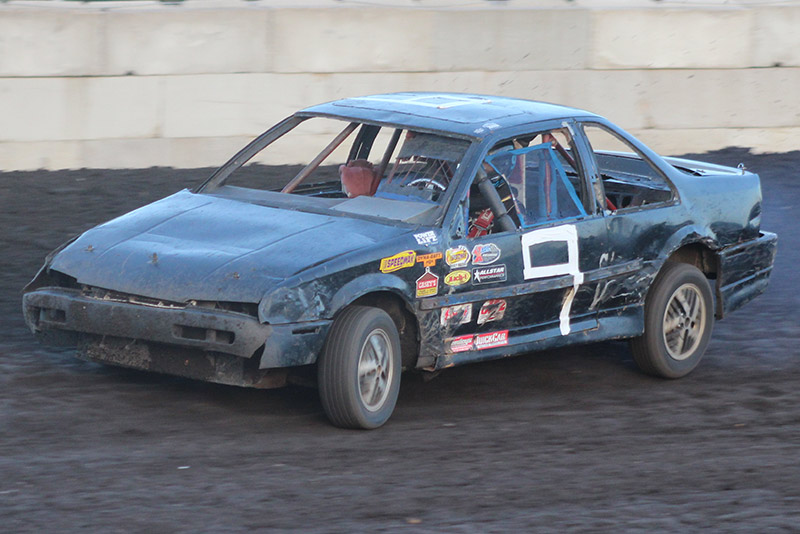 MANKATO, Minn. – It's hard to believe, but Nate Coopman had an even better season in 2015 than he did in 2014.
The Mankato, Minn., driver won a second straight and career third Mach-1 Sport Compact na­tional championship, 48 of 62 starts ­– including 25 straight during one early stretch during the point season, and track titles at Arlington Raceway, Fairmont Raceway, Nobles County Speed­way and Redwood Speedway, plus Allstar Performance Minnesota State and North Star Touring Series crowns.
The icing on the cake, however, was a convincing win at the IMCA Speedway Motors Super Nation­als fueled by Casey's. For all his many accomplishments in the 4-cylinder class, Septem­ber success at Boone Speedway had eluded Coopman until this year.
"Winning Super Nationals was the highlight of my season by far. That was my main goal from the start of the year," he said. "I broke while leading with five to go at Boone last September and that was still on my mind late in the race this year."
"I was still shaking when I got out of the car," Coopman continued. ""I don't thinking winning Super Na­tionals actually sank in until the next day."
Coopman has set the winning standard for all IMCA drivers with a total of 102 checkers over just the past two seasons. He's the all-time division leader with 193 checkers and 15 local track and special series titles.
Ironically, Coopman's fifth season in the class started with a DNF at Beatrice Speedway's Spring Nationals and a 13th place showing at the Frostbuster in Mason City.
"We fought with a new car early in the season and just couldn't get things figured out," he ex­plained. "But after those first two races I was third the next night out and we figured that was a start."
Back-to-back wins and a second place finish followed. Coopman then reeled off an amazing 25 straight victories, ending in the winner's circle every night from May 9 to June 27.
"We didn't even worry about the winning streak. I tried to keep that out of my mind and just focus on the next race," said Coopman, who posted streaks of nine straight and then seven straight wins later in the year. "It helps that my dad (Jerry) raced a Stock Car for so many years. My car gets treated just like a Stock Car."
Coopman did most of his winning at Arlington, on 12 occasions during the point season. He also had 10 wins at both Kossuth County Speedway and Redwood Speedway, and another nine at Fairmont.
Coopman first became a national champion in 2011 and remains the only driver to have won that title more than once.
"Getting the Super Nationals title was tops on our to-do list," Coopman said. "It wasn't until after we'd done that I even realized we had the national title all but locked up."
Starts-62 … Wins-48 … Additional Top Fives-9
HIS CREW: Parents Jerry and Kim, grandfather Jerry Coopman Sr., Robby Severson, Chase Brocker, Ray Wibstad, Stephanie Forsberg and Neil Forsberg.
HIS SPONSORS: Mankato Crank and Chrome and Blaschko Building Supply, both of Mankato; Dan Knish and Knish Kustomz Automotive and Upholstery of Kilkenny; and Joe Bunkofske and Racers Against Cancer, Arm­strong, Iowa.
30