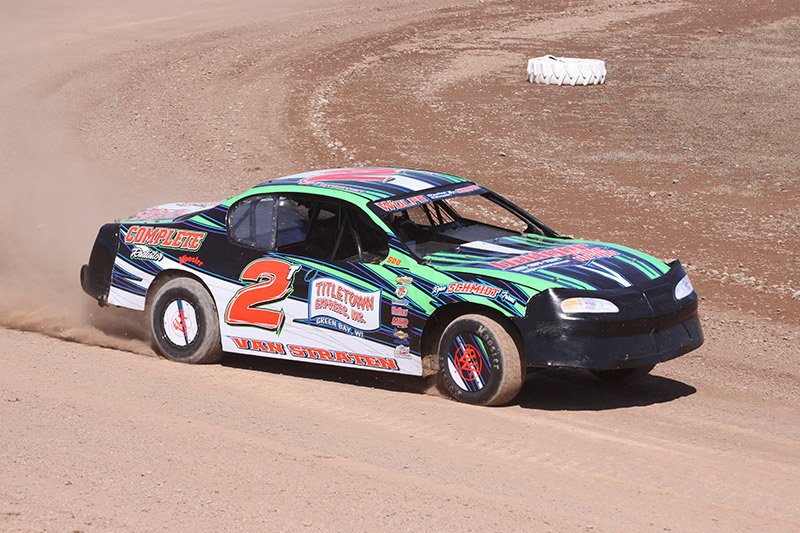 HORTONVILLE, Wis. ­– Travis Van Straten's championship season is proof that hard work and patience pay off.
So does a little luck.
Thirty-four feature wins, including an incredible 11 straight checkers at Shawano Speedway, paved the way for Van Straten's drive to the IMCA Sunoco Stock Car national crown.
"A lot of times it seemed like someone upstairs wanted us to win this thing. There were definitely times when someone was watching over us," said Van Straten, citing a main event won despite a loose wheel as one example. "There were nights when I had to ask myself 'Is this really happen­ing?' usually I'm the guy who should have won but then something went wrong at the last minute."
There were few last-minute disappointments to speak of in 2015. Van Straten completed a rare Friday, Saturday, Sunday sweep at OshKosh SpeedZone Raceway, Shawano and Seymour Speed­way in July, a month that saw him win eight of 11 outings.
With the national points chase narrowed to a battle with five-time and defending champion Mike Nichols, the Hortonville, Wis., hotshoe won seven of his last nine starts.
The Shawano, OshKosh and Seymour track titles accompanied EQ Cylinder Heads Northern Re­gion and Allstar Performance State crowns in Van Straten's title quest.
"There were a couple nights early in the season when I beat (two-time national champion) Bran­don Czarapata, who has helped me out a lot," he said. "That gave me the confidence that I could be a national champion."
"We always focused on the race at hand and didn't worry about national points. We knew track championships and bonus points were important and that we had to be fast every night," Van Straten noted. "One flat tire can keep you from winning a track championship, especially here in Wisconsin."
He made it through 53 home state starts with just a single DNS. Van Straten's only flat tire of the entire year came on the first night of the season-ending special at Marshalltown and he got right back on track with the second night checkers.
"I learned from last year and didn't push so much this season. I won 18 times last year but I put myself in a vulnerable position racing three-wide a lot of times," he said. "This year I didn't try to get out front right away. I'd wait a lap or two and see what happened. I didn't put the car in places it didn't need to be."
Van Straten and his wife Gina spent much of the summer driving to or from work, the race track and their sons' baseball games. Oldest son and crew chief Trevor may be in the local street stock class at Seymour in 2016, so Van Straten may be paring back his own racing schedule.
Starts-55 … Wins-34 … Additional Top Fives-16
HIS CREW: Wife Gina, sons Trevor and Trey, Jerry and Konnor Wilinski and their crew, Justin Jacobsen, Brandon Czarapata, Joe White and A.J. Solem.
HIS SPONSORS: Titletown Express and Arrow Auto Parts & Sales, both of Green Bay; Complete Radiator, Badger Race Warps and Matt's Welding, all of Appleton; Ryan Schmidt Farms of Hortonville; Hartsworm Auto Salvage of Center Valley; Solem's Swine Farm and number one fan Tiffy Henn, both of Black Creek; and Wolfe Racing Chassis by Czarapata of Rubicon.