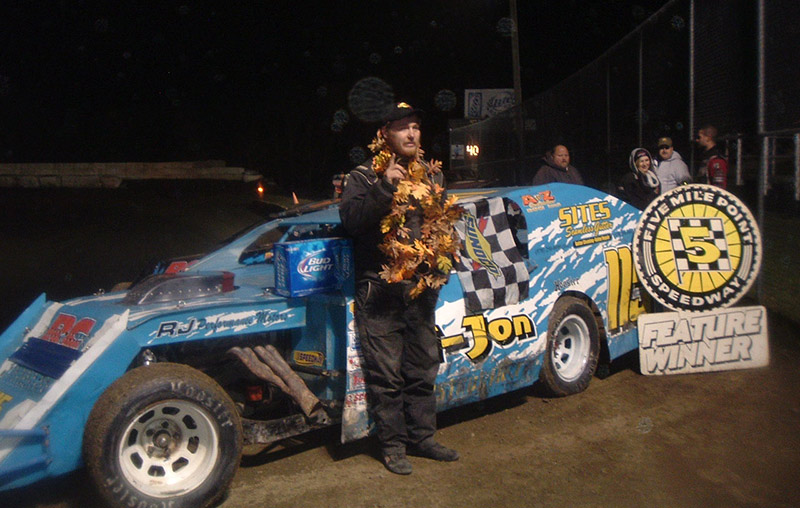 KIRKWOOD, N.Y. (Oct. 30) – Brad Sites won his second Empire State Series feature of the season while his brother Eddie wrapped up a tour career third title with a runner-up finish Friday at Five Mile Point Speedway.
The Xtreme Motor Sports IMCA Modified win paid $400.
Brad Sites started outside the front row, ran side-by-side with defending series champion James Cornell for six circuits and then motored away to the checkers.
He built a sizable lead before the third and final caution came out late in the 20-lapper.
"The track was nice, tacky and black, just the way my car likes it," he said. I don't think anyone had anything for us until after that last caution. I looked and there was Eddie, and I had to hold him off for the win."
Brad Sites' first win this season came in May at Skyline Raceway; the Kirkwood checkers were his Empire State Series career fourth. Eddie Sites' first two Empire State Series titles came in 2011 and 2012.
Chris Fleming, the 2010 series champion, was third. Gary Roberts and Matt Cole completed the top five.
Feature results ­– 1. Brad Sites; 2. Eddie Sites; 3. Chris Fleming; 4. Gary Roberts; 5. Matt Cole; 6. Tony Harris; 7. Will Ward; 8. Tyler Stoddard; 9. Rodney Morgan; 10. Nicole Spalding; 11. Mike Stoddard; 12. Bill Ward; 13. Brian Steigerwald; 14. James Cornell; 15. Brad Smith; 16. Ray McClure; 17. K.C. Cole; 18. Bobby Maynard.