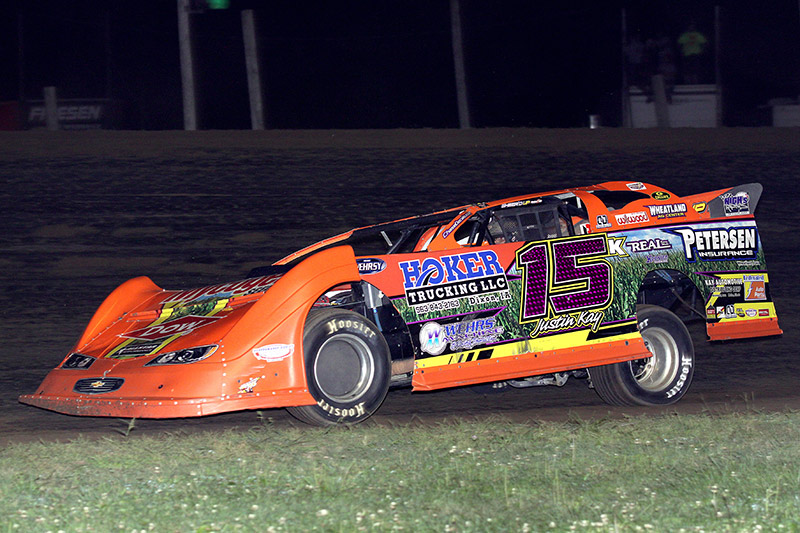 WHEATLAND, Iowa – Justin Kay won 24 feature events, his third straight IMCA Late Model national championship and his second straight Deery Brothers Summer Series crown this season.
And none of those accomplishments even got a mention as his highlight of 2015.
Kay and his wife Megan became parents to daughter Kayleigh, born on April 30 … just three days after the start of the weekly point season.
"Being a parent is fun," said Kay, enjoying more nights at home with now six-month-old Kayleigh. "She's figured out how to get up on all fours and is ready to start crawling."
After some small steps – and his only DNF of the season – early on, the Wheatland, Iowa, driver hit the track running.
He won 17 of just 29 weekly starts and seven of 17 Deery Series features
"We were going to go to the first few races and see how things played out," said Kay, who didn't have defending any of his 2014 titles in mind at the time. "We kept winning so we kept racing."
Six of his weekly wins came at Dubuque Speedway, where Kay paced point standings for a second consecutive season. He was also a six-time winner at Davenport Speedway.
His worst finish of the weekly point season was seventh; Kay pulled in with an overheating engine in the April 4 Deery opener at Crawford County Speedway, then regrouped and went on to dominate the rest of the 29th annual tour.
"I don't think we had a flat tire all year. The biggest thing is to finish races and what we accomplished this season definitely has a lot to do with the time we spent in the shop," he said. "We switched car brands this year and went to a Gheer'd Up MasterSbilt. I think the success we had shows a lot of what (crew chief) Tyson (Gheer) can do and what we can do as a team."
Kay flirted with tying the Deery Series record of four straight main event wins but was just as pleased with the success other Gheer'd Up drivers enjoyed during the tour.
"No race in particular stood out for me. There were quite a few good ones," he said. "The biggest thing with the Deery that Tyson had built cars that Jeff Aikey, Tyler Droste and Jason Rauen won with in the series. I was glad to see Tyler get his first Deery win and get rookie of the year."
National runner-up Matt Ryan collected three track titles, the Allstar Performance Illinois state title and 11 feature wins in another Gheered up ride.
"It was exciting to see him do that well," said Kay, who'd passed Ryan for the national points lead after getting his 13th and 14th wins of the year in early August.
Kay joined Ray Guss Jr. as the only drivers to win three consecutive national Late Model crowns, and to earn national and Deery titles in back-to-back seasons.
"It's nice to match what Ray did," said Kay. "It was just a very good year for us."
Starts-29 … Wins-17 … Additional Top Fives-11
HIS CREW: Parents and car owners Ricky and Brenda Kay, Tyson Gheer, Scott Fitzpatrick and cousin Jason Kay.
HIS SPONSORS: Kay Farms and Elevator, Wheatland Ag Center, Gheer'd Up, Petersen Insurance, Wheatland Auto Body, JR's Place Bar & Grill and HeineeJo's Bar & Grill, all of Wheatland; Dow Agri-Science and Abby Inglis of Wyoming; Hoker Trucking of Dixon; Grove Automotive of Dubuque; Doug Nigh's RPMS of Maquoketa; Allstar Performance of Watervliet, Mich.; Performance Bodies of Cedar Falls; JRi Shocks of Mooresville, N.C.; Sweet Manufacturing of Kalamazoo, Mich.; Wilwood of Camarillo, Calif.; Wehrs Machine of Bangor, Wis.; Chase Race Decals of Ames; Real Wheels of Independence; Callies Crankshafts of Fostoria, Ohio; Dynamic Drivelines of Des Moines; and Mycogen Seeds, Cary Gruenwald of Lost Nation.