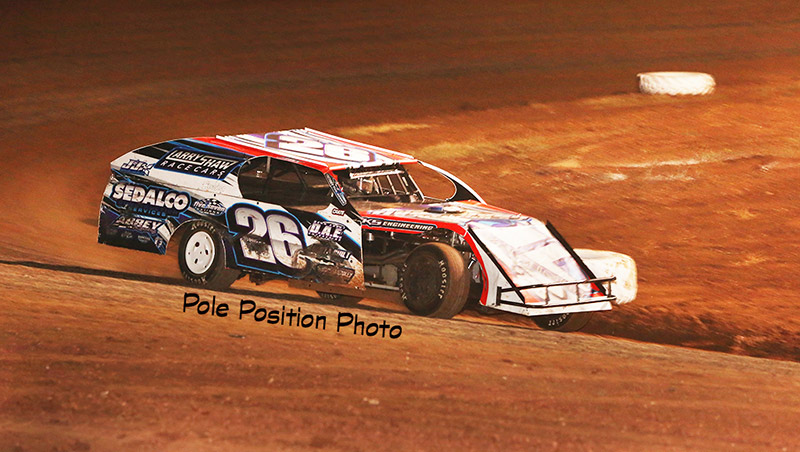 ABILENE, Texas (Oct. 18) – After putting his Xtreme Motor Sports IMCA Modified in victory lane, Dean Abbey put $3,000 in the bank.
Abbey took the lead from Josh McGaha after midway at Abilene Speedway's Ryan Bard Memo­rial Southern Challenge and led to the end of the Sunday headliner.
He'd started the 30-lapper from inside row two.
"We knew we had a good car. I just tried to stay close to him (McGaha)," Abbey said. "He was good but he finally slid up just high enough and left me enough room to get by."
After a complete restart, the race saw just one caution. Abbey had one lapped car behind him and was coming up on another coming to the checkers.
McGaha, a former race winner and now four-time track champion at Abilene, was the runner-up. Charles Brewer, Chris Elliott and Fred Wojtek completed the top five.
"We wanted to end our Modified season on a high note," said Abbey, who'd won the Southern SportMod feature at Abilene in 2011 and is already on the Fast Shafts All-Star Invitational ballot for next year. "This was a great way to do it."
Other winners at the 21st annual event were Steve Whiteaker in the Scoggin-Dickey Parts Center Southern SportMods, Matt Guillaume in the IMCA Sunoco Stock Cars and Andy Roller in the IMCA Sunoco Hobby Stocks.
Making his first competitive visit to Abilene and the Southern Challenge, Whiteaker started from the pole and led every time around the track in the 30-lap Southern SportMod main.
"You couldn't get a better or luckier weekend that we had. Everything went just right for us," he said following the $2,500 feature win.
Piloting a Steve Hayes-owned ride, he'd won his Friday heat race from fourth starting, then drew the pole and topped the qualifying feature despite late contact with a lapped car.
Cautions kept slower cars from becoming a factor in the main event. Whiteaker beat G.W. Egbert IV to the stripe by four car lengths in a green, white, checkered finish.
Scored next were Justin Shaw, Dustin Robinson and Shane Priddy.
Another driver enjoying late-season success, Guillaume had run second most of the way and was in the right place in the right time when leader Dillon Smith lost the handle on the final turn
The Southern Challenge runner-up each of the last two years, Guillaume was quick to capitalize and pocketed $2,000.
David Phillips and Dennis Bissonnette also drove by. Smith ended in fourth and J.C. Howell was fifth.
"It was kind of a lackluster weekend for us until the last 200 feet or so," Guillaume said. "I felt bad for Dillon. We were just able to take advantage when it happened."
Roller recorded his career third and second straight Southern Challenge Hobby Stock victory. He passed Tommy Phillips for the lead on lap six and beat Michael Maraschick to the finish by a cou­ple car lengths following a late restart.
"Winning the Southern Challenge never gets old. The first time (2011) was my first win in a big race so that was special," he said. "The Southern Challenge is the hardest event to win in Texas."
Roller earned $1,000. Phillips, Kade Ogle and Eddie Ledbetter were third through fifth, respec­tively.
Modifieds ­–­  1. Dean Abbey; 2. Josh McGaha; 3. Charles Brewer; 4. Chris Elliott; 5. Fred Wojtek; 6. Kelly Allen; 7. Vince Ogle; 8. Danny Hogue; 9. Pat McGuire; 10. Danny Patterson; 11. Robby Edwards; 12. Donald Banker; 13. Mike McCarthy; 14. John Gober; 15. Justin Cass; 16. Neal DeBord; 17. Eric Hughes; 18. Joe Spillman; 19. Jason Batt; 20. Tommy Fain. 
Southern SportMods –  1. Steve Whiteaker; 2. G.W. Egbert IV; 3. Justin Shaw; 4. Dustin Robin­son; 5. Shane Priddy; 6. Bradley Poor; 7. Robby Carter; 8. Douglas Gillespie; 9. Shane Hoefling; 10. Doug Easterling; 11. Robert Crabtree III; 12. Tyler Fain; 13. Kenneth Graves; 14. Robert Scrivner; 15. Kyle Wisdom; 16. Jeffrey Abbey; 17. Rodger Pierce; 18. Allen Montgomery; 19. Steve Hayes; 20. J.C. Howell.
Stock Cars –  1. Matt Guillaume; 2. David Phillips; 3. Dennis Bissonnette; 4. Dillon Smith; 5. J.C. Howell; 6. Robert Barnett Sr.; 7. Travis Sutherlin; 8. Cary White; 9. Billy Wade; 10. Tyler Muir­head; 11. Allen Bradley; 12. Kirk Martin; 13. Brandon Hertel; 14. Michael Tennison; 15. Westin Abbey; 16. Mike Easterwood; 17. Joe Spillman; 18. Bud Ohliger; 19. Jason Batt; 20. Jordan Lath­ram. 
Hobby Stocks –  1. Andy Roller; 2. Michael Maraschick; 3. Tommy Phillips; 4. Kade Ogle; 5. Ed­die Ledbetter; 6. Gerald Spalding Sr.; 7. Gerald Spalding Jr.; 8. Ashton Hayes; 9. Donald Phillips; 10. Michaela Scott; 11. Jamie Herring; 12. Rodney Sparks; 13. Vavette MacCarthy; 14. Wayne Chadwell; 15. Jeremy Oliver.