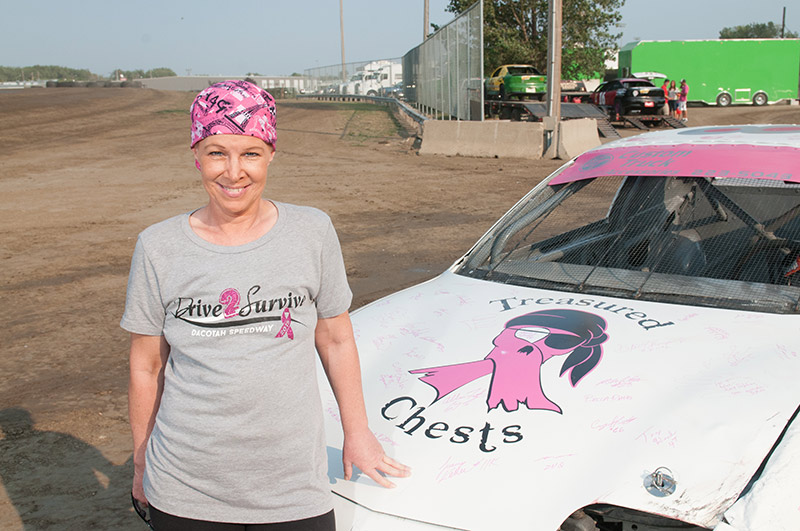 MANDAN, N.D. – Every night at the track is special for a race car driver.
Dacotah Speedway's seventh annual cancer awareness and fundraising Drive to Survive Night was especially so for Mach-1 Sport Compact driver Nylee DiMeo.
The Aug. 21 show at Mandan marked the first time this season the diminutive Dimeo has raced this season. Diagnosed with breast cancer in November of 2014, she returned to the track and won her heat race just three and a half weeks after undergoing a double mastectomy.
Fellow drivers Jason Berg and Stan Thompson built the car, painted white and decorated with pink handprints, she raced that night.
"My car is still on a trailer. I cried because they had a car done for me," she said. "I told them I just needed a doctor to clear me and I was going to be out there. It meant a lot to be back with the fans, drivers and track officials."
Younger sister to veteran wheelman Joren Boyce, DiMeo has raced in the thunder-4 and later Sport Compact class at hometown Dacotah Speedway and around North Dakota for seven years.
Mandan's 2010 Dan Herman Memorial Award recipient, she finished fifth in the point standings each of the next two years. The 2013 season saw DiMeo get the track rollover of the year award on an eventful Friday night that ended with her car nicknamed Pancake.
DiMeo's 2015 race plans were put on hold following a CAT scan that revealed her cancer had spread and doctors weren't sure how much longer she'd live.
Her first round of chemotherapy at the Bismarck Cancer Center ended this March, her second in June.
Dacotah Speedway, family and friends hosted a benefit for DiMeo this spring. Her car has been on display at the cancer center in Bismarck, which receives proceeds from Drive to Survive.
DiMeo's fellow drivers wore heels for an awkward fund-raising footrace on the front stretch that evening.
Chance Seely and Jeremy Keller both donated their share of the evening's purse toward DiMeo's medical expenses. Josh Roehrich raced with a special hood, decorated with her name and Drive to Survive that was auctioned and went to DiMeo's mother-in-law Julie.
"It was a very emotional night," said DiMeo. "Our Sport Compact class is tight. We look out for everybody."
She started her first round of radiation on Sept. 1, already optimistic about the 2016 season.
"I'm scared but I'm tough. I'm tougher than I thought I'd be," said DiMeo,  "My husband Jamie and my kids have been wonderful. The support has helped me be strong."
"A track is family. People really do care and I've seen a lot of that on my journey," she added. "I'm looking forward to coming back next year with a new car."
Donations to the Nylee DiMeo cancer fund can be made at any Starion Banks location in Bismarck.