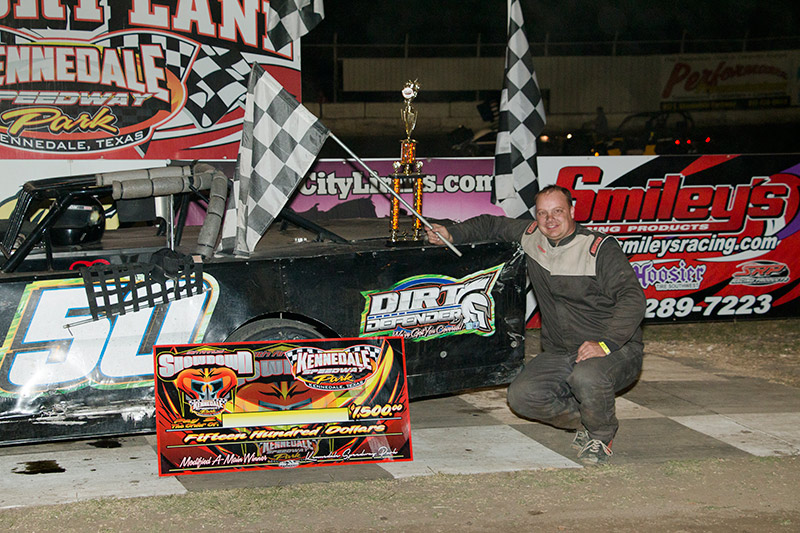 KENNEDALE, Texas (Oct. 3) – Timing was everything for Matt Guillaume.
The leader of the Kennedale Speedway Park Showdown main event for Xtreme Motor Sports IMCA Modifieds, Guillaume left his preferred line to pass a slower car late in the contest, then led Jeff Emerson in the race to the checkers.
"There was a late caution with about three laps to go," said Guillaume, who took home a $1,500 share of the purse, plus a $300 bonus from Chase Allen Motorsports. "There was a lapped car in the same line I was running but I was able to sneak by him in the center if the first set of turns."
The new Fast Shafts All-Star Invitational ballot qualifier, twice a winner during his rookie Modified campaign, was three car lengths ahead of Emerson at the finish. Justin McCoy, Dean Abbey and John Gober completed the top five.
Guillaume had started outside row four in the 25-lapper and was in the lead for good by the fifth circuit.
Chad Wilson repeated his winning ways in the IMCA Eagle Motorsports RaceSaver Sprint Car main while Dennis Bissonnette, runner-up each of the last two years, topped the IMCA Sunoco Stock Car feature.
Jeffrey Abbey led early, then got the front spot back when Jacob Pirkle broke on the white flag lap in the Scoggin-Dickey Parts Center Southern SportMod feature.
All three victories were good for $1,500. Bissonnette also pocketed a $100 bonus from WCH En­gines.
Wilson, the 2015 national champion, started on the pole and led every lap of the Sprint Car fea­ture. He led by more than half a straightaway before catching up with the back of the field; Jeb Sessums made up ground over the last five laps and ended just two car lengths off the pace.
George White, Claud Estes III and Emerson were next across the stripe.
Abbey led the first four laps of the Southern SportMod feature before Pirkle powered past. Abbey had caught up in lapped traffic before a caution came out, then ducked inside and back in front as Pirkle broke on the last lap.
Second went to Jake Upchurch. Luke Fritchen, Tory Yant and Jeremy Carter completed the top five.
Bissonnette was also the flag-to-flag leader, in a contest shortened due to the time limit. Craig Moss looked inside a couple times but couldn't get past and Bissonnette earned his career-first post season special win by five car lengths.
Scored next were Jay Bransom, Westin Abbey and Ryan Powers.
Feature Results
Modifieds – 1. Matt Guillaume; 2. Jeff Emerson; 3. Justin McCoy; 4. Dean Abbey; 5. John Gober; 6. Randy Martin; 7. Matt Martin; 8. Jay Bransom; 9. Demetrius Carter; 10. Josh McGaha; 11. Mitch McMillin; 12. Dillon Pike; 13. Mike McCarthy; 14. Nicholas Littlejohn; 15. Caleb Stone; 16. Austin Carter; 17. David Cook; 18. Karl Rupp; 19. Marvin Skinner; 20. Jack Sartain; 21. Kevin Rutherford; 22. Tommy Williams; 23. Jeremy Willis; 24. George White.
Sprint Cars – 1. Chad Wilson; 2. Jeb Sessums; 3. George White; 4. Claud Estes III; 5. Jeff Emer­son; 6. Bryan Debrick; 7. Justin Melton; 8. Shane Gloeckler; 9. Chase Parson; 10. Michelle Mel­ton; 11. Regan Hawkins; 12. Charlie McDonald; 13. Ryan Hall; 14. Logan Scherb; 15. Josh Haw­kins; 16. Lindell Jenkins Jr.; 17. Nicholas Littlejohn; 18. Kyle Jones; 19. Chris Kelly; 20. Shayle Bade; 21. Tony Dowd; 22. Marcus Thomas; 23. Chipper Wood; 24. Andy Shouse.
Southern SportMods – 1. Jeffrey Abbey; 2. Jake Upchurch; 3. Luke Fritchen; 4. Tory Yant; 5. Jeremy Carter; 6. James McCreery; 7. Rickey Haney; 8. Chris Cogburn; 9. Will Fritchen; 10. Bret Young; 11. Jon Grindstaff; 12. Garrett Rawls; 13. Stoney Gilbert; 14. William Gould; 15. James Skinner; 16. Justin Nabors; 17. Jeff Shepperd; 18. Glen Mohler; 19. Austin Gooding; 20. Jacob Pirkle; 21. Anthony Simcik; 22. John Sliney; 23. Doug Easterling; 24. Bobby Parker.
Stock Cars – 1. Dennis Bissonnette; 2. Craig Moss; 3. Jay Bransom; 4. Westin Abbey; 5. Ryan Powers; 6. Benji Kirkpatrick; 7. Eric Jones; 8. Damon Hammond; 9. Joe O'Bryan; 10. Matt Guil­laume; 11. Roma Garcia; 12. Dustin White; 13. Darryl Campbell; 14. Kevin Flock; 15. Juston McCullough; 16. Justin Fowler; 17. Michael Villanueva; 18. Mark Adams; 19. Roger Hauser; 20. Tobie Talk; 21. Kirk Martin; 22. John Frydrych; 23. Mike Childs; 24. Bobby Parker.