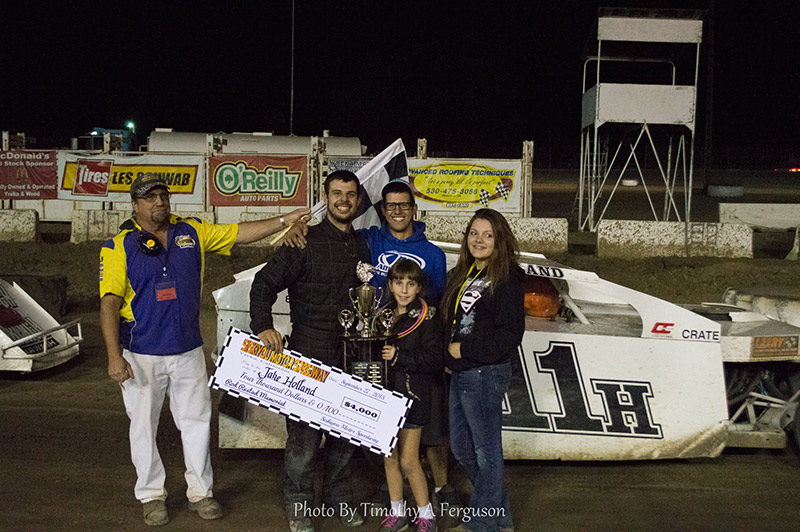 YREKA, Calif. (Sept. 27) – It's a good bet that Siskiyou Motor Speedway will be back on Jake Hol­land's race schedule in 2016.
Holland led the last 12 laps in winning Sunday's Rod Restad Memorial. The $4,000 Xtreme Motor Sports IMCA Modified victory put him on the ballot for next year's Fast Shafts All-Star Invitational.
"It was the first time we'd raced at Yreka," Holland said. "I guess I'm a little biased but I like it there."
He'd started the 50-lapper from inside row two.
Collen Winebarger led the first 30 circuits before giving way to Travis Peery. Holland used a re­start to his advantage, using the bottom line to pass Peery and then leading to the checkers.
The race was red flagged with three to go for a car that went off the backstretch. Holland crossed the stripe ahead of Peery, Monte Bischoff, Mark Wauge and John Campos.
"I was patient and conserved my tires because it was a 50-lap race," he said. "My car came to me at the end and I still had the tires to do it."
Holland got that car, a new GRT, at the start of the season. He won twice, had no finish worse than third in 10 starts at home track Fernley 95A Speedway and was eighth in Southern Oregon Speedway's Lon Skinner Memorial special during the Memorial Weekend.
"It's exciting to win a race like this and be on the All-Star ballot," said Holland, already making plans to race in Arizona early next season.
Jorddon Braaten was the Karl Chevrolet Northern SportMod winner.
Feature Results
Modifieds – 1. Jake Holland; 2. Travis Peery; 3. Monte Bischoff; 4. Mark Wauge; 5. John Cam­pos; 6. Jeremy Richey; 7. Kyle Casson; 8. Collen Winebarger; 9. Jon Debenedetti; 10. Joey Price; 11. Chase Nieman; 12. Troy Foulger; 13. Andy Freeman; 14. Jesse Bailey; 15. Brian Poppa; 16. Robert Ireland; 17. Riley Simmons; 20. Nick Trenchard.
Northern SportMods – 1. Jorddon Braaten; 2. Lenny Toolanen; 3. Mike Medel; 4. Garrett Hamil­ton; 5. Trevor Tiffee; 6. D.J. Bottoms; 7. Cory Biggs; 8. Colton Boswell; 9. Glen Severson; 10. Col­ton Cheffey; 11. Randy Wright; 12. Kyle Pitkin; 13. Doug Franklin; 14. Toby Judd.