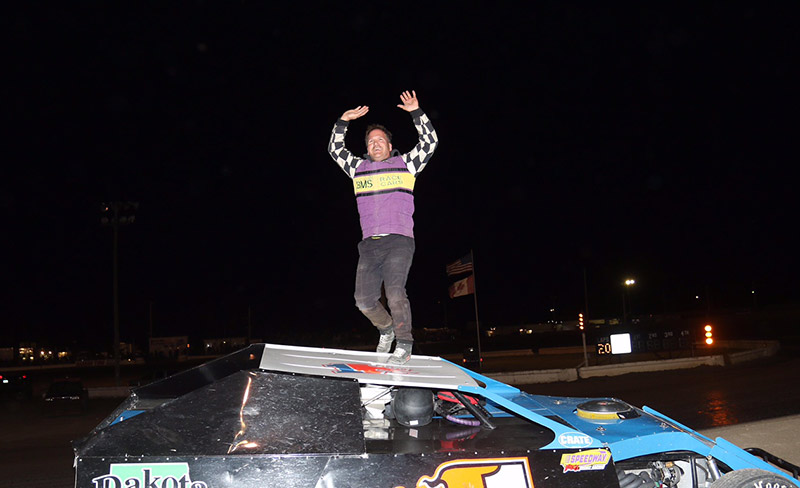 JAMESTOWN, N.D. (Sept. 26) – Mark Dahl hadn't planned to race at Jamestown Speedway's Stock Car Stampede special until seeing that his crew had unloaded and washed his Xtreme Mo­tor Sports IMCA Modified.
He was glad they did.
Dahl led all 25 laps of Saturday's main event after drawing a rare outside pole start. The Fast Shafts All-Star Invitational ballot qualifying victory paid $2,000.
"I've been really busy at work. I wasn't even planning to race at Jamestown," Dahl said. "If it hadn't been for Arlen (Frederick) and Daryn (Schuler), I wouldn't even have been there."
They'd made a quick stop at Performance Auto in Fargo for three off-the-shelf shocks – the price tag was still on the left front in post-race tech – before heading to Jamestown.
Dahl won his Friday night heat after starting last, then stayed in front for the duration of Satur­day's main event despite numerous restarts.
"It got pretty busy on the lower line so I stayed up top and it worked pretty good for me," said Dahl, also a feature winner at Jamestown this spring.
The race ended with a long green flag run that allowed Dahl to stretch his advantage out over 10th starting Troy Heupel.
Dev Malmlov, Mike Johnson and Jeremy Keller, who'd started 12th, completed the top five.
Thirty-six IMCA Modifieds from four states and Canada vied at the 44th annual Stampede.
Feature results – 1. Mark Dahl; 2. Troy Heupel; 3. Dev Malmlov; 4. Mike Johnson; 5. Jeremy Keller; 6. Tracy Domagala; 7. Mike Greseth; 8. Wayne Johnson; 9. Robert Hellebust; 10. Hank Berry; 11. Tyler Hall; 12. Kody Scholpp; 13. Rusty Kollman; 14. John Flory; 15. Brent Pulskamp; 16. Myles Tomlinson; 17. Nolan Olmstead; 18. Tom Silver; 19. Brent Schlafman; 20. Bryce Borgen; 21. Jeff Odden; 22. Marlyn Seidler; 23. Tim Perkins; 24. Josh Eberhart.