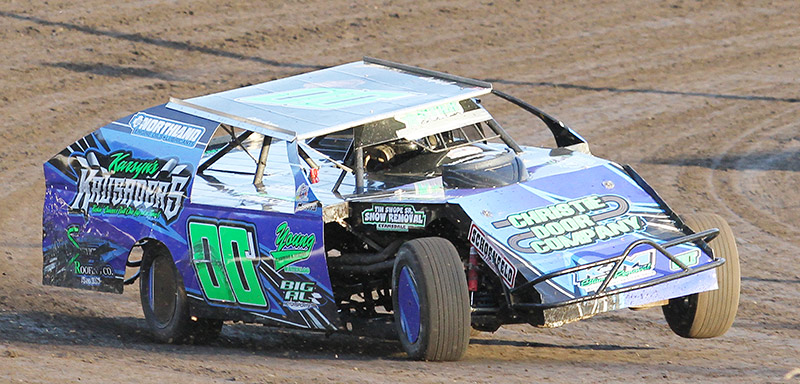 WEBSTER CITY, Iowa (Sept. 26) – A first-time visitor this season and a Webster City regular both took $1,000 feature wins Saturday during Hamilton County Speedway's Fall Challenge.
J.D. Auringer raced his way onto the Fast Shafts All-Star Invitational ballot by topping the tightly contested Xtreme Motor Sports IMCA Modified headliner. Jared VanDeest, meanwhile, checked out on the rest of the field in winning the Karl Chevrolet Northern SportMod main.
Making his first Hamilton County start on the next to the last night of the point season, Auringer started second and chased Adam Larson most of the 20-lapper.
The first caution wiped out the big lead Larson had built up. Auringer made his move to the front with a couple circuits to go, slipping by on the lower line in the second set of turns.
Larson ended in second, two car lengths back, and Mark Elliott drove from 12th starting to third. Clint Wendel and Chris Webb rounded out the top five.
With five local wins already to his credit coming into the night, VanDeest closed 2015 at Webster City convincingly, leading all 18 laps of the Northern SportMod feature.
He'd also drawn the outside row one spot on the starting grid and stuck to the top side of the half-mile oval, winning by half a straightaway.
Next across the stripe were Jake McBirnie, 10th starting Ty Griffith, 16th starting Matt Lettow and Joel Rust.
Twelfth starting Myles Michehl was first to the $750 IMCA Sunoco Hobby Stock checkers.
Runner-up was Matt Byrne. Matt Mundt was third and 21st starting Cody Nielsen was fourth. Hard charger honors for the evening went to Cory Roe, who had started last in the field of 27 and finished fifth.
John Gill was the Mach-1 Sport Compact winner.
Feature Results
Modifieds – 1. J.D. Auringer; 2. Adam Larson; 3. Mark Elliott; 4. Clint Wendel; 5. Chris Webb; 6. Logan Brown; 7. Brandon Leeman; 8. Jason Snyder; 9. Chase Ellingson; 10. Kent Croskey; 11. Tristan Vesterby; 12. Jake Simpson; 13. Matt Picray; 14. Al Wolfgram; 15. Brandon Kern; 16. Devon Havlik; 17. Tommy Belmer; 18. Tyler Prochaska; 19. Jimmy Gustin; 20. Scott Olson.
Northern SportMods – 1. Jared VanDeest; 2. Jake McBirnie; 3. Ty Griffith; 4. Matt Lettow; 5. Joel Rust; 6. Chase Rudolf; 7. Gerald Curry; 8. Mathew Hanson; 9. Jeremy Grantham; 10. Jerid Ratzke; 11. Bill Davis Jr.; 12. Brad Ratcliff; 13. Glenn Gladson Jr.; 14. Jon Peed; 15. Autum Anderson; 16. Nick Duncan; 17. Rick Fasse; 18. Cory Pestotnik; 19. Kyle Germundson; 20. James Aschenbrenner; 21. Brandon Toftee; 22. Tim Judd; 23. Dan Drury; 24. Jack Housley.
Hobby Stocks – 1. Myles Michehl; 2, Matt Byrne; 3. Matt Mundt; 4. Cody Nielsen; 5. Cory Roe; 6. Justin Wacha; 7. Dustin Lynch; 8. Danny Ayers; 9. Tim Barber; 10. Danny Sassman Jr.; 11. Aaron Rudolph; 12. Brandon Schaer; 13. Andy Spellmeyer; 14. Cody Wirt; 15. Tanner Green; 16. Doug McCollough; 17. Brian Derry; 18. Brandon Ost; 19. Shane Aldinger; 20. Seth Janssen; 21. Shannon Anderson; 22. Bryce Sommerfeld; 23. Kyle Dirks; 24. Kyle Schmauss; 25. Allen Dixon; 26. Zach Swanson; 27. Dakota Feickert.
Sport Compacts – 1. John Gill; 2. John Girdley; 3. Oliver Monson; 4. James Peterson.