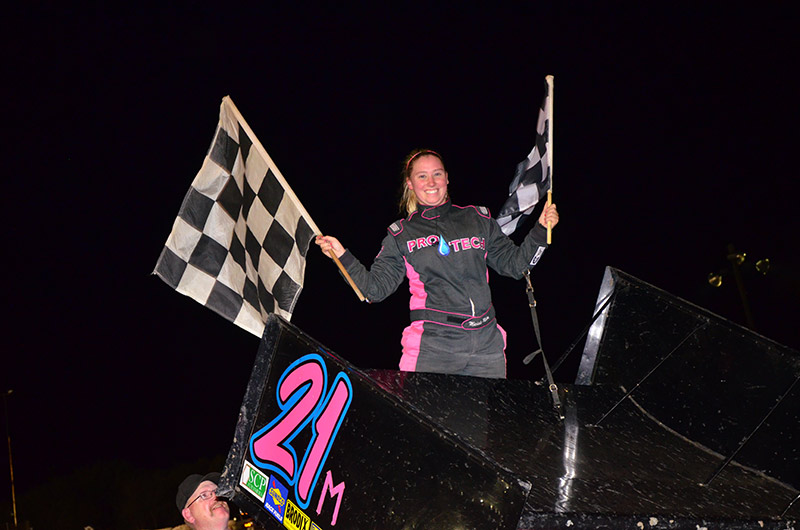 GRAND PRAIRIE, Texas (Sept. 18) – She's racked up a lot of seconds and a lot of thirds in her three-plus IMCA Eagle Motorsports RaceSaver Sprint Car seasons.
Michelle Melton now has her career first win in the class to brag about following the Friday night Sprint Series of Texas show at Mountain Creek Speedway.
Melton passed Russell Shoulders for the lead coming out of turn two on the 19th of 20 laps.
"It was awesome. I was ecstatic," said Melton, who gave the trophy to her dad to put on display in their race shop.
Making just her fourth SST start, Melton took the initial green flag from the 11th spot and steadily worked her way toward the front. She passed Kenny Elwood for second after a caution with three laps left.
"I had to keep my line and stay on the bottom. I prayed I had enough laps to get to the front," Melton said. "The car was set up perfect to get bite coming out of turns on the bottom."
Shoulders ended in second while Jerry Hammock, who had won the previous series race, started last in the field of 20 and finished third. Elwood and Adam Barr rounded out the top five.
Feature results – 1. Michelle Melton; 2. Russell Shoulders; 3. Jerry Hammock; 4. Kenny Elwood; 5. Adam Barr; 6. Matt Etzelmiller; 7. Dustin Woods; 8. Cody Whitworth; 9. Jason Howell; 10. Rodney Henderson; 11. Chase Parson; 12. Mike Herring; 13. Joshua Hanna; 14. Carl Lamb; 15. Craig Woods; 16. Ronnie Henderson; 17. Gary Kelley; 18. Ed Keaton; 19. Matt Holt; 20. Drew Wright; 21. David Munden; 22. Bobby Graham.