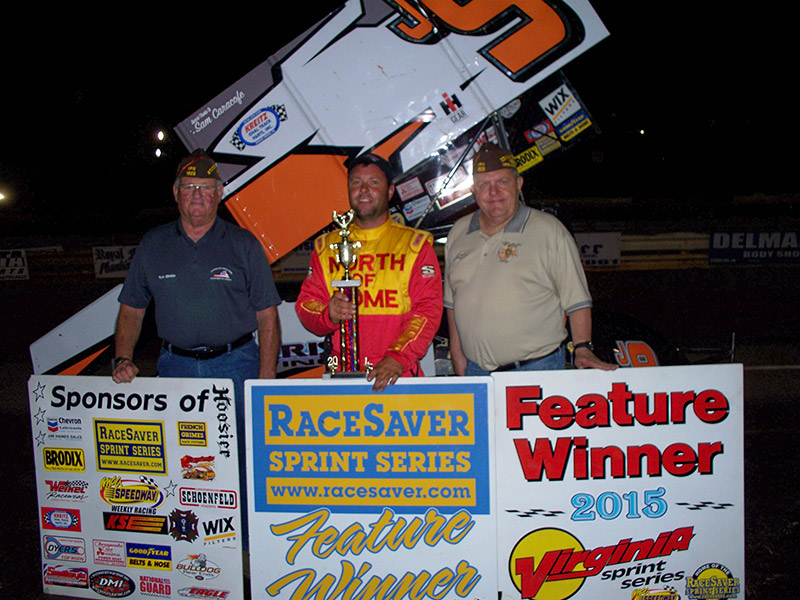 By Jim Haines
WAYNESBORO, Va. (Sept. 19) ­– After taking the checkers on VFW Night at Eastside Speedway, Virginia Sprint Series feature winner Jerald Harris first thanked those who'd served the red, white and blue.
Anthony Linkenhoker and Bill Rice had paced the IMCA Eagle Motorsports RaceSaver Sprint Car field to green for the feature with Linkenhoker out first and Rice right behind with Glenn Worrell third.
On lap three, Worrell went low and into second with Harris working his way up as well. Worrell shadowed Linkenhoker until lap seven went he again used his low move and took the lead. Harris moved to second two laps later.
Harris closed on Worrell with 10 laps to go and the two went at it for two circuits before Harris used the middle groove to go for the lead where he stayed for his fifth win of the year.
Worrell was second and Rice third.
Next it's back to the pavement racing at Shenandoah Speedway on Saturday, Sept. 26. That's the final tour event of the 2015 IMCA Speedway Motors Weekly Racing point season.
Feature results ­– 1. Jerald Harris; 2. Glenn Worrell; 3. Bill Rice; 4. Troy Severin; 5. Mike Leraas; 6. Brian Lawson; 7. Anthony Linkenhoker; 8. Daren Bolac; 9. Kevin Fletcher; 10. Chad Worrell; 11. J.D. Coats; 12. Chris Ware; 13. Cassandra Davis; 14. Tony Harris; 15. Tom Humphries.