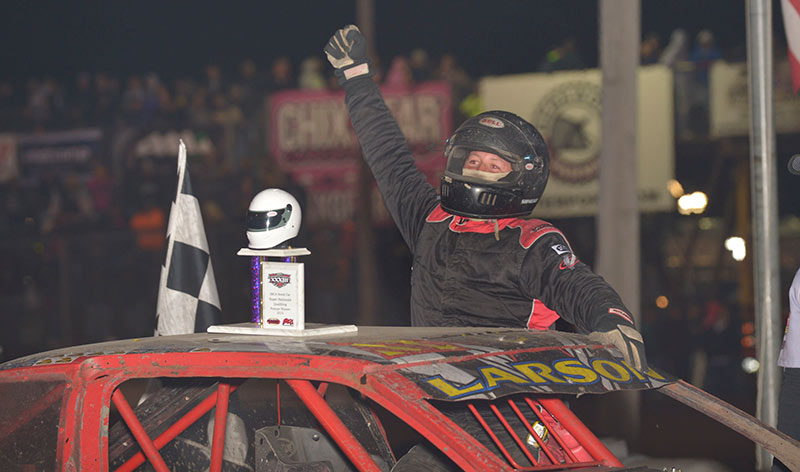 BOONE, Iowa (Sept. 11) – A Larson will start on the front of the outside row in Saturday's IMCA Speedway Motors Super Nationals fueled by Casey's main event.
Which one remains to be determined.
Brothers Dustin Larson and Jeffrey Larson both won their respective qualifying features Friday night at Boone Speedway. They'll square off in what will no doubt be a spirited game of Rocham­beau Saturday afternoon to decide which gets the front row spot.
Dustin Larson started fifth and took the lead after a series of early mishaps, one of which involved mul­tiple cars in front of the flagstand and took 2001 champion Brian Blessington out of the run­ning and sent leader Dave Wickman to the back.
John Heinz took over from that point, leading past midway before Dustin Larson drove by on lap 15. Joe Fory ran third much of the distance and Stefan Sybesma raced from the 30th starting spot to fourth.
Sybesma was disqualified for compression in post-race tech, promoting two-time Stock Car and one-time Hobby Stock champion Donavon Smith.
Jeffrey Larson started from the pole in the second 25-lapper of the evening and led every circuit.
A couple mid-race cautions kept the contest closer but Jeffrey Larson was not challenged by run­ner-up Matt Guillaume.
Kyle Vanover and Gary Bass completed the top four.
Smith makes his ninth consecutive start in the Saturday show. He won Stock Car crowns in 2009 and 2012, as well as the 2004 Hobby Stock title.
Heinz qualified for the fifth time, the Larson brothers and Vanover each for the fourth. Flory, Guil­laume and Bass all qualified for the first time.
Flory's son Dalton also qualified for his first Super Nationals Stock Car main, on Thursday. Guil­laume will be looking for his 100th career win in the division on Saturday night.
1st qualifying feature results – 1. Dustin Larson, Worthington, Minn.; 2. John Heinz, Green Bay, Wis.; 3. Joe Flory, Williston, N.D.; 4. Donavon Smith, Lake City; 5. Jeff Mueller, New London; 6. Michael Jaennette, Kellogg; 7. Nathan Wood, Sigourney; 8. Todd Reitzler, Grinnell; 9. Dan Hansel­man, Algona; 10. Jason Minnehan, Churdan; 11. Kyle Clough, Wallace, Neb.; 12. Travis Shipman, Mason City; 13. Dave Moriarty, Jordan, Minn.; 14. Ron Pettitt, Norfolk, Neb.; 15. Ryan Harris, Hubbard, Neb.; 16. Shay Curtin, Cresco; 17. Jake Nelson, Williston, N.D.; 18. Dave Wick­man, Emmetsburg; 19. Chris Pruitt, Stuart; 20. Andrew Knode, Adel; 21. Jeff Deal, Fort Dodge; 22. Scott Pippert, Elberon; 23. Chris Palsrok, Sibley; 24. Jeff McCollum, Mankato, Minn.; 25. Rus­sell Damme Jr., Waterloo; 26. Todd Inman, Altoona; 27. Brian Blessington, Breda; 28. Jake Mas­ters, Graettinger; 29. Jay Goosmann, Merrill; 30. Stefan Sybesma, Sanborn.
2nd qualifying feature results – 1. Jeffrey Larson, Lakefield, Minn.; 2. Matt Guillaume, Haslet, Texas; 3. Kyle Vanover, Beatrice, Neb.; 4. Gary Bass, Des Moines; 5. Matt Schauer, Arlington, Minn.; 6. Devin Snellenberger, Pulaski, Wis.; 7. Jake Bruns, Vesta, Minn.; 8. Chad Palmer, Ren­wick; 9. Dan Mackenthun, Hamburg, Minn.; 10. Abe Huls, Carthage, Ill.; 11. Gary Mattison, Lamber­ton, Minn.; 12. Kevin Opheim, Mason City; 13. Brad Whitney, Trenton, Mo.; 14. Les Lundquist, Sioux City; 15. Greg Andrew, Waco, Texas; 16. Jesse Brown, Nashua; 17. Todd Gereau, Sioux City; 18. Jay Schmidt, Tama; 19. Colin Deming, Hobbs, N.M.; 20. Shaun Bruns, Danube, Minn.; 21. Perry Misner, Albert, Kan.; 22. William Wade, San Angelo, Texas; 23. Kirk Martin, Weatherford, Texas; 24. Caleb Crenshaw, Fort Worth, Texas; 25. Jake Ludeking, Deco­rah; 26. Kevin Parks Jr., Davenport, Neb.; 27. Cody Frerichs, Bristow; 28. Gary Goudy, Stou­ghton, Sask.; 29. Roger Ciesielski, Waterloo; 30. Rodney Richards, Madrid.