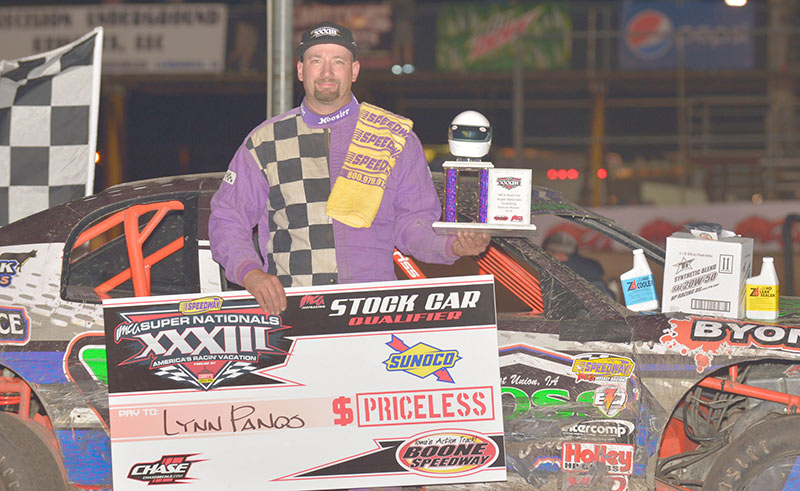 BOONE, Iowa (Sept. 10) – Qualifying feature checkers flew Thursday night for IMCA Speedway Motors Super Nationals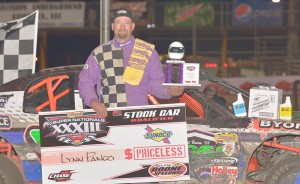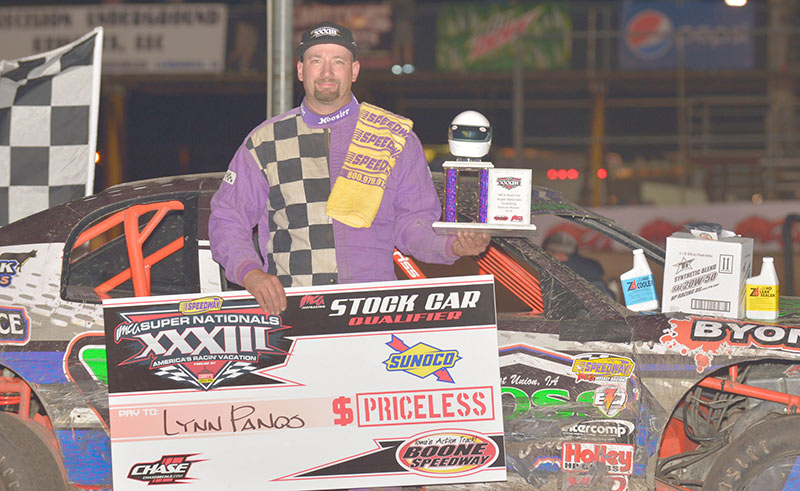 fueled by Casey's Stock Car winners Heath Tulp and Lynn Panos.
Both bested 25-lappers at Boone Speedway with solid runs to the finish. Top four finishers from both events advance to Saturday's main event at Boone Speedway.
Tulp drew the pole for the first qualifier and outran 2013 champion Brandon Czarapata, Dalton Flory and Lance Deal.
Panos worked his way into the lead from fifth. His win came ahead of Chad Sterling, Josh Daniels and Wayne Gifford.
A Friday Rochambeau session decides the starting order in the middle row, with Tulp and Panos squaring off to decide the front spot.
Czarapata will make his career 11th and seventh consecutive main event start. Tulp, Panos and Gifford are all in for the third time, Daniels for the second and Flory, Deal and Sterling each for the first.
1st qualifying feature results – 1. Heath Tulp, Britt; 2. Brandon Czarapata, Pulaski, Wis.; 3. Dal­ton Flory, Williston,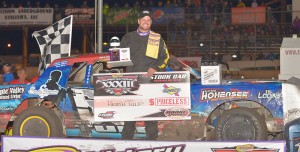 N.D.; 4. Lance Deal, Fort Dodge; 5. Nick Tubbs, Colby, Kan.; 6. John Oliver Jr., Danville; 7. Joe Flory, Williston, N.D.; 8. Kevin Opheim, Mason City; 9. Jason Rogers, Selden, Kan.; 10. Jeffrey Larson, Lakefield, Minn.; 11. Jim Redmann, Lockridge; 12. Derrick Agee, Hunts­ville, Mo.; 13. Jason Ward, Sioux City; 14. Troy Woelber, Hull; 15. Mark Adams, Fort Worth, Texas; 16. Roger Verdoorn, Sibley; 17. Michael Dancer, North Platte, Neb.; 18. Nathan Wood, Sigourney; 19. Tyler Pickett, Boxholm; 20. Dan Hanselman, Algona; 21. Jason Minnehan, Chur­dan; 22. Don Vis, Marshalltown; 23. Jim Hall, Jackson, Neb.; 24. Mike Stapleton, Denison; 25. Shane Paris, Muscatine; 26. Jake Masters, Graettinger; 27. Reid Keller, Webster City; 28. Todd Gereau, Sioux City; 29. Brian Blessington, Breda; 30. Jay Goosmann, Merrill.
2nd qualifying feature results – 1. Lynn Panos, Calmar; 2. Chad Sterling, Stockton, Kan.; 3. Josh Daniels, Carlisle; 4. Wayne Gifford, Boone; 5. Stefan Sybesma, Sanborn; 6. Todd Inman, Altoona; 7. Justin Temeyer, Independence; 8. Dan Mackenthun, Hamburg, Minn.; 9. Bruce Plumisto, Colby, Kan.; 10. Ben Walding, Des Moines; 11. Devin Snellenberger, Pulaski, Wis.; 12. Donavon Smith, Lake City; 13. Robert Stofer, Jefferson; 14. Ned Kalis, Wells, Minn.; 15. Butch Bass, Winterset; 16. Jesse Olson, Mayer, Minn.; 17. Travis Shipman, Mason City; 18. Brad Te Grotenhuis, Orange City; 19. Lonnie Hodges, Boone; 20. David Smith, Lake City; 21. Christopher Toot, Albert Lea, Minn.; 22. Michael Jaennette, Kellogg; 23. Kyle Werkmeister, McCook, Neb.; 24. Mike Pepper, Lakin, Kan.; 25. Max Hoffer, Sioux City; 26. Jordan Lathram, Hobbs, N.M.; 27. Devin Smith, Lake City; 28. Jeff Tubbs, Colby, Kan.; 29. Colby Deming, Hobbs, N.M; 30. Buck Swanson, Waterloo.