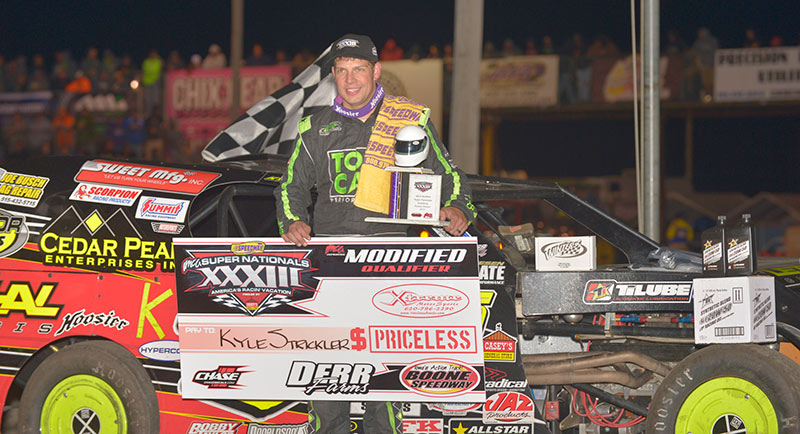 BOONE, Iowa (Sept. 10) – Kyle Strickler will chase for a second IMCA Speedway Motors Super Nationals fueled by Casey's Modified title while Jordan Grabouski runs for his first on Saturday.
Both won Thursday night qualifying features at Boone Speedway that sent top four finishers to the mid­dle row of the main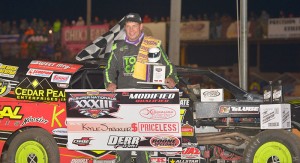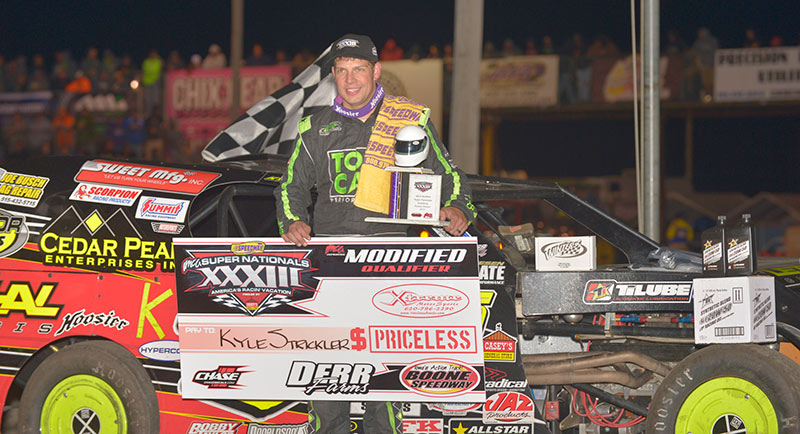 event.
Strickler, the defending champion, reined in 10th starting Wade Cross for the lead following a se­ries of mid-race restarts in the opener, then ran away from everybody.
Cross ended in second while rookie Brian Irvine, twice a Super Nationals Stock Car champ, rock­eted from 18th to third. J.D. Auringer held onto fourth.
Grabouski drew the pole start and led all 25 laps of the nightcap, teaching a seminar on passing after getting into traffic just before the only caution, on the 14th circuit.
Aaron Turnbull chased Grabouski the last 24 times around the track and 2012 champion Jeff Tay­lor took third. William Gould maintained a tenuous hold on fourth the last half of the contest.
All eight drivers meet again Friday in the Fan Zone for a Rochambeau session to determine the starting order for the middle row.
Auringer makes his career sixth Saturday night Super Nationals start, Taylor and Gould both their fourth. Strickler, Cross, Grabouski and Turnbull are each in for the third time.
Irvine qualified for the Stock Car show on six occasions.
Cross last made the show in 2003. Turnbull is the third Canadian driver to qualify for the main event, the most ever.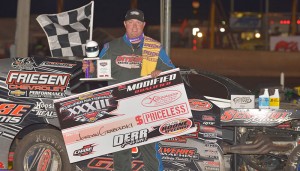 1st qualifying feature results – 1. Kyle Strickler, Mooresville, N.C.; 2. Wade Cross, Phillips, Neb.; 3. Brian Irvine, Oelwein; 4. J.D. Auringer, Waterloo; 5. Troy Cordes, Dunkerton; 6. Adam Larson, Ankeny; 7. Tyler Droste, Waterloo; 8. Craig Reetz, Dunlap; 9. Clint Hatlestad, Glencoe, Minn.; 10. Cory Davis, Eunice, N.M.; 11. Mike Van Genderen, Newton; 12. Jay Matthias, Green Bay, Wis.; 13. Richie Gustin, Gilman; 14. Chase Allen, Midlothian, Texas; 15. Lucas Schott, Chat­field, Minn.; 16. Clint Homan, Bellevue, Neb.; 17. Clint Wendel, Mason City; 18. Bob Moore, Sioux City; 19. Tyler Heetland, Bancroft; 20. Brian Schmitt, Wall Lake; 21. Robert Avery, Des Moines; 22. Kaleb Bentley, Fairbank; 23. Harvey Vande Weerd, Alton; 24. Randy McDaniel, Olivehurst, Calif.; 25. Rich Lewerke, Mason City; 26. Matthew Kiner, Aurora, Neb.; 27. Brian Knoell, Falun, Kan.; 28. Terry Hurt, Omaha, Neb.; 29. Brandon Rothzen, Gladstone, Ill.; 30. Ryan McDaniel, Olivehurst, Calif.
2nd qualifying feature results – 1. Jordan Grabouski, Beatrice, Neb.; 2. Aaron Turnbull, Es­tevan, Sask.; 3. Jeff Taylor, Cave City, Ark.; 4. William Gould, Calera, Okla.; 5. Jeremy Mills, Gar­ner; 6. Jason Cummins, New Richland, Minn.; 7. Ryan Ruter, Kanawha; 8. Nick Deal, Walnut; 9. Josh McGaha, Abilene, Texas; 10. Stormy Scott, Arroyo Hondo, N.M.; 11. Eric Dailey, Armstrong; 12. Jonathan Snyder, Ames; 13. Paul Stone, Winton, Calif.; 14. Jason Snyder, Dunkerton; 15. Tyler Prochaska, Iowa Falls; 16. Russ Dickerson, Boone; 17. Tim Czarneski, Denmark, Wis.; 18. Greg Cox, Kellogg; 19. Colton Osborn, Lexington, Neb.; 20. Riley Simmons, Susanville, Calif.; 21. Levi Nielsen, Waterloo; 22. Mike Lineberry, Fremont, Neb.; 23. Keith Lamphere, Monroeton, Pa.; 24. John Parmeley, Phoenix, Ariz.; 25. Dillon Pike, Waxahachie, Texas; 26. Shane DeMey, Den­ison; 27. Peyton Taylor, Batesville, Ark.; 28. Eric Mahlik, Green Bay, Wis.; 29. Ron Pope, Mason City; 30. Scott Hogan, Vinton.