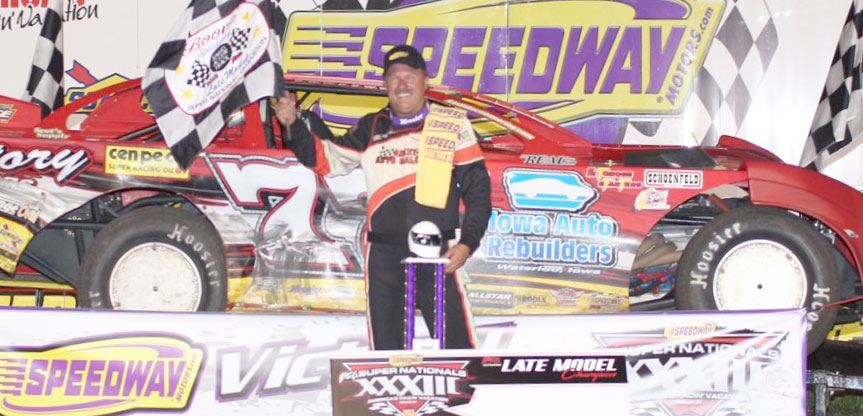 BOONE, Iowa (Sept. 10) – After winning a second straight and fourth career IMCA Speedway Motors Super Nationals fueled by Casey's title last September, Jeff Aikey promised to return to Boone Speedway and add to his Late Model championship collection.
He made good on that promise Thursday night in an epic Deery Brothers Summer Series battle with Justin Kay and Richie Gustin, two other drivers who came into the night looking to race their way into the record book.
Aikey becomes the third driver to win five career Super Nationals crowns and the first to win three in a row.
"After we came here on Memorial Day, I told my crew we had to make the car faster. We had a fast car tonight, let me tell you," said Aikey, who'd qualified through his 'B' feature and started 15th. "I'll be back next year to make it four in a row."
The victory, Aikey's series career 65th, paid $3,510. That amount includes a $510 Speedway Motors Weekly Racing bonus.
Kay was second by not much more than half a car length. The defending series champion and current point leader was seeking a record-tying fourth straight win and started on the pole, but surrendered the front spot to Gustin following an early restart.
Gustin, the 2011 Super Nationals Modified champion, led Kay, Todd Cooney and Tyler Droste into lapped traffic. Aikey was up to sixth when the caution waved again on lap 16.
Tenth starting Todd Cooney charged past Gustin when the race went green again. The two-time Super Nationals king pulled away from the field before getting slowed by lapped traffic and Aikey was first across the stripe when lap 34 was scored.
Cooney exited after a lap 39 yellow. Gustin regained with 10 circuits to go and Kay shuffled Aikey back to third, the front three virtually side-by-side-by-side at the end of lap 44.
Aikey got the lead back coming out of the final turn on lap 47. Kay edged past Gustin with two to go.
"I've been racing for a long time. To beat these young guys feels pretty good," said Aikey, gesturing toward the numbers on the leader board. "I just went where they weren't. My car could go anywhere on the track. I diced where there weren't any other cars."
Gustin, Droste and 14th starting Joel Callahan completed the top five. Jason Hahne also advanced 14 spots from his original start and finished sixth; Josh Most, already qualified for Saturday's Modified main event, ended in seventh.
Aikey also won Super Nationals features in 1995 and 2004.
The Late Model program at Boone was postponed from Labor Day because of inclement weather conditions and rain forced a delay to the start of the two 'B' features on Thursday.
The 29th annual series concludes with the Friday and Saturday, Sept. 18 and 19 Yankee Dirt Track Classic at Farley Speedway.
Feature results – 1. Jeff Aikey, Cedar Falls; 2. Justin Kay, Wheatland; 3. Richie Gustin, Gilman; 4. Tyler Droste, Waterloo; 5. Joel Callahan, Dubuque; 6. Jason Hahne, Webster City; 7. Josh Most, Red Oak; 8. Scott Fitzpatrick, Wheatland; 9. Joe Zrostlik, Long Grove; 10. Robert See, Webster City; 11. Ryan Dolan, Lisbon; 12. Darrel DeFrance, Marshalltown; 13. Al Johnson, Story City; 14. Charlie McKenna, Clear Lake; 15. Andy Nezworski, Buffalo; 16. Jon Passick, Waterloo; 17. Todd Malmstrom, Silvis, Ill.; 18. Curt Schroeder, Newton; 19. Todd Cooney, Des Moines; 20. Allan Hopp, Harlan; 21. Sean Johnson, Independence; 22. Greg Kastli, Waterloo; 23. LeRoy Brenner, Aledo, Ill.; 24. Corey Zeitner, Omaha, Neb.