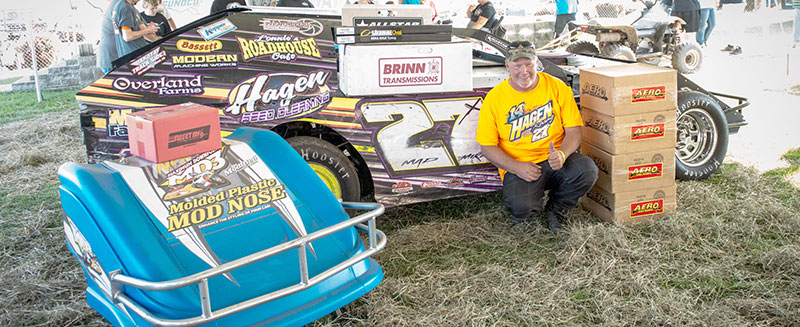 The car that will be starting from the pole in the Super Nationals Modified main event has an interest­ing lineage: It's a 2008 GRT Mike Hagen bought beat up for all of $4,000 from Ed Turn­bull.
"I was second at Williston in points. The car ran good all year," said Hagen, whose Wednesday qualifying feature win was his IMCA first this season. "I went out (in the qualifier) and tried to hit my marks all night and it went good."
He's raced for 30 years, 27 of them in a Modified. Hagen will make his first-ever main event start on Saturday in front of a Boone Speedway crowd with plenty of fans cheering on their favorites from North Dakota and Canada.
Hagen also races at Minot and Estevan and credits his local track competition with helping him prep for Boone.
"I race with a lot of tough guys," he said, before signing an autograph in the Fan Zone. "It's hard to get a lot of wins racing against them."
*
Mike Nichols proved to be just as good at Rochambeau as he is at driving a Stock Car, topping Chris Mills in a two-zip final early this evening to win the pole for Saturday's main event.
Following on the inside row will be Damon Murty, Randy Brands, Ken Tietz, Bob Daniels, Marcus Fagan and Norman Chesmore.