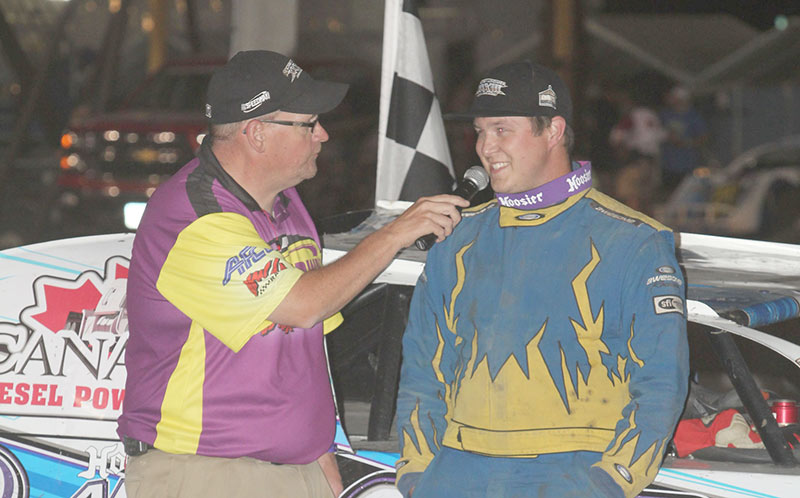 BOONE, Iowa – Fifty-odd phone call calls and 20 or so texts followed Kody Scholpp's run to the checkers in Wednesday night's first Modified qualifying feature at the IMCA Speedway Motors Super Nationals fueled by Casey's.
The Estevan, Sask., driver earned his career second berth in the Saturday night main event at Boone Speedway. He'd been the first Canadian to qualify for the Modified show and finished sev­enth in 2013.
"It seems like I ran second forever and my tires went away. I had to work just to hold on to sev­enth," said Scholpp, who made sure four new Hoosiers were on the car this time around. "Win­ning (the qualifier) was awesome. I was smiling every time around the track I was so happy."
His very large racing family was smiling right along with him: Scholpp had sustained injuries includ­ing a broken neck and back in a January, 2014 motor vehicle accident and doctors weren't sure that he'd walk again, let alone survive.
He was hospitalized for 42 days, about a third of that time in a medically induced coma.
"A lot of people prayed for me. That's the only reason I'm here. My dad (Chris) came in before work every morning to help me learn how to walk again," Scholpp said. "I raced a Stock Car in the Da­kota Tour. Boone last year was my first time in a Modified."
In his eighth Modified season, Scholpp raced this season at Estevan Motor Speedway, and at Williston and Mandan in North Dakota.
Mike Hagen, the winner of the second qualifier, is a friend and frequent on-track foe.
"The North Dakota racing community was pretty pumped Wednesday night," said Scholpp. "A lot of them will be driving to Boone for the race on Saturday."
*
Mike Hagen won the Thursday afternoon best two of three game of Rochambeau with fellow qualify­ing feature winner Kody Scholpp.
At stake was the pole start in Saturday's main event, plus a wealth of contingency awards.
Lining up behind that pair on the inside row, in positions also determined by rock-paper-scissors, will be Josh Most, Dylan Smith, Chris Abelson, Corey Dripps, Ricky Thornton Jr. and Jason Beau­lieu.