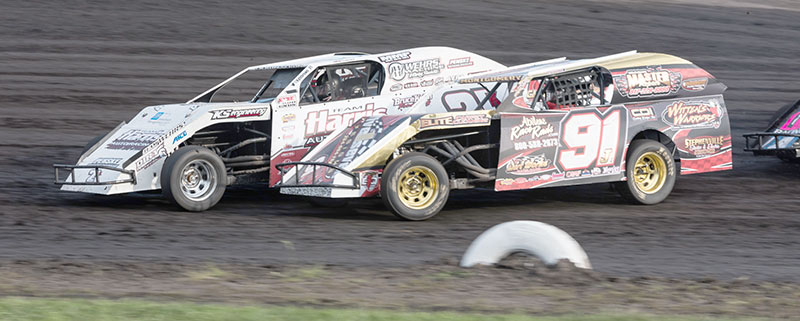 Photos taped above a workbench in Jeremy Montgomery's trailer document highlights of his rac­ing career.
He's hoping to add to that display following his first IMCA Speedway Motors Super Nationals fueled by Casey's outing in the Modified division.
The Burleson, Texas, driver has made two trips to Boone Speedway to race a Hobby Stock and two more with a Stock Car. He and his dad Eddie changed three tires on the trailer on their trip north but still arrived in Boone with sunny dispositions.
"What I want to do here is learn a lot, have a little bit of fun and be competitive," Montgomery said.
He ran third in his Wednesday heat behind heavy hitters Russ Dickerson and J.D. Auringer, then finished 10th in an equally stacked 'B' main.
"I raced the Prelude on Saturday, broke a tie rod in my heat and didn't qualify out of my 'B,'" said Montgomery. "We made a lot of changes in the car on Sunday and I think it's 100 percent better."
The first win of his rookie season came at Kennedale Speedway. Montgomery has also been a regular at Cardinal Speedway, Boyd Raceway and Heart O' Texas.
"We struggled at the beginning of the year with a couple different issues," he said, "but the car is really coming along with the fine tuning."
He campaigns a ride with a dual IMCA centennial season/Witten's Warriors wrap.
*
Super Nationals is a homecoming for Haslet, Texas driver Matt Guillaume, a Sioux City native.
"It's good to be back," said Guillaume, one of the few owners of a pickup with Texas license plates and an Iowa State University decal on the back window. "My folks get to see me race and every time we've been back the Cyclones have beaten Iowa."
He left the Modified at home to focus on getting qualified for the Stock Car dance. The two-time defending Southern Region champion would earn his IMCA career 100th victory in the division by taking the Saturday checkers.
"Our goal at the start of the season was to get to 100," said Guillaume, 22nd in his Wednesday qualifier. "I know we've still got a lot of work to do to get faster and Super Nationals is an event where we want to show people how solid this class is in Texas."
*
Barnesville, Minn.'s Rob VanMil owns five Modified feature wins and a spot in the national top 20 point standings coming into his first Super Nationals.
It goes without saying that a good showing this week at Boone Speedway would be like another later of frosting on the cake.
"It's been a lot of learning, admitted VanMil, who drove a SportMod for three seasons and com­petes regularly at Buffalo River Race Park, North Central Speedway and Norman County Race­way. "But we did our homework over the winter and haven't had a lot of the lows you might expect for your first season in a new class."
He's been impressed by overall and Modified car counts alike.
"We've been at other events where they had 250 cars. Super Nationals is quite the experience," VanMil said. "We've had a good time, for sure."
The youngest member of his crew making the trip to Boone is son Kyle, who celebrates his fifth birthday in November.