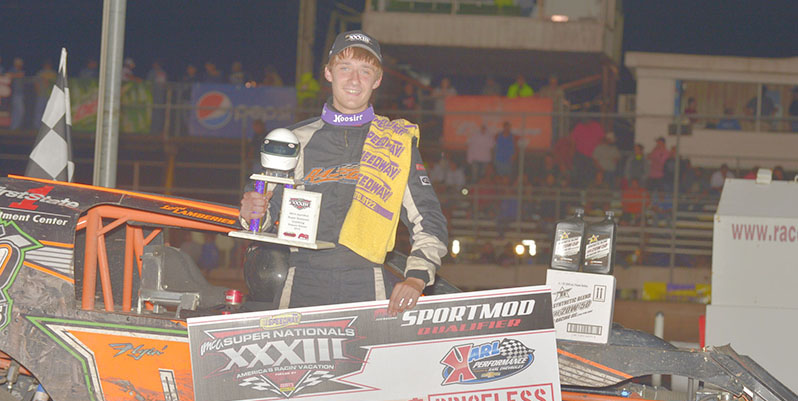 BOONE, Iowa (Sept. 8) – Clint Luellen and Lucas Lamberies earned front row starting spots in the Northern SportMod main event, with IMCA Speedway Motors Super Nationals fueled by Casey's qualifying feature wins Tuesday night.
Luellen ran in front the final 19 of 25 circuits in the opener, pulling away from eventual runner-up Chad Shaw following three restarts over the last nine laps of the first qualifier.
Lamberies won from the pole in the second qualifier, which opened with 15 green flag laps. That first caution erased Lamberies' big lead. He crossed the stripe in front of Nate Meyer in a green, white, checkered finish.
Lining up behind Luellen and Shaw in the middle row Saturday evening will be fellow top eight finishers Arie Schouten, 2014 runner-up Randy Roberts, 19th starting Brayton Carter, Jerry Hinton, 22nd starting Tory Mack and 21st starting Tyler Soppe.
Joining Lamberies and Shaw on the outside row are Daniel Gottschalk, 24th starting James Kleinheksel, Shawn Harker, Jeff Schmuhl, Shane Swanson and Gary Dutton.
Luellen is now a six-time main event qualifier. Roberts is in for the third time, Hinton, Gottschalk and Harker each for the second.
Shaw, Schouten, Carter, Mack, Soppe, Lamberies, Meyer, Kleinheksel, Schmuhl, Swanson and Dutton all made the big show for the first time.
The final six cars will be added to the field of 30 through a last-chance feature Wednesday afternoon.
1st qualifying feature results – 1. Clint Luellen, Minburn; 2. Chad Shaw, Trimble, Mo.; 3. Arie Schouten, Blair, Neb.; 4. Randy Roberts, Boone; 5. Brayton Carter, Oskaloosa; 6. Jerry Hinton, Adel; 7. Tory Mack, Surrey, N.D.; 8. Tyler Soppe, Sherrill; 9. Dakoda Sellers, Waverly; 10. Cameron Meyer, Pierce, Neb.; 11. Jarett Franzen, Maquoketa; 12. Doug Cook, Algona; 13. Joe Feyen, Plattsmouth, Neb.; 14. Taylor Musselman, Norwalk; 15. Joshua Appel, Dodge City, Kan.; 16. Josh Larsen, Glencoe, Minn.; 17. Darin Roepke, LeMars; 18. George Nordman, Mason City; 19. Danny Dvorak, Vinton; 20. Colby Fett, Algona; 21. Cody Brill, Harrisonville, Mo.; 22. Levi Chipp, Latimer; 23. Jake Sachau, Denison; 24. Kurtis Pihl, Falun, Kan.; 25. Brenden Damon, Great Bend, Kan.; 26. Alex Zwanzinger, Nashua; 27. Jerry Hoffman, Oronogo, Mo.; 28. Rick Ringgenberg, Kelley; 29. Danny Roe, Turlock, Calif.; 30. Doug Smith, Lanesboro.
2nd qualifying feature – 1. Lucas Lamberies, Clintonville, Wis.; 2. Nick Meyer, Whittemore; 3. Daniel Gottschalk, Ellis, Kan.; 4. James Kleinheskel, Columbus, Neb.; 5. Shawn Harker, Nebraska City, Neb.; 6. Jeff Schmuhl, Fall River, Wis.; 7. Shane Swanson, Forest City; 8. Gary Dutton, Bakersfield, Calif.; 9. Brandon Lowmiller, Grand Junction; 10. Mark Leiting, Lincoln, Neb.; 11. Jesse Skalicky, Fargo, N.D.; 12. Austin Schrage, Cresco; 13. Craig Garner, Clarinda; 14. Austin Charles, Bonner Springs, Kan.; 15. Benji Legg, Beatrice, Neb.; 16. Jeff Brunssen, LeMars; 17. Erik Laudenschlager, Minot, N.D.; 18. Kent Haugland, Wesley; 19. Thomas Stark, Egg Harbor, Wis.; 20. Robby Rosselli, Minot, N.D.; 21. Austin Luellen, Minburn; 22. Brandon Toftee, Webster City; 23. Cody Knecht, Whittemore; 24. Jeremiah LaRue, Trenton, N.D.; 25. Jake McBirnie, Boone; 26. Travis Storjohann, Marshalltown; 27. Dusty Masolini, Des Moines; 28. Cory Pestotnik, Boone; 29. Zech Norgaard, Spencer; 30. Tracy Wassenberg, Shawano, Wis.