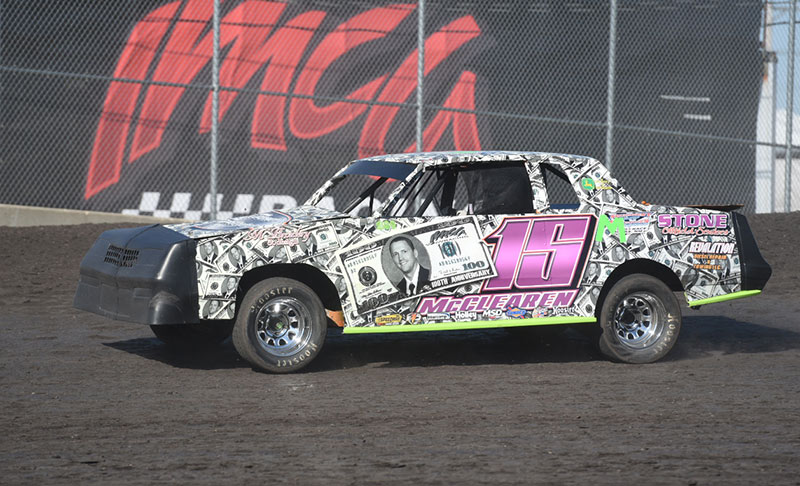 BOONE, Iowa (Sept. 9) – Another car count record was set and qualifying was completed for Hobby Stocks and Northern SportMods on Wednesday, day three of the IMCA Speedway Motors Super Nationals fueled by Casey's.
A Super Nationals-best 192 Stock Cars, one more than the previous mark established in 2012, take to the oval at Boone Speedway today. Qualifying also gets underway for the Modifieds as 277 cars had signed in.
Parking was at a premium as 518 cars were scheduled to see action. Eleven states and Canada are represented in the Stock Car field while drivers from 24 states and two provinces contend for spots in the Modified main event.
Through three days, 841 drivers will have competed at Super Nationals.
*
The top six qualifiers in two last chance features advance to Hobby Stock and Northern SportMod main events on Saturday.
Adam Armstrong got the lead back from Jamie Songer and prevailed in the caution-free Hobby Stock contest. They'll be joined by Dana Brandt, Sal Hernandez, Steve Larson and Brandon Beeter at the back of that main event field.
A yellow on the initial start was the only caution seen in the Northern SportMod 25-lapper. Jake McBirnie caught and then pulled away from Jarett Franzen, then outran Greg Metz to the checkers.
Franzen, Legg, Doug Smith and George Nordman completed the top six.
Last chance Hobby Stock feature –  1. Adam Armstrong, Beatrice, Neb.; 2. Jamie Songer, Ankeny; 3. Dana Brandt, Minot, N.D.; 4. Sal Hernandez, Columbus, Neb.; 5. Steve Larson, Decorah; 6. Brandon Beeter, Minot, N.D.; 7. Dustin Lynch, Boone; 8. Brandon Geurin, Waco, Texas; 9. Kyle Bond, Gibbon, Neb.; 10. Andy Hick, Adel; 11. A.J. Dancer, Red Rock, Texas; 12. Tommy Fose, Salina, Kan.; 13. Zachary Ankrum, Sioux City; 14. Shaun Wirtz, Boone; 15. Darin Johnson, Dickens; 16. Kevin Fee, Knoxville; 17. Rod Manthey, Norwood, Minn.; 18. Jeremy Wegner, Graettinger; 19. Solomon Bennett, Perry; 20. Austin Brauner, St. Edward, Neb.; 21. Weston Koop, Clear Lake; 22. Justin Luinenburg, Reading, Minn.; 23. Tyson Overton, Carlisle; 24. Austin Luellen, Minburn; 25. Aaron Rudolph, Grand Junction.
Last chance Northern SportMod feature – 1. Jake McBirnie, Boone; 2. Greg Metz, Washington, Kan.; 3. Jarett Franzen, Maquoketa; 4. Benji Legg, Beatrice, Neb.; 5. Doug Smith, Lanesboro; 6. George Nordman, Mason City; 7. Ron Tex Jr., Papillion, Neb.; 8. Austin Schrage, Cresco; 9. Austin Frye, Taft, Calif.; 10. Jake Sachau, Denison; 11. Tara Longnecker, Woodward; 12. Alex Zwanzinger, Nashua; 13. Tracy Wassenberg, Shawano, Wis.; 14. Matt Petrzelka, Norway; 15. Josh Pfeifer, Spencer, Neb.; 16. Brandon Williams, Des Moines; 17. Dylan Petersen, Harlan; 18. Jamey Kennicutt, Gothenburg, Neb.; 19. Chad Ryerson, Wellsburg; 20. Brett Lowry, Montezuma; 21. Daniel Drury, Eldora; 22. Darin Roepke, LeMars; 23. Austin Kaplan, Des Moines; 24. Austin Luellen, Minburn.