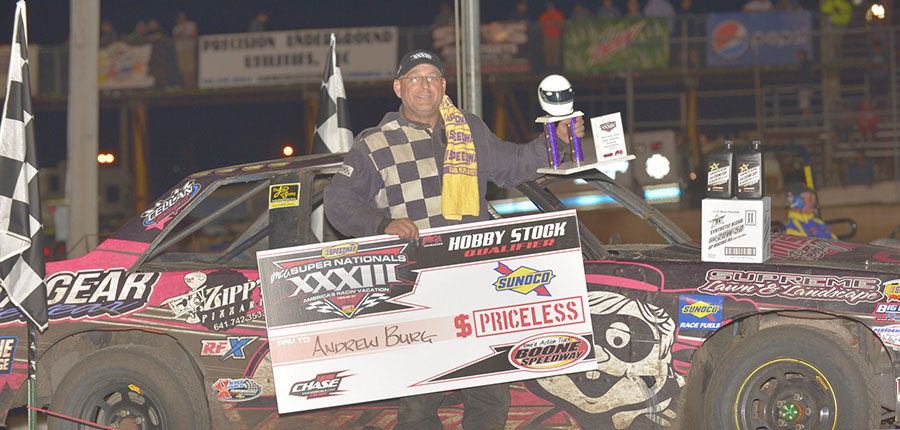 BOONE, Iowa (Sept. 8) – Andrew Burg will continue his quest for an IMCA Speedway Motors Super Nationals fueled by Casey's Hobby Stock crown from outside of the front row Saturday night.
Burg earned the spot by winning Tuesday's qualifying feature at Boone Speedway.
He took the lead on the ninth of 25 laps, held off an assortment of challengers following a trio of mid-race restarts and took the win ahead of 2010 champion Jason Wilkinson, who made his way to second from the 14th starting spot.
Completing the top eight who advance to the outside row are 13th starting Corey Madden, Jason Kohl, Nathan Ballard, Andy Roller, 20th starting Eric Cross and 24th starting Justin Nehring.
Madden makes his career firth Super Nationals main event start, Burg his fourth and Wilkinson, Ballard and Nehring each their third. Kohl, Roller and Cross are first-time qualifiers.
A last-chance feature on Wednesday afternoon adds the final six cars to the field of 30.
Qualifying feature results – 1. Andrew Burg, Grimes; 2. Jason Wilkinson, Neligh, Neb.; 3. Corey Madden, Avoca; 4. Jason Kohl, Missouri Valley; 5. Nathan Ballard, Marengo; 6. Andy Roller, Bellmead, Texas; 7. Eric Cross, Salina, Kan.; 8. Justin Nehring, Storm Lake; 9. Jamie Songer, Ankeny; 10. Cody Gustoff, Scranton; 11. Adam Armstrong, Beatrice, Neb.; 12. Dustin Lynch, Boone; 13. Justin Luinenburg, Reading, Minn.; 14. Andy Hick, Adel; 15. Jay Sidles, Emmetsburg; 16. Brandon Geurin, Waco, Texas; 17. Sal Hernandez, Columbus, Neb.; 18. Jack Phillips, Mitchellville; 19. Darin Johnson, Dickens; 20. Dana Brandt, Minot, N.D.; 21. Jeremy Wegner, Graettinger; 22. Sterling Sorensen, Portsmouth; 23. Jeremy Hoskinson, Norfolk, Neb.; 24. Shannon Anderson, Des Moines; 25. Jeff Anderson, Atlantic; 26. Andrew Borchardt, Plymouth; 27. David Castellano, Des Moines; 28. Austin Brauner, St. Edward, Neb.