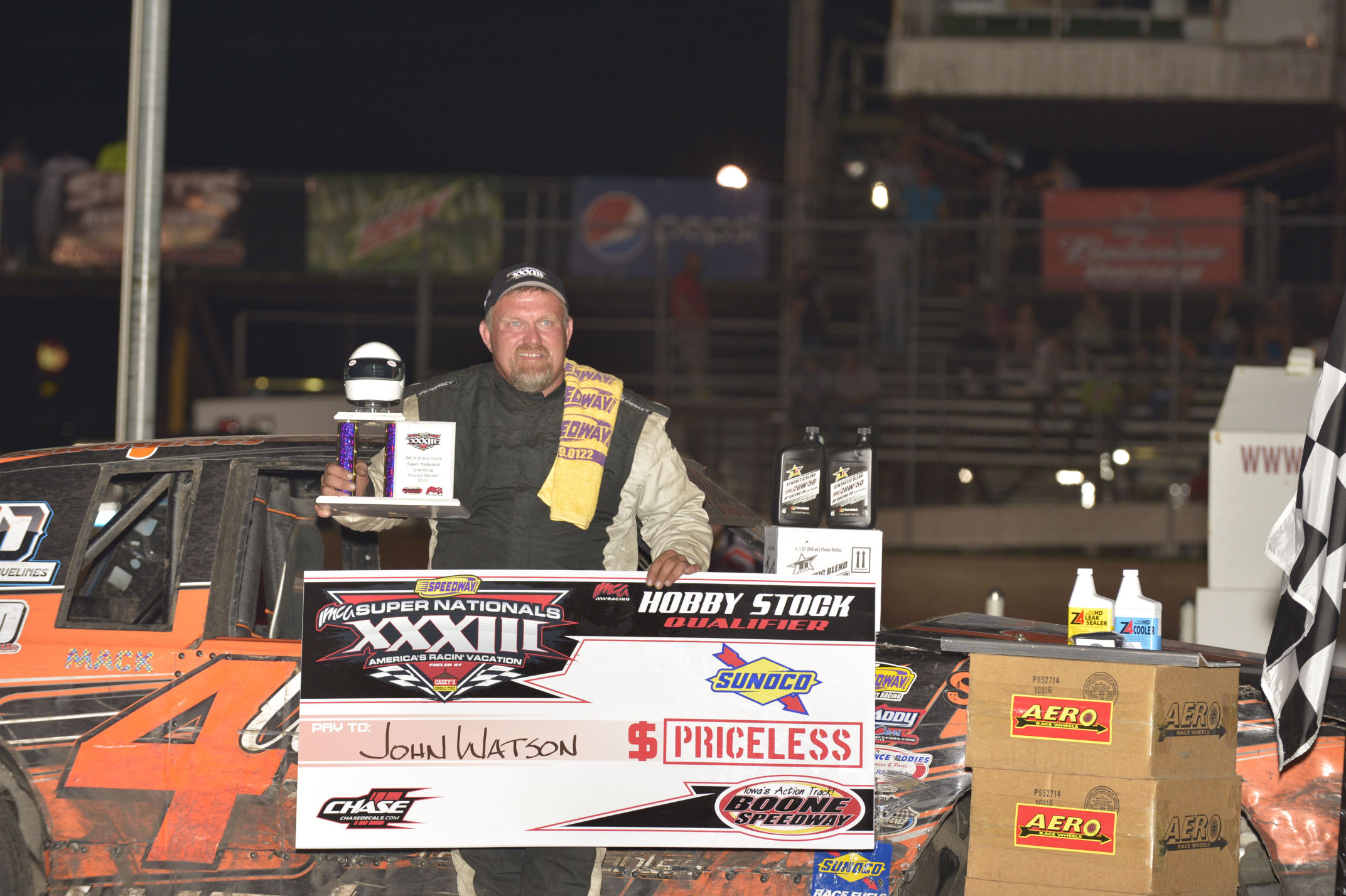 BOONE, Iowa (Sept. 7) – Mike Pruitt and John Watson punched their tickets to front row starting spots in Saturday's Hobby Stock main event, with qualifying feature wins on opening night of the IMCA Speedway Motors Super Nationals fueled by Casey's.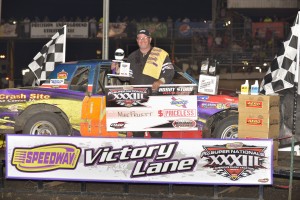 Pruitt, the 2009 Northern SportMods champion, raced from 12th starting to win the first qualifier and earn the pole start in the big dance at Boone Speedway. He caught race-long leader Adam Armstrong on the 21st of 25 laps and took the checkers ahead of Myles Michehl.
Watson took over the front spot just before midway in the second qualifier and held off Eric Stan­ton the last half of the contest. He'll start in the middle of the front row on Saturday.
Last year's runner-up, Pruitt started sixth and reined in Nathan Ballard before catching Arm­strong, who rolled in the first set of turn to bring a stop to the first qualifier with three laps to go. Ballard fell off the pace and Michehl took up the chase but didn't have enough time to catch Pruitt.
Lining up behind Pruitt on the inside row will be Michehl, Brock Beeter, Leah Wroten, 17th starting Benji Irvine, Jason Fusselman, 21st starting Tim Barber and Bryant Johnson, who raced to eighth from his inside row 14 start.
Watson took the lead away from Matthew McAtee on lap 12 in the nightcap, which ended with a lengthy green flag run.
Also advancing to the middle row are Stanton, 26th starting Luke Ramsey, McAtee, Brandon Niel­sen, 18th starting Craig Graham, Trevor Holm and Jeremy Purdy.
Beeter, Wroten, Fusselman, Barber, Johnson, Ramsey, McAtee, Holm and Purdy are all first-time qual­ifiers. Nielsen and Graham will both start their second career Hobby Stock main events, Pruitt, Michehl and Irvine each their third.
Watson and Stanton are both in for the sixth time; Stanton has qualified every year since 2009.
1st qualifying feature results – 1. Mike Pruitt, Redfield; 2. Myles Michehl, Fort Dodge; 3. Brock Beeter, Minot, N.D.; 4. Leah Wroten, Independence; 5. Benji Irvine, Oelwein; 6. Jason Fussel­man, Shelby; 7. Tim Barber, Story City; 8. Bryant Johnson, Graettinger; 9. Dana Brandt, Minot, N.D.; 10. Steve Larson, Decorah; 11. Weston Koop, Clear Lake; 12. Zachary Ankrum, Sioux City; 13. Rod Manthey, Norwood, Minn.; 14. Tommy Fose, Salina, Kan.; 15. Nathan Ballard, Marengo; 16. Tyson Overton, Carlisle; 17. John Cain, Homer, Neb.; 18. Adam Armstrong, Beatrice; 19. Shaun Wirtz, Boone; 20. Andy Hoffman, Sioux City; 21. Zach Swanson, Waterloo; 22. Jeremy Wegner, Graettinger; 23. Craig Clift, Sioux City; 24. Brent Jochum, Norfolk, Neb.; 25. Brandon Pitts, Ames; 26. Gary Pesicka, Burt; 27. Buck Schafroth, Orient; 28. Doug McCollough, Webster City.
2nd qualifying feature results – 1. John Watson, Des Moines; 2. Eric Stanton, Carlisle; 3. Luke Ramsey, Bedford; 4. Matthew McAtee, Minburn; 5. Brandon Nielsen, Spencer; 6. Craig Graham, Webster City; 7. Trevor Holm, Chandler, Minn.; 8. Jeremy Purdy, Bedford; 9. Andrew Burg, Grimes; 10. Brandon Beeter, Minot, N.D.; 11. A.J. Dancer, Red Rock, Texas; 12. Jason Wil­kinson, Neligh, Neb.; 13. Kevin Fee, Knoxville; 14. Sal Hernandez, Columbus, Neb.; 15. Justin Nehring, Storm Lake; 16. Kyle Bond, Gibbon, Neb.; 17. Dustin Lynch, Boone; 18. Shay Simo­neau, Damar, Kan.; 19. Aaron Rudolph, Grand Junction; 20. Jesse VanLaningham, Beatrice, Neb.; 21. Austin Luellen, Minburn; 22. Solomon Bennett, Perry; 23. Jamie Songer, Ankeny; 24. Dustin Graham, Boone; 25. Chad LeGere, Ankeny; 26. Dan Ayers, Webster City; 27. Brandon Geurin, Waco, Texas; 28. Korbin Nourse, Dexter.