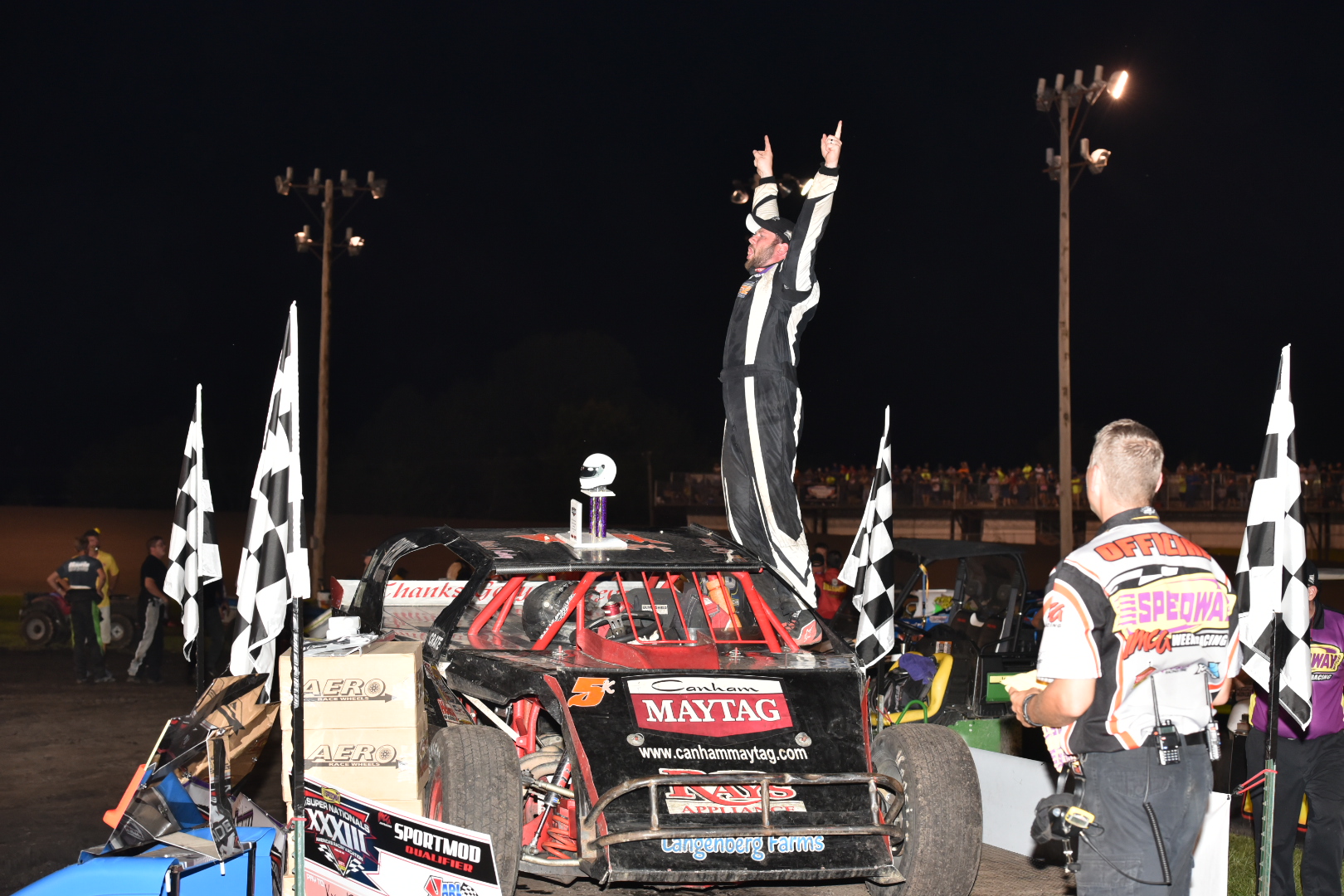 BOONE, Iowa (Sept. 7) – Kyle Prauner will start from the pole in Saturday's main event for Northern SportMods at the IMCA Speedway Motors Super Nationals fueled by Casey's.
Prauner drove high around defending champion Johnathon Logue on the 20th of 25 laps in winning the coveted starting position in Monday's opening night qualifying feature at Boone Speedway.
Tony Olson passed Logue for second; a late caution erased Logue's bid to regain the lead and he chased Prauner and Olson the last three times around the oval.
Completing the top eight finishers and the rest of the inside row were Matthew Looft, Jared VanDeest, Nelson Vollbrecht, Jacob Krone and Sam Wieben.
Logue restarted inside row one following a caution on the initial start. The race was red-flagged after Brandon Williams got into the wall and rolled on the backstretch on lap 21.
VanDeest raced his way into a qualifying spot from 25th starting; Vollbrecht and Wieben started side-by-side in the 14th row.
Olson will make his career fifth Saturday night start at Super Nationals. Logue and Vollbrecht are both in the main event for the third time, Prauner, VanDeest and Wieben for the second, and Looft and Krone each for the first.
Feature results – 1. Kyle Prauner, Norfolk, Neb.; 2. Tony Olson, Cedar Rapids; 3. Johnathon Logue, Boone; 4. Matthew Looft, Swea City; 5. Jared VanDeest, Holland; 6. Nelson Vollbrecht, Stanton, Neb.; 7. Jacob Krone, Beloit, Kan.; 8. Sam Wieben, Dysart; 9. Jake McBirnie, Boone; 10. Greg Metz, Washington, Kan.; 11. Tara Longnecker, Woodward; 12. Josh Pfeifer, Spencer, Neb.; 13. Jarett Franzen, Maquoketa; 14. Benji Legg, Beatrice, Neb.; 15. Austin Frye, Taft, Calif.; 16. Clinton Luellen, Minburn; 17. Jamey Kennicutt, Gothenburg, Neb.; 18. Jake Sachau, Denison; 19. Austin Kaplan, Des Moines; 20. Brandon Williams, Des Moines; 21. Darin Roepke, LeMars; 22. Austin Schrage, Cresco; 23. Chad Ryerson, Wellsburg; 24. Adam Shelman, Ames; 25. Matt Petrzelka, Norway; 26. Dylan Petersen, Harlan; 27. Austin Luellen, Minburn; 28. Tory Mack, Surrey, N.D.; 29. Doug Smith, Lanesboro; 30. Justin Remus, New Ulm, Minn.