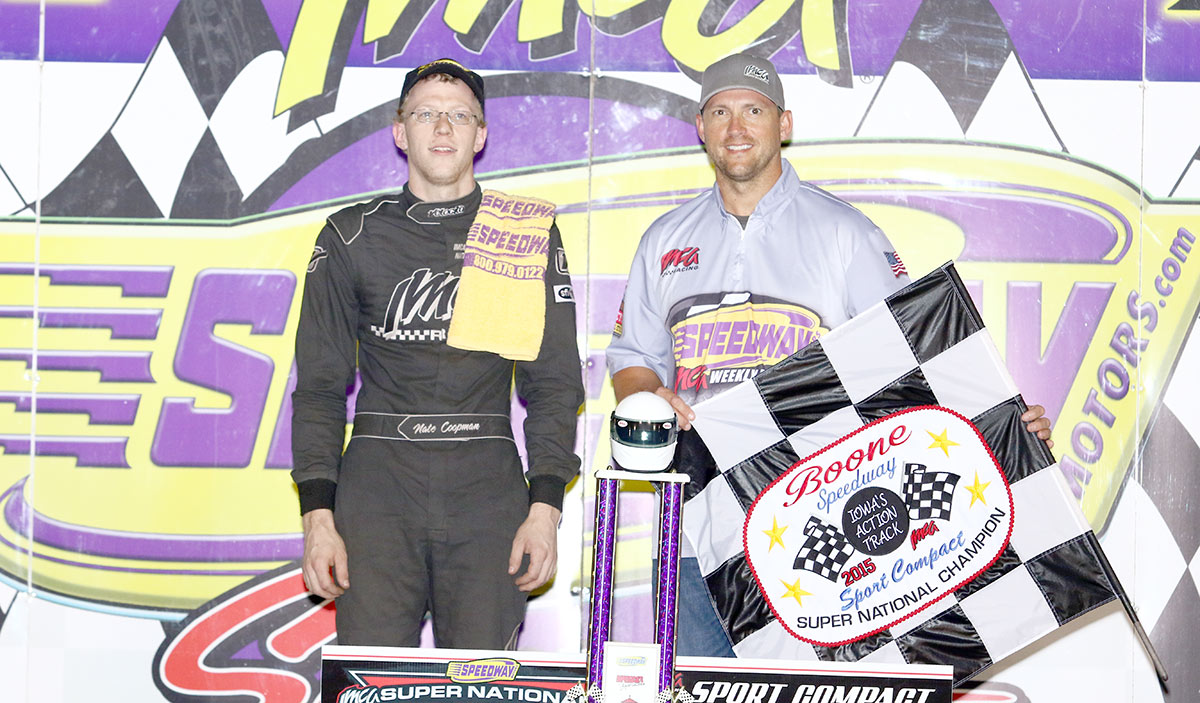 BOONE, Iowa (Sept. 8) – Those September demons got put to rest Tuesday evening.
Nate Coopman shook off the bad luck that had ridden with him in previous visits to Boone Speed­way, winning the Sport Compact main event and becoming the first champion crowned at the 33rd annual IMCA Speedway Motors Super Nationals fueled by Casey's.
"I've been trying to win this race for four years and had nothing but bad luck," said Coopman, who broke while leading late in last year's event and had to be wondering if he'd be snakebit again after making early contact with the front stretch wall. "This has to be my biggest win, for sure."
His latest of nearly 200 sanctioned victories paid $250, plus a $230 Speedway Motors Weekly Racing bonus based on 46 starts this season coming into the night.
He'd started 12th and passed pole starter Nathan Chandler for the lead on just the seventh of 25 circuits. Coopman was already pulling away from the back when the first caution of the contest waved three laps later.
Chandler, the 2011 Super Nationals king, stayed close to the leader before coming to a stop on lap 15. Seventeenth starting Josh Barnes took up the chase from that point but couldn't catch up.
Matt Brehmer, Ryan Walker and Ramsey Meyer completed the top five. Brehmer had started 14th while Meyer made his charge all the way from the 26th starting spot.
"I did not want to see any late cautions," Coopman said, after seeing defending champ Adam Gates slow in turn four, the same location as Chandler, on the 22nd lap. "I ran the inside line al­most all the way and it worked out for us."
Six states were represented in the starting field; Danny Sims became the first driver from Texas to make the Sport Compact main.
A Super Nationals record 64 Sport Compacts vied Tuesday at Boone.
Feature results – 1. Nate Coopman, Mankato, Minn.; 2. Josh Barnes, Keokuk; 3. Matt Brehmer, Sobieski, Wis.; 4. Ryan Walker, Wilton; 5. Ramsey Meyer, Pierce, Neb.; 6. Brandon Setser, Daven­port; 7. Brandon Lambert, Carthage, Ill.; 8. Scott Spellmeier, Beatrice, Neb.; 9. Cory Pe­ters, Spencer; 10. Tyler Thompson, Sioux City; 11. Terry Blowers, Waseca, Minn.; 12. Danny Sims, Decatur, Texas; 13. Adam Gates, Marion; 14. Jake Benischek, Durant; 15. Jay DeVries, Spencer; 16. David Dembowski, Grand Island, Neb.; 17. Nathan Chandler, Norway; 18. Cody Thompson, Sioux City; 19. Lance Mielke, Norfolk, Neb.; 20. Tyler Whalen, Bellevue, Neb.; 21. Alec Stapleton, Denison; 22. Drew Johnson, Sioux City; 23. Trent Orwig, Eldon; 24. Brandon Reu, Donnellson; 25. Corey Stapleton, Denison; 26. John Gill, Marshalltown; 27. Ron Kibbe, Dan­ville; 28. Chuck Fullenkamp, West Point; 29. Tyler Fralin, Beatrice, Neb.; 30. Stephanie Forsberg, Slayton, Minn.