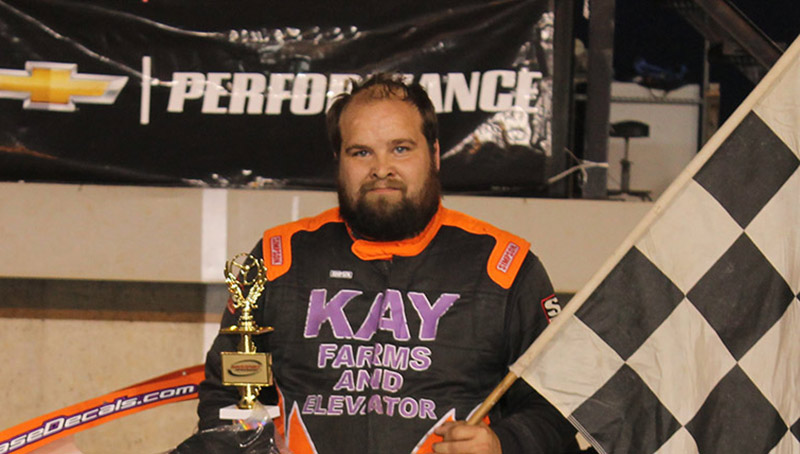 VINTON, Iowa (Sept. 4) – Justin Kay joined some pretty good company by winning another IMCA Late Model national championship.
From Wheatland, Kay won 17 features and the track championship at Dubuque Speedway to total 814 points and top national standings for the division for a third consecutive season.
That matches the accomplishment of 2010-2012 king Ray Guss Jr. of Milan, Ill. Kay earns a $5,500 share of a $21,300 point fund to be paid to top 20 finishers in the national ranks.
"The first one is still the best but the third one is pretty cool," Kay said. "National championships get tougher to win. It's cool to be able to do it three years in a row."
Runner-up Matt Ryan of Davenport was just three points off the pace. He raced to 11 feature wins and track titles at Davenport Speedway, Jackson County Speedway and Quad City Speedway, plus the Allstar Performance Illinois State crown.
Two-time national champion Todd Cooney of Des Moines, Ryan Griffith of Webster City and Andy Nezworski of Buffalo completed the top five.
Nevada's Paul Nagle earned national rookie of the year as well as Allstar Performance Iowa State championship honors. He was 13th nationally.
As many as 20 bonus points, based on average car counts, were awarded for track and special series championships. Ryan got 20 points for his Davenport title, the highest from among his three local titles. Kay's Dubuque crown was accompanied by 17 bonus points.
Other track champions, with bonus points in parenthesis, were Jeff Aikey of Cedar Falls at the Iowa State Fairgrounds Speedway in Des Moines (13); Tyler Bruening of Decorah at Farley Speedway (19); Cooney, at Shelby County Speedway in Harlan (14); Tyler Droste of Waterloo at Independence Motor Speedway (17); Ryan Griffith of Webster City at his hometown Hamilton County Speedway (12); and Kevin Kile at his hometown West Liberty Raceway (16).
John Emerson of Waterloo ruled the Sunday Series (14) held at Stuart Speedway and Benton County Speedway in Vinton.
Kay now owns 58 feature wins over the course of his weekly IMCA Late Model career, all but one of them coming in the last three years. He'll next try to join Guss as the only drivers to win both national and Deery Brothers Summer Series crowns in back-to-back seasons.
Guss did so in 2010 and 2011.
Darrel DeFrance of Marshalltown is also a three-time Late Model national champion, with the 1993, 2006 and 2007 titles to his credit.
Final events of the 2015 IMCA Speedway Motors Weekly Racing point season for Late Models were held Aug. 30 and standings become official on Sept. 28. Point fund checks will be presented during the national IMCA banquet in Lincoln, Neb., in November.
Unofficial IMCA Late Model top 20 point standings – 1. Justin L. Kay, Wheatland, Iowa, 814; 2. Matt Ryan, Davenport, Iowa, 811; 3. Todd Cooney, Des Moines, Iowa, 801; 4. Ryan Griffith, Webster City, Iowa, 769; 5. Andy Nezworski, Buffalo, Iowa, 760; 6. Tyler Bruening, Decorah, Iowa, 757; 7. John Emerson, Water­loo, Iowa, 751; 8. Joel Callahan, Dubuque, Iowa, 747; 9. Darrel DeFrance, Marshalltown, Iowa, 742; 10. Jon Merfeld, Dubuque, Iowa, 736; 11. Jeremy Grady, Story City, Iowa, 735; 12. Charlie McKenna, Clear Lake, Iowa, 726; 13. Paul Nagle, Nevada, Iowa, 725; 14. Ray Guss Jr., Milan, Ill., 720; 15. Ben Nading, Ankeny, Iowa, 716 (two 40-point feature wins); 16. Jonathan Brauns, Muscatine, Iowa, 716 (no 40-point feature wins); 17. Nate Beuseling, Silvis, Ill., 711; 18. Brian Harris, Davenport, Iowa, 706; 19. Daul­ton Maassen, Avoca, Iowa, 704; 20. Tyler Droste, Waterloo, Iowa, 700.