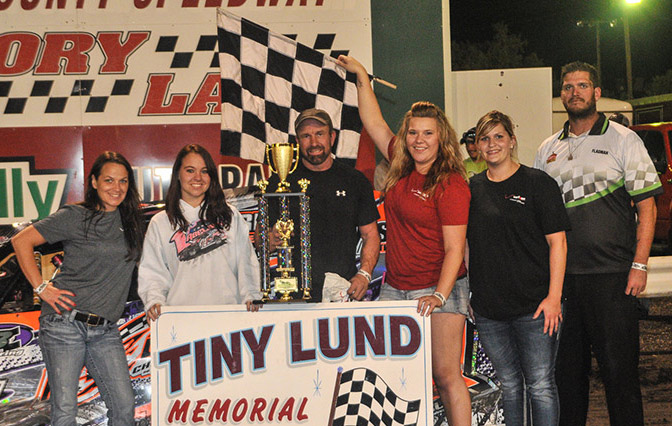 HARLAN, Iowa (Aug. 29) – For the third time in his career, Chris Abelson stood tallest at Shelby County Speedway's Tiny Lund Memorial.
Abelson held off Nick Deal in winning Saturday's 25-lap main event for Xtreme Motor Sports IMCA Modifieds.
"It was definitely a battle," the national point leader said following his 31st victory of the season. "It was a good race and fun for sure."
Abelson drew the inside row four start and was in the lead when the fifth circuit was scored. He'd trade the lead with Sobbing and led to the finish once he got back in front.
The late-race storyline included lapped traffic and one final restart. Deal was threatening on the high side, so Abelson moved higher on the oval himself.
Deal, Sobbing, Jacob Anson and Adam Larson completed the top five. Along with the $1,000 checkers, Abelson earned a spot on the ballot for the 2016 Fast Shafts All-Star Invitational.
He'd also won the Tiny Lund main event for Karl Chevrolet Northern SportMods in 2006 and the Modified headliner in 2010.
David Livingston also pocketed $1,000 by winning the IMCA Late Model feature. The victory was his first of the season and Tiny Lund career first.
"I've been racing a Late Model for 16 years and every year they've had Late Models at the Tiny Lund, I've been trying to win here," the Glenn Robey Motorsports driver said. "This was a great way to end the season."
Livingston was in front coming out of the first set of turns. Cooney took charge following a restart with 11 laps left and put some distance on the field before Livingston began making up ground.
The two were side-by-side at the white flag. Livingston proved to have the faster line inside, taking his Butch Lavell, Keith Manders, Alpine Inn-backed ride across the stripe just ahead of Cooney.
Robert See, Barry Sorensen and Kyle Segebart were scored next.
Brian Blessington was the IMCA Sunoco Stock Car winner, ahead of 16th starting Daniel Hilsabeck and 11th starting Brad Derry.
Top Northern SportMod honors went to Cody Olsen. Tenth starting Clint Luellen was the runner-up and Glenn Gladson Jr. ran third.
Corey Madden captured the IMCA Sunoco Hobby Stock checkers ahead of Jeff Anderson and Shannon Anderson.
Alec Stapleton won the Mach-1 Sport Compact main. Taylor Griffin raced all the way from 18th to second; Tyler Thompson started 11th and finished third.
Feature Results
Modifieds – 1. Chris Abelson; 2. Nick Deal; 3. Jesse Sobbing; 4. Jacob Anson; 5. Adam Larson; 6. Brandon Monson; 7. Travis Hatcher; 8. Craig Reetz; 9. Robert Tippery; 10. Tom Berry Jr.; 11. John Davis; 12. Ricky Stephan; 13. Cody Hillgartner; 14. Ryan Topf; 15. Nate Caruth; 16. Brian Foote; 17. Jared Hansen; 18. Jonathan Plowman; 19. Mike Albertsen; 20. Steve Reetz; 21. Jeff Stephens; 22. Jake Neal; 23. Andy Miller; 24. Jacob Murray; 25. Dustin Smith.
Late Models – 1. David Livingston; 2. Todd Cooney; 3. Robert See; 4. Barry Sorensen; 5. Kyle Segebart; 6. Vic Lovejoy; 7. Daulton Maassen; 8. Bill Hoover; 9. Don Beckstrom; 10. Jeff Segebart; 11. Paul Nagle; 12. Allan Hopp; 13. Mark Plowman; 14. Leon Zeitner.
Stock Cars – 1. Brian Blessington; 2. Daniel Hilsabeck; 3. Brad Derry; 4. Keith Knop; 5. Joe Zadina; 6. Mike Stapleton; 7. Jay Brannan; 8. Adam Hensel; 9. Tanner Powers; 10. J.J. Baumli; 11. Tony Scheffler; 12. Chris Ullrich; 13. Joe Smith; 14. Derrick Rohe; 15. Bryan Snell; 16. Ron Bougher; 17. Ray Dessel; 18. Justin Bromert; 19. Dale Woodard; 20. Bob Walker; 21. Mike Harris; 22. Clay Mercer; 23. Trent Partridge; 24. Devin Smith.
Northern SportMods – 1. Cody Olsen; 2. Clint Luellen; 3. Glenn Gladson Jr.; 4. Keagan Scott; 5. Kody Havens; 6. Shawn Harker; 7. Kaleb Kennedy; 8. Jake Sachau; 9. Thomas Van Dyke; 10. D.J. Doebelin; 11. Ed Hamilton; 12. Matt Richards; 13. Kevin Bruck; 14. Shawn Cooney; 15. Rodney Slechta; 16. Dan Kline; 17. Tim Judd; 18. Randy Archer; 19. Brett Hopp; 20. Ron Tex; 21. Evan Nemitz; 22. Galen Grabill; 23. Mike Brown; 24. Dylan Petersen; 25. Logan Scott.
Hobby Stocks – 1. Corey Madden; 2. Jeff Anderson; 3. Shannon Anderson; 4. Jason Fusselman; 5. Jeff Fink; 6. Andy Davison; 7. Tom Myers; 8. Daniel Smith; 9. Chuck Madden Jr.; 10. Josh Cook; 11. Colby Christensen; 12. Willie Ransom; 13. Kevin Bruck; 14. Randy Anderson; 15. Jason Kohl; 16. Mike Pruitt; 17. Jesse Totten; 18. Sterling Sorensen; 19. Jordan Androy.
Sport Compacts – 1. Alec Stapleton; 2. Taylor Griffin; 3. Tyler Thompson; 4. Bronson Griffin; 5. Jeff Stephens Jr.; 6. Nolan Parker; 7. David Sciranko; 8. Thomas Kurtz; 9. Terry Romick III; 10. Deb Braasch; 11. Corey Stapleton; 12. Adam Rehse; 13. Cody Thompson; 14. Jesse Totten; 15. Jason Kroeger; 16. Randy Rush; 17. Alex Davis; 18. Tony Kerger; 19. Tim Hoffman.