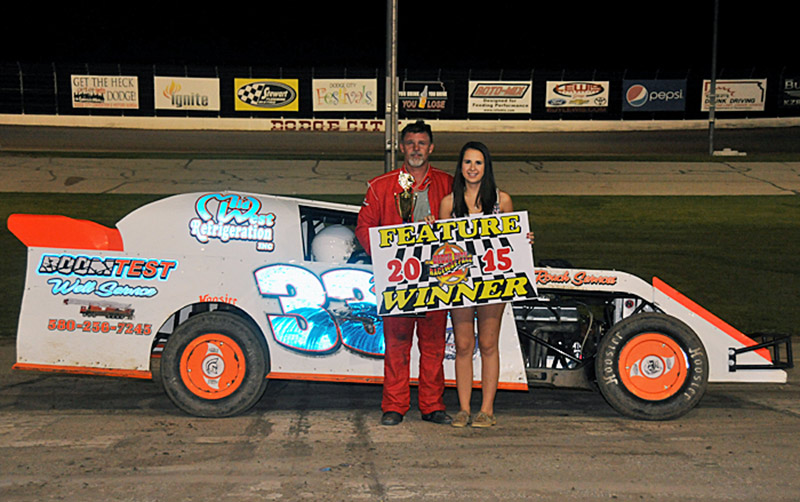 By Lonnie Wheatley
DODGE CITY, Kan. (Aug. 29) – Mike Roach pocketed the $1,000 winner's share by reaching victory lane in Saturday night's second annual IMCA SportMod Mayhem feature event atop the 3/8-mile Dodge City Raceway Park clay oval.
Roach chased nephew Brandon Kenny for 19 circuits before taking advantage of lapped traffic to take command.
"Lapped traffic won it for me. My nephew got bottled up and there and I got by," Roach said. "The track was great. You could run high, low, anywhere you wanted."
While Roach started inside the third row, Kenny outgunned Jeff Kaup for the lead at the drop of the green with Roach racing into second on the opening round.
Kenny and Roach slipped away from the field with Kaup distancing from the rest of the pack as he held down third.
With traffic in play by the midway point, Roach nearly pulled even in turn four on the 19th lap and then raced into the lead a half lap later when Kenny got held up in traffic exiting turn two.
Roach raced through traffic the rest of the way to preserve the win with Kenny settling for second. Kaup held on for the show position with inaugural Sport Modified Mayhem winner Clay Money crossing the stripe in fourth, a half lap off the lead pace. Dustin Daniels rounded out the top five.
After Mike Appel spun in the opening pair of corners on the initial start, the 30-lapper ran off in non-stop fashion as Roach became the 11th different winner in as many IMCA SportMod features at Dodge City in 2015.
Kevin Gray captured his first Xtreme Motor Sports IMCA Modified win at the Dodge City oval. Jason Rogers bested the IMCA Sunoco Stock Cars and Matt O'Hair captured another IMCA Sunoco Hobby Stock win.
In the 20-lap IMCA Modified feature, Ulysses' Kevin Gray battled past the father-son duo of Tracy and Nick Link to take command at the midway point and led the rest of the way to capture his first DCRP win.