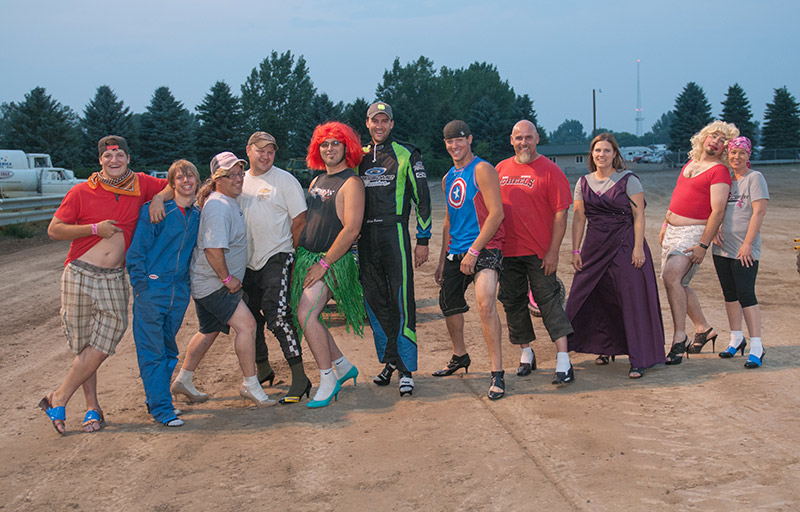 MANDAN, N.D. (Aug. 21) – After dominating her heat race, breast cancer survivor Nylee DiMeo made an epic return back to the track in the Mach-1 Sport Compact feature during the seventh annual Drive to Survive program Friday at Dacotah Speedway.
Jason Berg, who helped prepare DiMeo's car for the race, took the lead from pole sitter Tom Dwors­hak. Berg pulled away from the field as Chance Seelye slipped by Dworshak for second, bringing points leader Josh Roehrich with him.
They raced side-by-side for several laps before Roehrich completed the pass for second with five laps to go. As Roehrich started to slowly reel in Berg for the lead, he got off the backstretch and dropped to third with two laps to go.
Berg dominated the feature and led all 10 laps to win back-to-back feature victories and his third of the season. Chance Seelye finished second as points leader Josh Roehrich settled for third. Kody Stoxen held off Brandon Anderson for fourth.
Jeff Taylor took the lead with 12 laps to go and checked out on the rest of the Xtreme Motor Sports IMCA Modified field. Drew Christianson finished a distant second as Taylor picked up his third feature victory of the season at Mandan.
The day had started at the Bismarck Cancer Center where nearly 20 Dacotah Speedway regular drivers brought their race cars down for a special meet and greet.
The fun continued at the race track where numerous items were auctioned off before several drivers strapped on high heels for a footrace on the frontstretch. All proceeds raised were donated back to the Bismarck Cancer Center for continued breast cancer research.