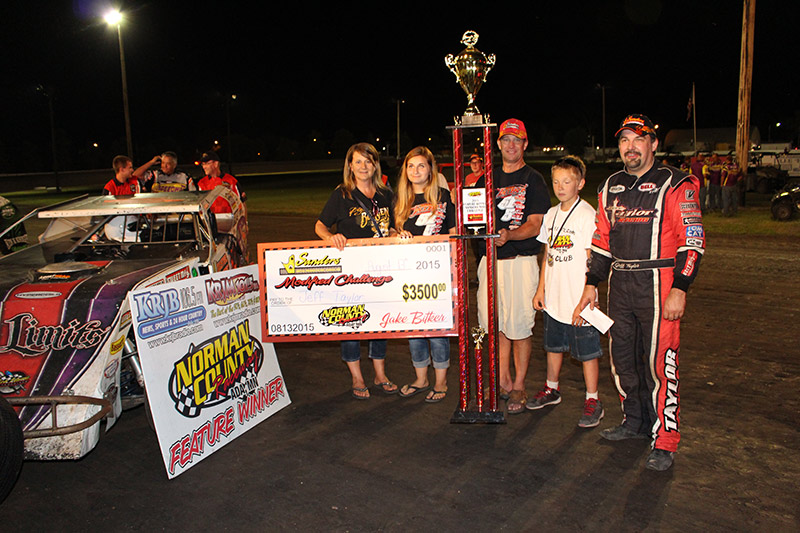 ADA, Minn. (Aug. 13) – Futility was the story of Jeff Taylor's first visit to Norman County Raceway three years ago.
He returned Thursday night to win the Sanders IMCA Modified Challenge special and left Ada with $3,500 worth of redemption.
"I really liked being able to redeem myself. The last time I was here, I spun out twice and didn't even get out of my 'B' feature," Taylor said. "You don't forget stuff like that."
The $18,700 feature purse lured Taylor and a lot of Xtreme Motor Sports IMCA Modified top guns from the Upper Midwest and Canada to the midweek special.
Mike Hansen, Aaron Turnbull, Dustin Strand and Curt Lund completed the top five, finishing well off the pace Taylor set up front.
Taylor had started the 30-lap main event from 11th. A caution near midway wiped out Hansen's big lead and Taylor zoomed from fourth to second following the restart, then passed Hansen on the 17th time around.
"I'd been running a little bit of everywhere before staying on a higher line to see if I could make up some ground," he explained. "I caught lapped cars with about three to go and tried to be patient."
Already on the ballot for the 2016 Fast Shafts All-Star Invitational ballot, Taylor went from victory lane to jotting down notes about Ada.
"I'm pretty meticulous. Little bitty things can make a difference and I like to know everything," he said. "The track was a shade slicker tonight than it was three years ago but it was still pretty good. You could run all over it."
Looking to get everything just right for the upcoming IMCA Speedway Motors Super Nationals fueled by Casey's, he'll next campaign the Industrial Electric, Spur Bar, Provence Construction, Fury Energy and Roddy Ranch and Wilson Farms-sponsored ride at a trio of weekly shows in North Dakota.
"We're getting tuned in," said the 2012 Super Nationals champion. "It's always great to go into Boone running good."
Feature results – 1. Jeff Taylor, Cave City, Ark.; 2. Mike Hansen, Dickinson, N.D.; 3. Aaron Turnbull, Estevan, Sask.; 4. Dustin Strand, Grand Forks, N.D.; 5. Curt Lund, Redwood Falls; 6. Rob VanMil, Barnesville; 7. Kyle Brown, State Center, Iowa; 8. Justin Jones, Bemidji; 9. Thomas Silver, Glenwood; 10. Michael Johnson, Moorhead; 11. Shawn Strand, Mandan, N.D.; 12. Brian Strand, Bemidji; 13. Josh Beaulieu, Bemidji; 14. Mark Dahl, Bismarck, N.D.; 15. Rusty Kollman, Carrington, N.D.; 16. Corky Thomas, Glyndon; 17. Tyler Hall, Fertile; 18. Josh Rogotzke, Sanborn; 19. Ryan Dahl, Moorhead; 20. Dustin Wahl, Greenbush; 21. Aaron Olson, Mekinock, N.D.; 22. Jason Grimes, Jamestown, N.D.; 23. Dev Malmlov, Moorhead; 24. Dave Shipley, Argusville, N.D.; 25. Michael Greseth, Harwood, N.D.