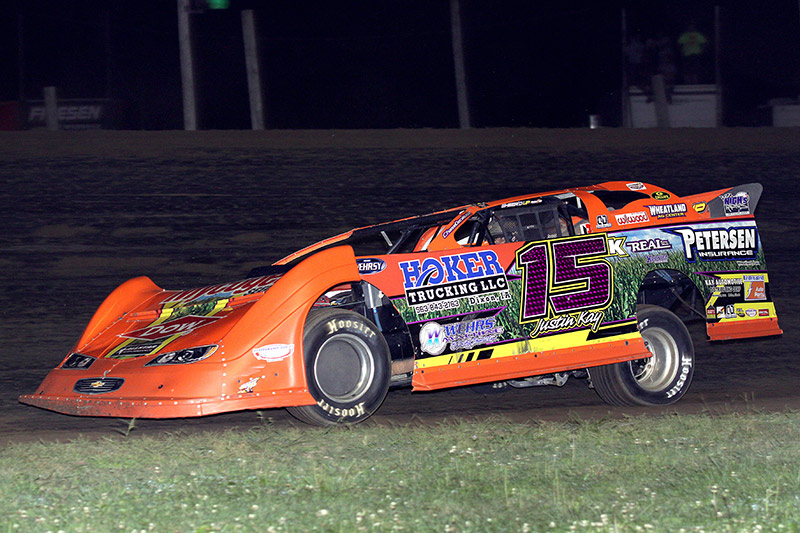 TIPTON, Iowa (Aug. 11) – Justin Kay nearly had two trophies to show for his Tuesday night ef­forts at Cedar County Raceway.
Kay won his sixth Deery Brothers Summer Series feature of the season, adding to his lead in the IMCA Late Model tour point standings. He'd run second in the Hawkeye Dirt Tour feature for Xtreme Motor Sports Modifieds earlier in the evening.
Dan Shelliam started outside row two in the 50 lap Deery Series main event and led the first 14 times around the Tipton oval.
The third starting Kay drove by the next time around and was not challenged. Restarts at midway and on lap 39 took out lapped traffic and Kay's margin of victory was most of 10 car lengths.
The victory was Kay's career 15th and paid $3,000.
Shelliam matched his career best finish in second – he'd also been runner-up to Kay at Jackson County Speedway on June 9 – and Ray Guss Jr. was third.
Kevin Kile was fourth. Richie Gustin caught Scott Fitzpatrick for fifth with two laps to go.
Brunson Behning drew the pole and ran in the top five most of the night before spinning to bring out the final caution.
Winner of the $250 Sunoco Race Fuels feature qualifier drawing was Joe Zrostlik.
The 29th annual series concludes with four shows in September, starting with the Sept. 4-5 Ideal Ready Mix Liberty 100 at West Liberty Raceway.
Kay now has a 26-point advantage over Andy Nezworski in his pursuit of a second straight series title. He's the only driver with more than one win through the first 14 tour events this year.
Feature results – 1. Justin Kay, Wheatland; 2. Dan Shelliam, Hazel Green, Wis.; 3. Ray Guss Jr., Milan, Ill.; 4. Kevin Kile, West Liberty; 5. Richie Gustin, Gilman; 6. Scott Fitzpatrick, Wheat­land; 7. Joe Zrostlik, Long Grove; 8. Joel Callahan, Dubuque; 9. Andy Nezworski, Buffalo; 10. Ty­ler Droste, Waterloo; 11. Matt Ryan, Davenport; 12. Jeff Aikey, Cedar Falls; 13. Todd Malmstrom, Sil­vis, Ill.; 14. Jon Poll, Delmar; 15. Ryan Dolan, Lisbon; 16. Jonathan Brauns, Muscatine; 17. Sam Halstead, New London; 18. Darren Ackerman, Readlyn; 19. Brunson Behning, Davenport; 20. Andy Eckrich, Oxford; 21. Stephan Kammerer, Blue Grass; 22. Ross Pierce, Sherrill; 23. Kyle Hinrichs, Swisher; 24. Jeff Tharp, Sherrill.
1st heat (top three) – 1. Kay; 2, Eckrich; 3. Kile; 4. Poll; 5. Fitzpatrick; 6. Kammerer; 7. Ryan Claeys, Morrison, Ill.; 8. Chad Holladay, Muscatine.
2nd heat – 1. Callahan; 2. Brauns; 3. Malmstrom; 4. Ryan; 5. Hinrichs; 6. Droste; 7. Jay Johnson, West Burlington; 8. Wayne Hora, Anamosa.
3rd heat – 1. Guss; 2. Shelliam; 3. Gustin; 4. Tharp; 5. Dolan; 6. Darrel DeFrance, Marshalltown; 7. Luke Merfeld, Dubuque; 8. Charlie McKenna, Clear Lake.
4th heat – 1. Zrostlik; 2. Behning; 3. Nezworski; 4. Aikey; 5. Ackerman; 6. Halstead; 7. Pierce.
1st "B" feature (top four) – 1. Fitzpatrick; 2. Poll; 3. Dolan; 4. Kammerer; 5. Tharp; 6. Merfeld; 7. DeFrance; 8. McKenna; 9. Claeys; 10. Holladay.
2nd "B" feature – 1. Ryan; 2, Aikey; 3. Hinrichs; 4. Droste; 5. Ackerman; 6. Johnson; 7. Halstead; 8. Hora; 9. Pierce.
Hard charger – Ackerman. Provisionals – Halstead, Pierce and Tharp.