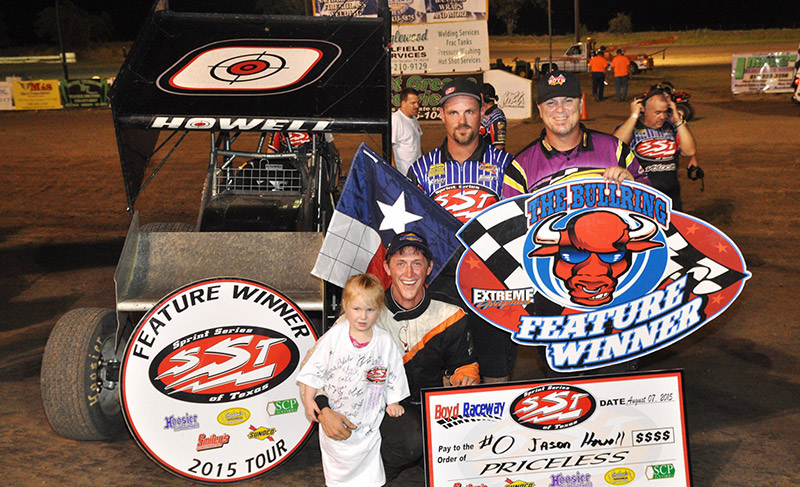 BOYD, Texas (Aug. 7) – To absolutely no one's surprise, Jason Howell was happy to see the Sprint Series of Texas pay a return visit Friday to Boyd Raceway.
Howell motored from 10th starting to win his third IMCA Eagle Motorsports RaceSaver Sprint Car tour event of the season. The defending champion had also taken the checkers when the SST opened at his "home track" back in April.
"I took the outside line to get to the front and passed teammate Danny Merrell on the bottom to take the lead about midway," said Howell. "Luckily, there was enough room for me down there."
Merrell ended as the runner-up, close enough to keep Howell from feeling comfortable as the 20-lapper wound down.
"I felt like second place was right behind me," Howell admitted. "I ran like a dog with it's tail stuck between his legs."
Cody Whitworth was third and Michelle Melton took fourth.
Point leader Dustin Woods, another teammate of Howell's, borrowed his father's car and finished fifth after engine problems during hot laps.
Feature results – 1. Jason Howell; 2. Danny Merrell; 3. Cody Whitworth; 4. Michelle Melton; 5. Dustin Woods; 6. Russell Shoulders; 7. Drew Wright; 8. Adam Barr; 9. Mike Herring; 10. Reagan Reed; 11. Corey Minor; 12. Jerry Hammock; 13. Ed Keaton; 14. Josh Hanna; 15. Matt Holt; 16. Gary Kelley; 17. Mark Klis Jr.; 18. Matt Etzelmiller; 19. Kenny Venable; 20. Kenny Elwood.