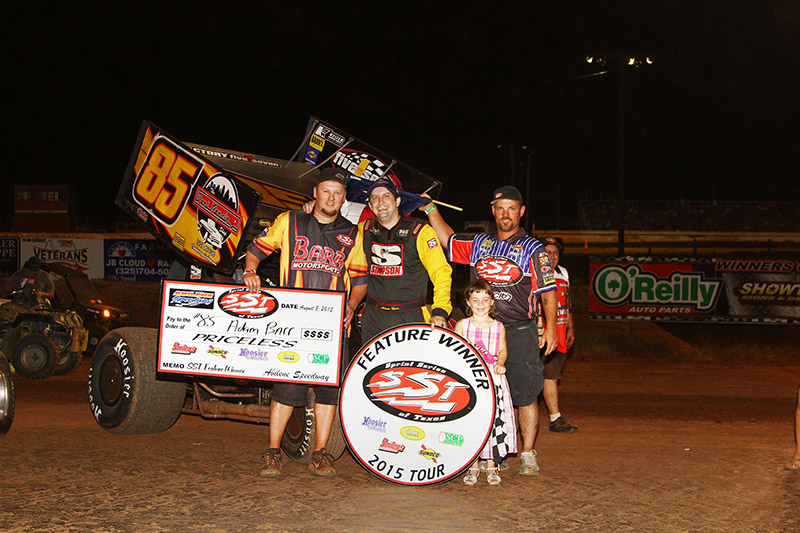 ABILENE, Texas (Aug. 8) – Even after Adam Barr won his Saturday night Sprint Series of Texas heat at Abilene Speedway, crew chief Josh Freeman saw room for improvement.
Some tinkering produced a second place finish in the dash. Barr then went out and promptly won the 20-lap main event, his career-first SST victory.
"It was amazing," Barr said following the IMCA Eagle Motorsports RaceSaver Sprint Car triumph. "To be able to pull something like this off against this level of competition was an honor, and something I'll always cherish."
Barr started outside row four and was up to second just before a lap nine yellow.
He passed Craig Woods for the lead just after midway and held off Jerry Hammock and Dustin Woods for the victory following a couple late restarts.
Friday night winner Jason Howell was fourth and Michelle Melton completed the top five.
Feature results – 1. Adam Barr; 2. Jerry Hammock; 3. Dustin Woods; 4. Jason Howell; 5. Michelle Melton; 6. Reagan Reed; 7. Craig Woods; 8. Cody Whitworth; 9. Gary Kelley; 10. Mike Herring; 11. Bud Hanna; 12. Danny Merrell; 13. Mark Klis Jr.; 14. Josh Hanna; 15. Matt Etzelmiller; 16. Kenny Elwood; 17. Drew Wright; 18. Bob Odom; 19. Chase Parson; 20. Matt Holt; 21. David Munden; 22. Steven Elliott.