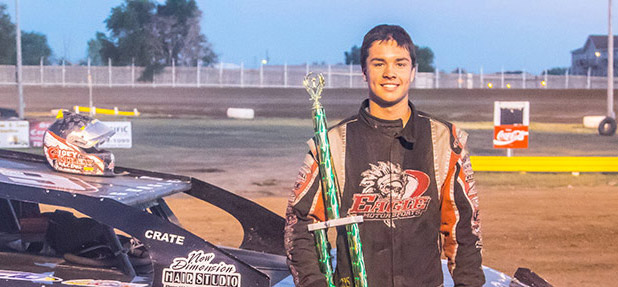 WILLISTON, N.D. (Aug. 7-8) – Jett Big Eagle wasn't quite sure on the date of his career first Xtreme Motor Sports IMCA Modified feature win.
You can bet he won't forget the date of his second.
The 15-year-old from Manor, Sask., started on the pole and led every lap of Williston Basin Speedway's Can-Am Shootout opening night main event on Friday. He held off older brother Masen for the $1,200 checkers and Fast Shafts All-Star Invitational ballot berth.
"Masen got close on that last lap but I was able to close the door on him," said Big Eagle, pumped at the prospect of being elected to the 2016 All-Star field. "It was great to get this win with him second and my other teammate, Joey Galloway, third."
The only caution of the 25-lap contest flew on the opening circuit. Big Eagle was slowed by lapped traffic but still beat his brother across the stripe by about a car length.
"I got the better of him coming out of the final turn," said Big Eagle, who'd won for the first time in an IMCA Modified on May 24 at Nodak Speedway. "He was better coming in, but I was better getting out of the corner."
Travis Hagen started ninth and won Saturday's Modified feature, also earning $1,200 and a spot on the Fast Shafts All-Star Invitational ballot. Travis Peery was the runner-up while Masen Big Eagle sewed up two-day championship honors with his third place showing.
Other Friday winners were Jeremy Swanson in the IMCA Sunoco Stock Cars, Ryan Wolla in the Karl Chevrolet Northern SportMods and Jason Olsen in the IMCA Sunoco Hobby Stocks.
Also taking Saturday checkers were Chris Ellis in the Stocks, Matt Lizotte in the Northern SportMods and Brad King in the Hobbies.
Modified Feature Results
Aug. 7 – 1. Jett Big Eagle; 2. Masen Big Eagle; 3. Joey Galloway; 4. Chris Schroeder; 5. Mike Hagen; 6. Travis Peery; 7. Jamall Wold; 8. Eric Sinness; 9. Travis Hagen; 10. Hank Berry; 11. John Flory; 2. Wayne Johnson; 13. Tyler Wagner; 14. Joe Flory; 15. Ed Conlin; 16. Pete Bradley; 17. Tommy Lee; 18. Jeremy Sorenson; 19. Mark Neu; 20. William Kinden; 21. Darren Schatz; 22. Troy Heupel; 23. Robert Hellebust; 24. Justin Medler; 25. Nick Fuchs.
Aug. 8 – 1. Travis Hagen; 2. Peery; 3. Masen Big Eagle; 4. John Flory; 5. Hank Berry; 6. Conlin; 7. Johnson; 8. Schroeder; 9. Jett Big Eagle; 10. Donavon Sorenson; 11. Heupel; 12. Joe Flory; 13. Wold; 14. Jeremy Sorenson; 15. Sinness; 16. Tim Sorenson; 17. Wagner; 18. Neu; 19. Brad­ley; 20. Lee; 21. Schatz; 22. Andy Clingman; 23. Mike Hagen; 24. Hellebust; 25. Medler; 26. Gallo­way.
30