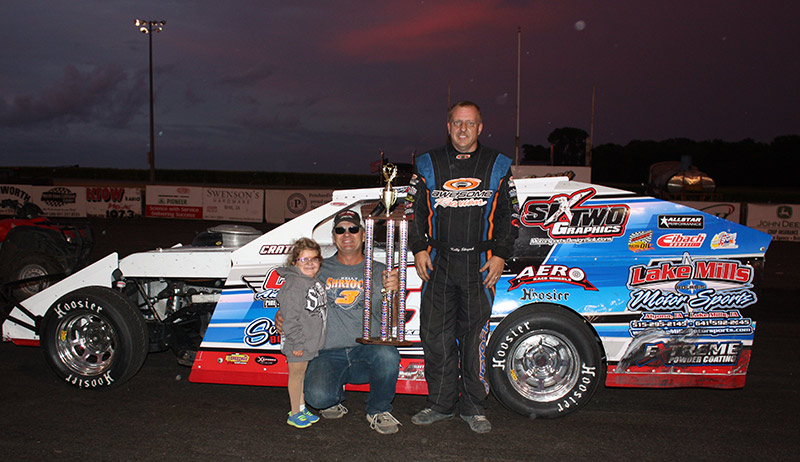 BRITT, Iowa (Aug. 8) – The rainbow stretching over the backstretch at Hancock County Speedway led Kelly Shryock to an $8,800 jackpot.
After starting deep in the field in Thursday and Friday features at Britt, Shryock led every lap of Saturday's Xtreme Motor Sports IMCA Modified All Star Night feature shortened from 50 to 36 circuits because of rain and slick track conditions.
Mark Elliott started ninth and found the fastest line up top. He had closed on Shryock before the sudden checkers flew.
Kyle Brown, Benji LaCrosse and Hunter Marriott followed the front pair across the stripe.
Shryock earned $4,000 for the Fast Shafts All-Star Invitational ballot qualifying win, plus $2,800 in lap money and a $2,000 bonus for having raced at least eight times previously this season at Hancock County.
"We've been trying to win here all year and finally got it done on a big night," said Shryock, who agreed with the decision by track officials to call the race early. "It was a handful out there. Whether I was running first, second or wherever, shortening the feature was the right thing to do. You risk tearing up cars or worse yet somebody getting hurt."
With Shryock well in front, Brown held down second and Night of 10,000 Stars winner Ryan Ruter ran third before the scheduled pit stop on lap 25.
That rainbow served as a backdrop to the restart. Elliott made his move toward the front on the higher line, passed Brown for second on the 33rd lap and was looking for a route around Shryock when the checkers came out.
"I raced from 33rd to fifth on Thursday and from 14th to third on Friday," said Shryock, more than satisfied with the win. "The view was a lot better from where I started tonight."
Jake Masters was the $1,000 IMCA Sunoco Stock Car winner, ahead of Damon Murty and Kevin Opheim.
Five hundred dollar feature winners were Colby Fett in the Karl Chevrolet Northern SportMods and Jeremy Wegner in the IMCA Sunoco Hobby Stocks.
George Nordman and Frank Parker completed the SportMod top three. Austin Luellen was second and Cody Nielsen was third in the Hobby main.
Winner of the Mach-1 Sport Compact feature was Jay DeVries.
Feature Results
Modifieds – 1. Kelly Shryock, Fertile; 2. Mark Elliott, Webster City; 3. Kyle Brown, State Center; 4. Benji LaCrosse, Green Bay, Wis.; 5. Hunter Marriott, Brookfield, Mo.; 6. Brian Mullen, Seymour, Wis.; 7. Ryan Ruter, Kanawha; 8. Josh Most, Red Oak; 9. Dylan Smith, Osceola, Neb.; 10. Kyle Strickler, Mooresville, N.C.; 11. Tim Ward, Gillbert, Ariz.; 12. David Brown, Kellogg; 13. Paul Stone, Winton, Calif.; 14. Jesse Hoeft, Forest City; 15. Cayden Carter, Oskaloosa; 16. Mike Mullen, Suamico, Wis.; 17. Jay Noteboom, Hinton; 18. Jon Snyder, Ames; 19. Tyler Hackett, Algoma, Wis.; 20. Todd VanEaton, Orient; 21. Brandon Beckendorf, Danube, Minn.; 22. Todd Shute, Des Moines; 23. Mike Jergens, Plover; 24. Jeremy Mills, Garner; 25. Jason Wolla, Ray, N.D.; 26. Mike Wedelstadt, Fremont, Wis.; 27. Mark Noble, Blooming Prairie, Minn.; 28. Mark Joski, Denmark, Wis.; 29. Kevin Stoa, Clear Lake.
Stock Cars – 1. Jake Masters, Graettinger; 2. Damon Murty, Chelsea; 3. Kevin Opheim, Mason City; 4. Randy Brands, Boyden; 5. Calvin Lange, Humboldt; 6. David Smith, Lake City; 7. Travis Shipman, Mason City; 8. Chad Palmer, Renwick; 9. Derek Green, Granada, Minn.; 10. Heath Tulp, Belmond; 11. Dan Hanselman, Algona; 12. Kellie Schmit, Britt; 13. Derek Barglof, Sioux Rapids; 14. David Wickman, Emmetsburg; 15. Wayne Landheer, Titonka; 16. Pete Alexander, Albert Lea, Minn.; 17. Kyle Rose, Dallas Center; 18. Blake Cole, Nashua; 19. Weylin Bruneau, Sioux City.
Northern SportMods – 1. Colby Fett, Algona; 2. George Nordman, Mason City; 3. Frank Parker, Boone; 4. Nate Whitehurst, Mason City; 5. Jeremy Grantham, Allison; 6. Doug Cook, Algona; 7. Nate Chodur, Lake Mills; 8. Nick Meyer, Whittemore; 9. Cody Knecht, Whittemore; 10. Ryan Hiscocks, Britt; 11. Levi Chipp, Latimer; 12. Brandon Toftee, Webster City; 13. Matt Morrow, Spencer; 14. Brady Joynt, Webb; 15. Jeff Carter, Mapleton, Minn.; 16. 16. Gerald Curry, Luverne; 17. Autumn Anderson, Mason City; 18. Brandon Ostwald, Algona; 19. Mathew Hanson, Klemme; 20. Alec Fett, Thompson; 21. Zack Smidt, Mason City; 22. George Gilliland, Lehigh; 23. Kent Haugland, Wesley; 24. Nate Albrant, Thompson; 25. Troy Krug, Emmetsburg; 26. J.J. Hashbarger, Bonduel, Wis.
Hobby Stocks – 1. Jeremy Wegner, Emmetsburg; 2. Austin Luellen, Minburn; 3. Cody Nielsen, Spencer; 4. Buck Schafroth, Orient; 5. Andrew Borchardt, Plymouth; 6. Darin Johnson, Dickens; 7. Brandon Nielsen, Spencer; 8. Tony Smidt, Britt; 9. Travis Johnson, Fertile; 10. Chad Krug, Emmetsburg; 11. Blaine Hanson, Klemme; 12. Austin Jahnz, St. James, Minn.; 13. Nate Harris, Graettinger; 14. Adam Laubenthal, Spencer; 15. Jay Sidles, Emmetsburg; 16. Cory Gansen, Clear Lake; 17. Scott Dobel, Manly; 18. Zac Smith, Mason City; 19. Nick Schilling, Sanborn,
Sport Compacts – 1. Jay DeVries, Spencer; 2. Devin Jones, Clear Lake; 3. Dalton Kron, Algona; 4. Ken Winkowitsch, Mason City; 5. Kaytee Devries, Spencer; 6. Nick Hamlin, Garner; 7. Skeeter Vegas, Rudd.