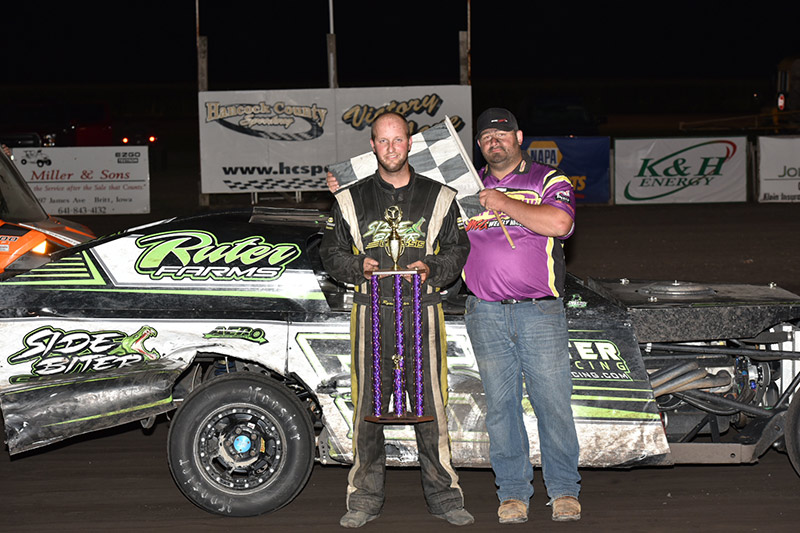 BRITT, Iowa (Aug. 7) – The stars aligned Friday night at Hancock County Speedway for Ryan Ruter.
Ruter passed Benji LaCrosse with 10 laps left in the Night of 10,000 Stars main event for Xtreme Motor Sports IMCA Modifieds, then stayed in front to the finish for a $9,000 payday.
LaCrosse, the 2013 race winner and last year's runner-up, led most of the 50-lapper before getting caught behind a lapped car in the second set of turns. Ruter shot to the lower line for the lead, then pulled away in traffic.
"Benji had about a half a straightaway lead when I saw him move up. I followed him to the higher line and started making up ground," said Ruter, who'd run second to another Wisconsin hotshoe, Mike Mullen, in Thursday's Night of 1,000 Stars at Britt.
"It wasn't that Benji made a mistake. He was just in the wrong lane at the wrong time," Ruter continued. "I had an opportunity and I capitalized on it."
Forty cars representing nine states started the feature, which saw long green flag runs before and after the mandatory pit stop at midway.
Kyle Brown was the early leader before giving way to LaCrosse on the seventh circuit; the only caution in the first half of the contest came on lap two.
LaCrosse was into heavy lapped traffic when the race was stopped at halfway. Brown regained the lead briefly when the race was restarted but surrendered the front spot back to LaCrosse following back-to-back cautions on laps 28 and 29.
The race stayed green from that point. Ruter took aim at LaCrosse after getting by Kelly Shryock for good on lap 34.
LaCrosse, Shryock, Brown and 21st starting Hunter Marriott completed the top five.
On top of the $7,000 winner's share of the purse, Ruter got $1,000 bonuses for having raced at least six times and for having won previously at Britt this season. He'll join the ballot for the 2016 fast Shafts All-Star Invitational.
"This was a pretty good win for us. We've had a lot of other big ones – in the Hawkeye Dirt Tour, the Frostbuster and the Dakota Classic Tour – but this is one of the bigger ones," he said. "It's always nice to take home a little bit of cash once in a while."
The big field gave plenty of drivers the chance to contend for hard charger honors, which ultimately belonged to Clayton Christensen, who advanced 25 positions to 14th.
Devin Smith rallied to take the $1,000 IMCA Sunoco Stock Car win. George Nordman and Cody Nielsen took $500 victories in the Karl Chevrolet Northern SportMod and IMCA Sunoco Hobby Stock divisions, respectively.
Smith had the Stock Car contest well in hand before a couple late restarts. He regained the lead from 17th starting Randy Brands to win by half a car length, with Ned Kalis right behind.
A car length also separated Nordman from runner-up Johnathon Logue at the finish of the Northern SportMod main event. Third was Cody Knecht.
Nielsen drew the pole and ran strong from start to finish for the second time in as many nights, ahead of brother Brandon and Austin Luellen.
Feature Results
Modifieds – 1. Ryan Ruter, Kanawha; 2. Benji LaCrosse, Green Bay, Wis.; 3. Kelly Shryock, Fertile; 4. Kyle Brown, State Center; 5. Hunter Marriott, Brookfield, Mo.; 6. Dylan Smith, Osceola, Neb.; 7. Shawn Kilgore, New Franken, Wis.; 8. Jason Wolla, Ray, N.D.; 9. Tyler Droste, Waterloo; 10. Troy Cordes, Dunkerton; 11. Jesse Hoeft, Forest City; 12. Clint Hatlestad, Glencoe, Minn.; 13. Mike Mullen, Suamico, Wis.; 14. Clayton Christensen, Spencer; 15. Paul Stone, Winton, Calif.; 16. Brian Irvine, Oelwein; 17. Mike Wedelstadt, Fremont, Wis.; 18. Tim Ward, Gilbert, Ariz.; 19. Mike Jergens, Plover; 20. Adam Larson, Ankeny; 21. Todd VanEaton, Orient; 22. Cayden Carter, Oskaloosa; 23. Jay Marks, Bakersfield, Calif.; 24. Mark Elliott, Webster City; 25. Logan Brown, Clear Lake; 26. Ben Kraus, Britt; 27. Rob Rose, Dallas Center; 28. Jon Snyder, Ames; 29. Todd Shute, Des Moines; 30. Kyle Strickler, Mooresville, N.C.; 31. Stacey Mills, Webb; 32. Tyler Hackett, Algoma, Wis.; 33. Kevin Stoa, Clear Lake; 34. Scott Olson, Blairsburg; 35. Josh Most, Red Oak; 36. Russ Reinwald, Beaver Dam, Wis.; 37. Corey Dripps, Waterloo; 38. Jeremy Mills, Garner; 39. David Brown, Kellogg; 40. Alex Hanson, Northwood.
Stock Cars – 1. Devin Smith, Lake City; 2. Randy Brands, Boyden; 3. Ned Kalis, Wells, Minn.; 4. Derek Green, Granada, Minn.; 5. Damon Murty, Chelsea; 6. Jake Masters, Graettinger; 7. Chad Palmer, Renwick; 8. David Smith, Lake City; 9. Blake Cole, Nashua; 10. Rick Mahlberg, Denmark, Wis.; 11. Kellie Schmit, Britt; 12. Wayne Landheer, Titonka; 13. Kyle Rose, Dallas Center; 14. Heath Tulp, Belmond; 15. Weylin Bruneau, Sioux City; 16. Kevin Opheim, Mason City;  17. Pete Alexander, Albert Lea, Minn.
Northern SportMods – 1. George Nordman, Mason City; 2. Johnathon Logue, Boone; 3. Cody Knecht, Whittemore; 4. Nick Meyer, Whittemore; 5. Zach Norgaard, Spencer; 6. Brady Joynt, Webb; 7. Nate Chodur, Lake Mills; 8. Ryan Hiscocks, Britt; 9. Clay Evans, Paullina; 10. Frank Parker, Boone; 11. Alex Zwanziger, Nashua; 12. Autumn Anderson, Mason City; 13. Jeremy Grantham, Allison; 14. Nate Whitehurst, Mason City; 15. George Gilliland, Lehigh; 16. Colby Fett, Algona; 17. Troy Krug, Emmetsburg; 18. Zack Smidt, Mason City; 19. Brandon Ostwald, Algona; 20. Jeff Carter, Mapleton; 21. Mathew Hanson, Klemme; 22. Shane Swanson, Forest City; 23. Nate Albrant, Thompson; 24. Levi Chipp, Latimer; 25. J.J. Hashbarger, Bonduel, Wis.; 26. Devlynn Sasse, Thornton.
Hobby Stocks – 1. Cody Nielsen, Spencer; 2. Brandon Nielsen, Spencer; 3. Austin Luellen, Minburn; 4. Andrew Borchardt, Plymouth; 5. Weston Koop, Rockwell; 6. Chanse Hollatz, Clear Lake; 7. Scott Dobel, Manly; 8. Buck Schafroth, Orient; 9. Zac Smith, Mason City; 10. Tony Smidt, Britt; 11. Cory Gansen, Clear Lake; 12. Darin Johnson, Dickens; 13. Blaine Hanson, Klemme; 14. Chad Krug, Emmetsburg; 15. Nate Harris, Graettinger; 16. Dennis Theesfeld, Curlew; 17. Jay Sidles, Emmetsburg.