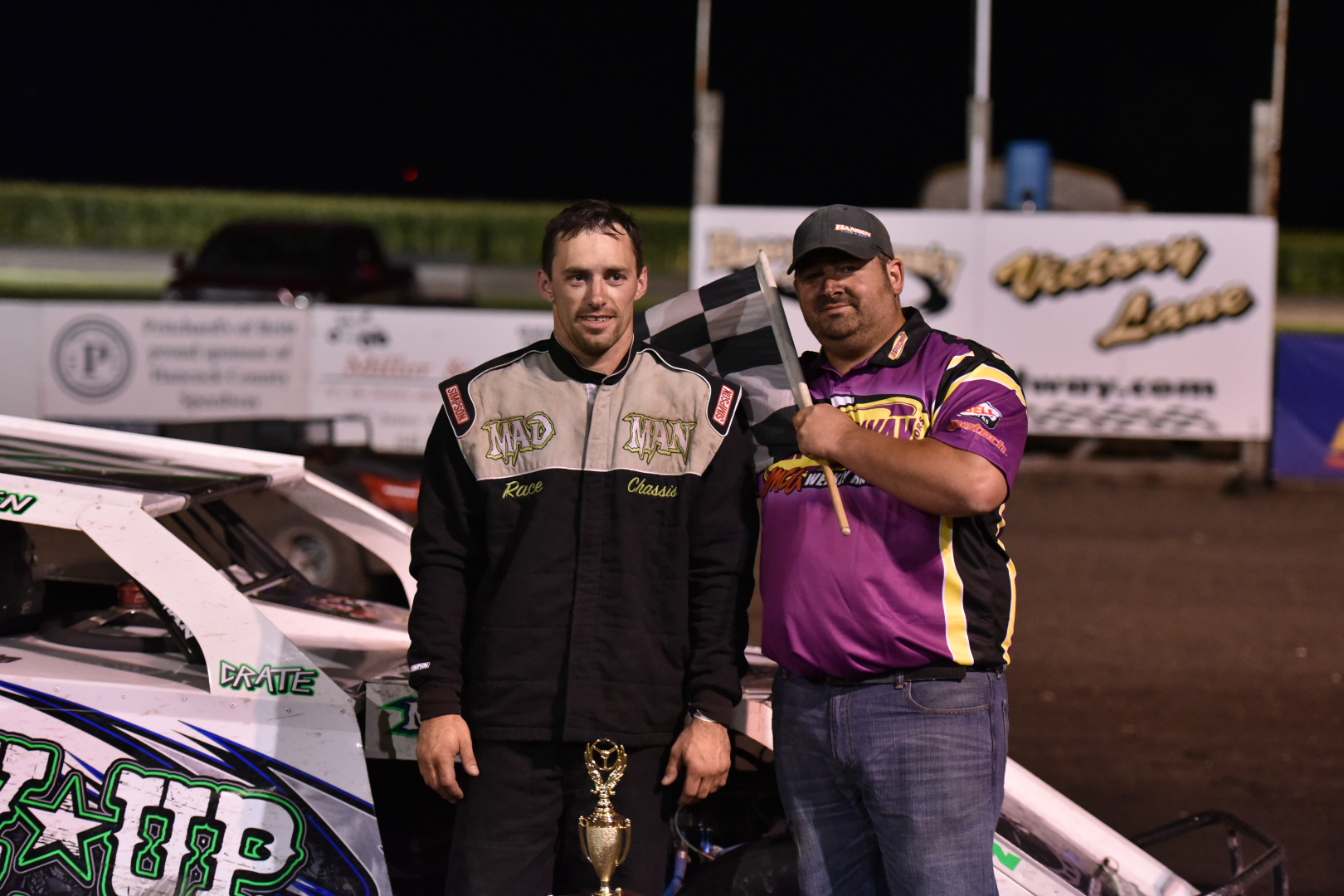 BRITT, Iowa (Aug. 6) – Another big Xtreme Motor Sports IMCA Modified event ended with Mike Mullen's name on the Pay To The Order Of line of another big check.
Mullen worked his way up from 15th starting and took the lead from Jesse Hoeft following the mandatory pit stop at midway, then led the last 25 laps of Hancock County Speedway's Night of 1,000 Stars special.
Including lap money, the victory was worth $4,750 to Mullen. He'd recently cashed in to the tune of $10,000 at 141 Speedway's Clash at the Creek.
"I laid back the first 10 laps or so and thought the bottom would be the place to be," said Mullen, new to the ballot for the 2016 Fast Shafts All-Star Invitational. "About 20 laps in I decided the high side was where I needed to be with my car."
Ryan Ruter raced from 21st starting to second, pulling to Mullen's back bumper before finishing three car lengths off the pace.
Kyle Strickler started 10th and finished third and giving up the runner-up position to Ruter with six circuits left. Jeremy Mills started 29th and ended in fourth; hard charger Kelly Shryock rounded out the top five after starting way back in the 33rd spot.
"When the best competition shows up all at one spot, you drive your best," said Mullen, already looking forward to a round of golf the next morning. "Everybody wants bragging rights at a race like this."
Seven states were represented in the starting field of 35 and Mullen was one of five Wisconsin drivers on the grid. Mike Wedelstadt got a $400 bonus for the eight led laps he led early on; Shawn Kilgore ran second for a dozen laps and finished sixth.
"We race each other hard and we race each other clean every week," Mullen said of his regular home state foes. "We challenge each other and that definitely helps when we go out of town for races like this."
Hoeft was scored the leader of 17 laps and took home $2,300. That included a $1,000 bonus for leading lap 25.
Eighth starting Jakes Masters topped the $700 to win IMCA Sunoco Stock Car feature ahead of Ned Kalis and Derek Green.
Ryan Hiscocks and Cody Nielsen were $500 feature winners in the Karl Chevrolet Northern SportMods and IMCA Sunoco Hobby Stocks, respectively.
Nate Whitehurst was second and George Nordman third in the SportMod main. Andrew Borchardt and Cory Roe rounded out the Hobby Stock top three.
All four divisions are in action again Friday at Britt for the Night of 10,000 Stars. The Modified feature pays $7,000 to win with another $3,000 in potential bonuses.
Feature Results
Modifieds – 1. Mike Mullen, Suamico, Wis.; 2. Ryan Ruter, Kanawha; 3. Kyle Strickler, Mooresville, N.C.; 4. Jeremy Mills, Garner; 5. Kelly Shryock, Fertile; 6. Shawn Kilgore, New Franken, Wis.; 7. Dylan Smith, Osceola, Neb.; 8. Jesse Hoeft, Forest City; 9. Troy Cordes, Dunkerton; 10. Jason Wolla, Ray, N.D.; 11. David Brown, Kellogg; 12. Mike Jergens, Plover; 13. Jay Noteboom, Hinton; 14. Ricky Stephan, South Sioux City, Neb.; 15. Brian Joski, Abrams, Wis.; 16. Mike Wedelstadt, Fremont, Wis.; 17. Kyle Brown, State Center; 18. Jeff James, Stanton; 19. Keith Schmitz, Hanlontown; 20. Mark Elliott, Webster City; 21. Paul Stone, Winton, Calif.; 22. Mark Noble, Blooming Prairie, Minn.; 23. Clint Hatlestad, Glencoe, Minn.; 24. Rob Rose, Dallas Center; 25. Troy Swearingen, Thompson; 26. Jim Mathieson, Sioux City; 27. Aaron Benson, Clear Lake; 28. Todd Shute, Des Moines; 29. Adam Larson, Ankeny; 30. Sean Jerovetz, Sobieski, Wis.; 31. Kevin Stoa, Clear Lake; 32. Scott Hogan, Vinton; 33. Corey Dripps, Waterloo; 34. Ethan Dotson, Bakersfield, Calif.; 35. Hunter Marriott, Brookfield, Mo.
Stock Cars – 1. Jake Masters, Graettinger; 2. Ned Kalis, Wells, Minn.; 3. Derek Green, Granada, Minn.; 4. Heath Tulp, Belmond; 5. Randy Brands, Boyden; 6. Damon Murty, Chelsea; 7. Travis Shipman, Mason City; 8. David Smith, Lake City; 9. Rick Mahlberg, Denmark, Wis.; 10. Blake Cole, Nashua; 11. Chris Toot, Albert Lea, Minn.; 12. Kyle Rose, Dallas Center; 13. Kellie Schmit, Britt; 14. Weylin Bruneau, Sioux City; 15. Pete Alexander, Albert Lea, Minn.; 16. Wayne Landheer, Titonka.
Northern SportMods – 1. Ryan Hiscocks, Britt; 2. Nate Whitehurst, Mason City; 3. George Nordman, Mason City; 4. Johnathon Logue, Boone; 5. Levi Chipp, Latimer; 6. Jeremy Grantham, Allison; 7. Frank Parker, Boone; 8. Nate Chodur, Lake Mills; 9. Brady Joynt, Webb; 10. Autumn Anderson, Mason City; 11. Jim Buhlman, Cedar Falls; 12. Daryl Ruter, Kanawha; 13. Nate Albrant, Thompson; 14. Andrew Inman, Mason City; 15. J.J. Hashbarger, Bonduel, WIs.; 16. Devlynn Sasse, Thornton.
Hobby Stocks – 1. Cody Nielsen, Fort Dodge; 2. Andrew Borchardt, Plymouth; 3. Cory Roe, Webster City; 4. Weston Koop, Rockwell; 5. Scott Dobel, Manly; 6. Tony Smidt, Britt; 7. Cory Gansen, Clear Lake; 8. Justin Nehring, Storm Lake; 9. Zac Smith, Mason City; 10. Matt Byrne, Webster City; 11. Buck Schafroth, Orient; 12. Jay Sidles, Emmetsburg; 13. Blaine Hanson, Klemme; 14. Nate Harris, Graettinger.