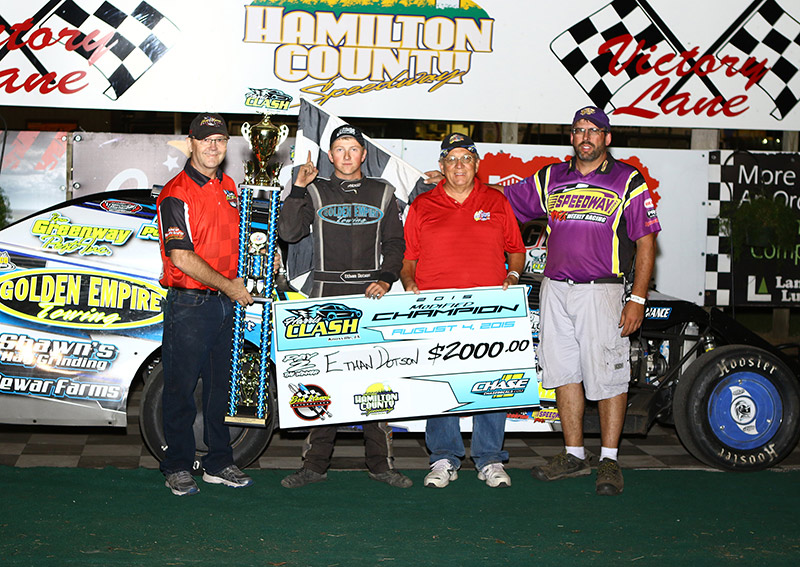 WEBSTER CITY, Iowa (Aug. 4) – The first thing Ethan Dotson did when he pulled into victory lane at Hamilton County Speedway Tuesday night was call his folks back home in Bakersfield, Calif.
When he got out of his Xtreme Motor Sports IMCA Modified, the 16-year-old rookie shared more details about his flag-to-flag run at the front of the Harris Clash field.
"It's always been a dream to run the Clash. Winning it is like a dream come true," he said after taking the $2,000 checkers. "I never pictured myself winning this race."
The victory, just his career second in the division, came in a new GRT ride. Dotson had finished ninth in the regular season finale at Webster City three days earlier, still trying to figure out fuel pressure problems.
After starting outside Justin Medler on the front row, Dotson set a torrid pace throughout the 25-lapper. Former race winner Kelly Shryock ran second most of the way on his home track and looked to reel in Dotson following the final restart with eight circuits remaining.
The youngster up front remained unflappable, however.
"I just tried to hit my marks every lap and tried to stay consistent. I knew with Kelly behind me that I couldn't make a mistake," said Dotson, now the youngest winner in the 24 years of Harris Clash history and a qualifier for the 2016 Fast Shafts All-Star Invitational ballot. "Everything just came out in my favor tonight. It's just awesome."
Jesse Sobbing was third, Colt Mather was fourth and hard charger Nick Deal was fifth.
Deal had started 24th in the 25-car field. He made his first appearance in the top five before mid­way.
Doug Smith became the winner of the Karl Chevrolet Northern SportMod feature when Brad Ratcliff failed post-race engine inspection.
Also the Clash winner in 2013, Smith earned $1,000. Sam Wieben was second and Brayton Carter third.
Fifty-nine Modified drivers from nine states and 45 Northern SportMod drivers from four states and Australia competed Tuesday.
Hamilton County Speedway was the original home of the Clash and a big crowd was on hand to welcome the prestigious event back. Promoter Bob Harris acknowledged the efforts made by track officials in making the Clash, rescheduled from July 16 because of rain, a success at Web­ster City.
Feature Results
Modifieds – 1. Ethan Dotson, Bakersfield, Calif.; 2. Kelly Shryock, Fertile; 3. Jesse Sobbing, Glen­wood; 4. Colt Mather, Webster; 5. Nick Deal, Walnut; 6. Hunter Marriott, Brookfield, Mo.; 7. Jon Snyder, Ames; 8. Kyle Strickler, Mooresville, N.C.; 9. Ryan Ruter, Kanawha; 10. Adam Lar­son, Ankeny; 11. Tim Ward, Chandler, Ariz.; 12. Mark Elliott, Webster City; 13. Cayden Carter, Oskaloosa; 14. Eric Dailey, Armstrong; 15. Troy Cordes, Dunkerton; 16. Justin Medler, Minot, N.D.; 17. David Brown, Kellogg; 18. Kyle Brown, State Center; 19. Joel Rust, Grundy Center; 20. Dylan Smith, Osceola, Neb.; 21. Clayton Christensen, Spencer; 22. Jeremy Mills, Garner; 23. Richie Gustin, Gilman; 24. Jimmy Gustin, Marshalltown; 25. John Logue, Boone.
Northern SportMods – 1. Doug Smith, Lanesboro; 2. Sam Wieben, Dysart; 3. Brayton Carter, Oskaloosa; 4. Jared Timmerman, Norwalk; 5. Ty Griffith, Webster City; 6. Aric Becker, Cedar Rap­ids; 7. Taylor Musselman, Norwalk; 8. Jake McBirnie, Boone; 9. Matt Lettow, Roland; 10. Eric Laudenschlager, Surrey, N.D.; 11. Johnathon Logue, Boone; 12. Jared VanDeest, Holland; 13. Richard Fasse, Urbandale; 14. Jeremy Grantham, Allison; 15. Rocky Caudle, Ellsworth; 16. Kody Havens, Wiota; 17. Cody Knecht, Whittemore; 18. Zack Smidt, Mason City; 19. Josh Sink, Stan­ton; 20. Dan Drury, Eldora; 21. Jerid Ratzke, Williams; 22. Austin Kaplan, Des Moines; 23. Cory Van Zante, Sully.