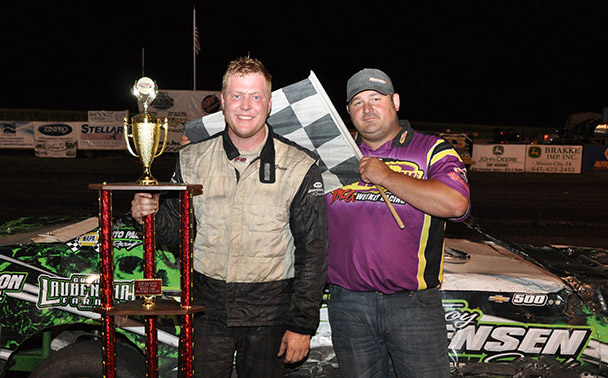 BRITT, Iowa (July 24) – Winning the IMCA Sunoco Stock Car headliner at Hancock County Speedway's fair the first time was special.
Winning that event, and another $4,000, a second time was even better for Derek Green.
Green repeated the big payday at Britt on Friday night. He had the fastest car among 55 entries from six states, including Texas, and beat Kyle Vanover to the line by a couple car lengths.
Kevin Opheim, who'd pocketed $2,000 just the night before at Kossuth County Speedway, 17th starting Randy Brands and Dan Mackenthun, completed the top five.
Green had started fourth and was running at the front of the 26-car field by the third of 25 laps. He built a straightaway lead that disappeared with a rash of late cautions.
Opheim tried inside on two restarts and Vanover tried outside the next two. Neither could make their way past the leader, however, in a race that ended green, white, checkered.
"Last year I pretty much checked out," said Green, who led the last 22 laps of the 2014 contest. "This year there was more of an adrenaline rush because everybody had all the chances they needed to prove they were faster than me."
Green had another win, plus second- and fifth-place finishes in his three previous Stock Car outings at Hancock County this season.
Feature results – 1. Derek Green; 2. Kyle Vanover; 3. Kevin Opheim; 4. Randy Brands; 5. Dan Mackenthun; 6. Chad Palmer; 7. Abe Huls; 8. Cayden Carter; 9. Jon Courchaine; 10. Heath Tulp; 11. David Smith; 12. Mike Harris; 13. Damon Murty; 14. Blake Cole; 15. Roger Verdoorn; 16. Dustin Larson; 17. Shay Curtin; 18. John Heinz; 19. Ned Kalis; 20. David Wickman; 21. Devin Smith; 22. Jim Larson; 23. Andy Altenburg; 24. Elijah Zevenbergen; 25. Calvin Lange; 26. Chris Adams.