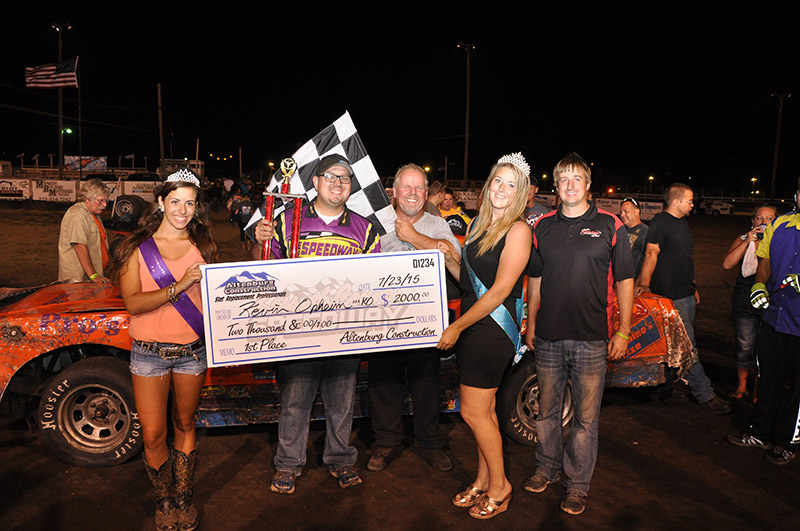 ALGONA, Iowa (July 23) – Kevin Opheim was spectacular in winning Thursday's IMCA Sunoco Stock Car Spectacular at Kossuth County Speedway.
Opheim drew the pole and ran at the front of a 30-car field that ran 25 laps green to checkered.
"Algona has changed the banking. There's a good high side and a berm around the bottom. I love run­ning there," Opheim said following his $2,000 victory, his biggest payday in what is now 125 career wins in the division. "It took a little while to clear the 11 car (outride row one starter Shay Curtin) but when I did that I was able to move up."
Opheim stretched his lead to nearly a straightaway and was two lapped cars ahead of Curtin when he crossed the finish line.
Dustin Larson, Derek Green and Elijah Zevenbergen rounded out the top five.
The win was the sixth this season, and second locally, for Opheim, still campaigning in the car he built in 2000 and has piloted since 2001.
Forty-three Stock Car drivers from six states were entered in the spectacular.
Feature results – 1. Kevin Opheim; 2. Shay Curtin; 3. Dustin Larson; 4. Derek Green; 5. Elijah Zevenbergen; 6. Jim Larson; 7. Dan Mackenthun; 8. Kyle Vanover; 9. Shawn Wagner; 10. John Heinz; 11. Andy Altenburg. 12. Dave Wickman; 13. Kyle Frederick; 14. Abe Huls; 15. Calvin Lange; 16. Levi Feltman; 17. Devin Snellenberger; 18. Jake Masters; 19. Jake Bruns; 20. Chad Palmer; 21. Craig Berhow; 22. Dan Hanselman; 23. John Wiemann; 24. Chris Adams; 25. Bruce Wickman; 26. Chad Overgaard; 27. Pete Alexander; 28. Roger Verdoorn; 29. Randy Brands; 30. Tyler Pickett.