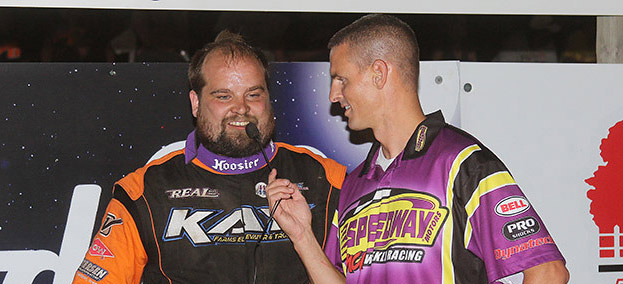 WEBSTER CITY, Iowa (July 23) – Justin Kay made the scorer's job easy in a fast-paced Deery Brothers Summer Series main event at Hamilton County Speedway.
Kay started on the pole and led every time around the track in a 35-lap IMCA Late Model feature that ran caution free and highlighted the Thursday Night Thunder county fair show.
The defending series champion and current point leader, Kay had a straightaway advantage over eventual runner-up Curt Martin by lap six; Martin and Andy Nezworski were running the same distance ahead of Ryan Griffith in fourth.
After catching up with the back of the field on lap 11, Kay got as many as three cars between his back bumper and Martin.
The white flag was out by the time Martin cleared the last of the lapped cars. He made up ground on Kay but couldn't challenge at the finish.
Nezworski, Griffith and Richie Gustin rounded out the top five.
The $3,000 checkers were Kay's career tour 14th, tying him for eighth on the all-time Deery Series wins list with Mike Smith of Jewell.
He's now a five-time winner and the only repeat visitor to victory lane through 13 events this sea­son.
Scott Fitzpatrick was the $250 Sunoco Race Fuels feature qualifier drawing winner.
Taking home $1,000 Thursday Night Thunder checks were Adam Larson in the Xtreme Motor Sports IMCA Modifieds, Jason Minnehan in the IMCA Sunoco Stock Cars and Brad Ratcliff in the Karl Chevrolet Northern SportMods.
Randy Embrey topped the IMCA Sunoco Hobby Stock feature and Nick Hogan was first in the Mach-1 Sport Compact main.
Larson became a 2016 Fast Shafts All-Star Invitational ballot candidate with his win.
Next up on the schedule is the Tuesday, Aug. 11 show at Cedar County Raceway. That main event also pays $3,000 to win.
Also on the card at Tipton is the $1,000 to win Hawkeye Dirt Tour event for Xtreme Motor Sports IMCA Modifieds, a qualifier for the 2016 Fast Shafts All-Star Invitational ballot.
Feature results – 1. Justin Kay, Wheatland; 2. Curt Martin, Independence; 3. Andy Nezworski, Buffalo; 4. Ryan Griffith, Webster City; 5. Richie Gustin, Gilman; 6. John Emerson, Waterloo; 7. Jeff Aikey, Cedar Falls; 8. Jeremy Grady, Story City; 9. Tyler Droste, Waterloo; 10. Jason Hahne, Webster City; 11. Scott Fitzpatrick, Wheatland; 12. Joe Zrostlik, Long Grove; 13. Ryan Dolan, Lis­bon; 14. Jason Rauen, Farley; 15. Al Johnson, Story City; 16. Darrel DeFrance, Marshalltown; 17. Bill Crimmins, Fort Dodge; 18. Charlie McKenna, Clear Lake; 19. Curt Schroeder, Newton; 20. Todd Malmstrom, Silvis, Ill.
1st heat – 1. Kay; 2. Droste; 3. Rauen; 4. Emerson; 5. Johnson; 6. Crimmins; 7. Malmstrom. 2nd heat – 1. Hahne; 2. Griffith; 3. Martin; 4. Nezworski; 5. Zrostlik; 6. Dolan; 7. Schroeder. 3rd heat – 1. Aikey; 2. Grady; 3. Gustin; 4. Fitzpatrick; 5. McKenna; 6. DeFrance.