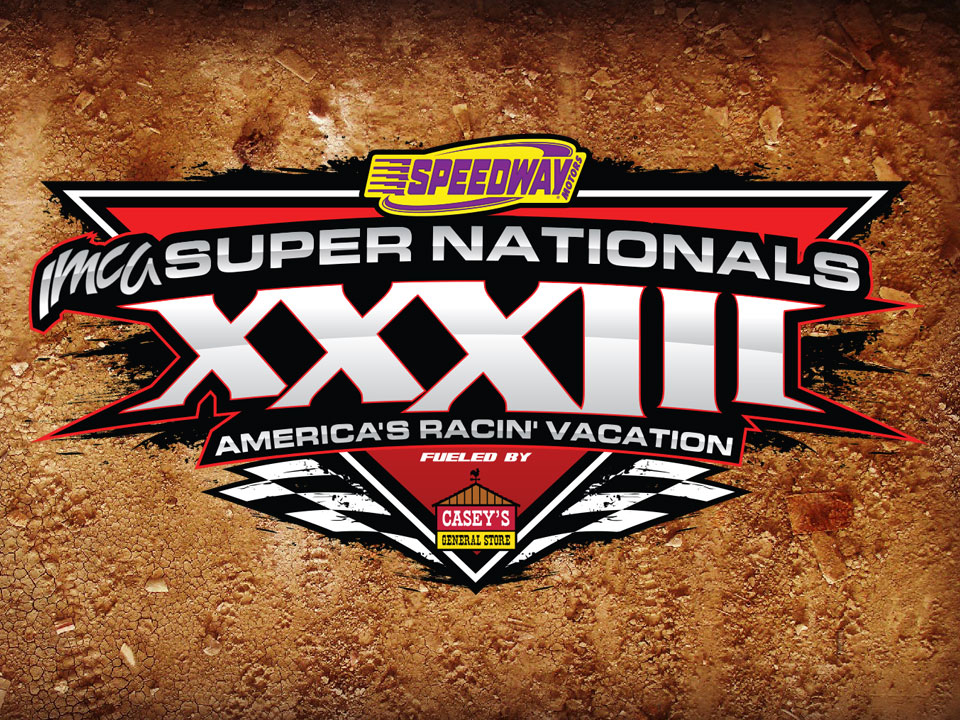 BOONE, Iowa – The 33rd annual version of America's Racin' Vacation is already represented by drivers from across the nation.
Nearly 200 drivers representing 19 states have already pre-registered for the IMCA Speedway Motors Super Nationals fueled by Casey's, to be held Monday through Saturday, Sept.  7-12 at Boone Speedway.
"We're just over a month and a half from opening night and the numbers for Super Nationals are very encouraging," noted IMCA President Brett Root. "We've emphasized getting pre-registered and making pit parking arrangements as soon as possible. A lot of drivers have already com­pleted that process and the reserved pit stalls are filling up quickly."
Both registration and pit stall application forms are published in the second section of this month's newsletter and are also posted on the www.imca.com and www.raceboone.com websites. A form for reserving camping spots is also on the track site.
"Every year we try to fine tune the format and schedule. Last year it was about as good as possi­ble considering the number of cars (866 in the six divisions) and the weather," Root said. "The only wild card continues to be the weather, which was certainly the case in 2014. The pit area, parking lot and even the Fan Zone were affected."
Pre-tech for Hobby Stocks and Northern SportMods starts on Sunday, Sept. 6.
The Deery Brothers Summer Series program for Late Models is Monday, Sept. 7. Sport Com­pacts run their complete program on Tuesday, Sept. 8. Last-chance qualifying features for the Hobbies and SportMods are Wednesday, Sept. 9.
Topping the Friday, Sept. 11 program is the Fast Shafts All-Star Invitational while races of champions and main events for Hobby Stocks, SportMods, Stock Cars and Modifieds are Saturday, Sept. 12.
Including weekly racing bonuses, championship payouts are a potential $7,000 for the Modifieds, $4,500 for the Late Models, $3,500 for the Stock Cars, $2,250 for the Northern SportMods, $1,850 for the Hobby Stocks and $500 for the Sport Compacts.
All drivers can hot lap Monday and Wednesday. Sport Compacts only will hot lap on Tuesday; no hot lap sessions will be scheduled Thursday, Friday or Saturday due to time constraints.
In addition to Iowa, early entries have been received and processed from drivers from Arizona, Arkansas, California, Colorado, Illinois, Indiana, Kansas, Michigan, Minnesota, Missouri, Nebraska, Nevada, New Mexico, North Dakota, Oklahoma, South Dakota, Texas and Wisconsin.
IMCA's Centennial Season is the theme for the best looking car contest at Super Nationals.
Super Nationals will be broadcast live on RACEFEEDX.
Nominate A Warrior
IMCA drivers and fans are asked to Nominate A Warrior as an honorary starter for each of the three last-chance Modified features on Saturday at Super Nationals.
Current or former service members are eligible; letters or emails of nomination should be 500 words or less and tell about the nominee and their service to our country.
Nominations should be directed to Marketing Director Kevin Yoder at the IMCA home office or kyoder@imca.com by Aug. 21.
All three honorary starts will be recognized that afternoon when officials from Casey's General Store and IMCA present a check to Hope For The Warriors.
All-Star Voting
The first round of voting, to select 14 starters in the Fast Shafts All-Star Modified Invitational field, runs through noon on Monday, July 27.
Another 14 starters will be elected, also through balloting via the IMCA Facebook page, that runs from July 29 to Aug. 5. Those candidates won 40-point features held between June 19 and July 16.
Final additions to the All-Star field will be All-Star candidates not elected in the first round with the top national point total and the most feature wins competing at Super Nationals.