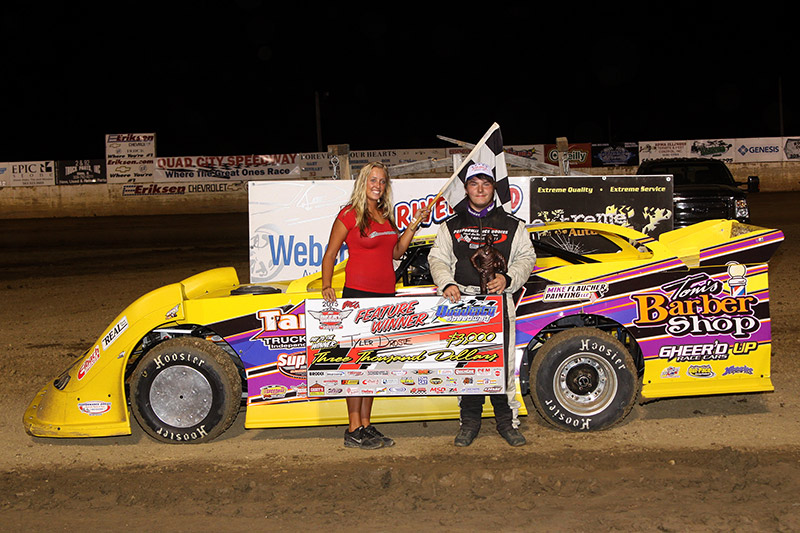 EAST MOLINE, Ill. (July 22) – The top rookie contender in the Deery Brothers Summer Series became a first-time IMCA Late Model tour winner Wednesday night at Quad City Speedway.
Tyler Droste led all 50 laps from the pole, beating Matt Ryan to the $3,000 checkers by the better part of a straightaway.
"We've been close a few times. To finally get the win feels pretty good," said Droste, at little more than 19 years of age the youngest driver to win a main event in the series' 28-plus year history. "I knew that starting on the pole would give us a pretty good chance and we had a good car, but I didn't know we'd be that good."
Brunson Behning, Jeff Aikey and point leader Justin Kay completed the top five.
Kay, the defending tour champion, had started last in the field of 22 and steadily worked his way toward the front. Andy Nezworski, Kay's closest competitor in the point standings, was sixth.
Setting the tone for the night in winning his heat race, Droste drew the inside front row start for the feature and held onto the top spot through a succession of restarts, making the most of the fast top line.
Ryan got to second with 19 laps remaining and closed on the leader, then fell back and never mounted a serious threat. Attrition took its toll on potential challengers as Scott Fitzpatrick, Ray Guss Jr. and Todd Malmstrom all exited from top five spots and did not return.
"The win tonight is probably at the top of everything I've done this season," saidf Droste, who also wheels an Xtreme Motor Sports IMCA Modified. "It's great to run with guys like Kay, Aikey, Ryan and Nezworski and be able to win."
Droste counted a pair of second-place showings among five top-five finishes coming into Wednes­day. His worst finish in nine main event starts has been ninth.
Jeff Aikey, winner of the Deery feature at East Moline on May 3, pocketed the $250 Sunoco Race Fuels feature qualifier drawing.
Night two of the midweek doubleheader is July 23, when the Deery Series headlines the Thurs­day Night Thunder program at Hamilton County Speedway in Webster City.
Pit gates open at 4 p.m. and the grandstand opens at 5 p.m. Hot laps are at 6:30 p.m. with racing to follow.
Feature results – 1. Tyler Droste, Waterloo, Iowa; 2. Matt Ryan, Davenport, Iowa; 3. Brunson Behning, Davenport; 4. Jeff Aikey, Cedar Falls, Iowa; 5. Justin Kay, Wheatland, Iowa; 6. Andy Nezworski, Buffalo, Iowa; 7. Joe Zrostlik, Long Grove, Iowa; 8. Thad Wilson, Rock Island; 9. John Emerson, Waterloo, Iowa; 10. Gary Webb, Blue Grass, Iowa; 11. Ryan Dolan, Lisbon, Iowa; 12. Darrel DeFrance, Marshalltown; 13. Scott Fitzpatrick, Wheatland, Iowa; 14. Ray Guss Jr., Milan; 15. Mike Zemo Jr., Davenport, Iowa; 16. Nate Beuseling, Silvis; 17. Todd Malmstrom, Silvis; 18. Jonathan Brauns, Muscatine, Iowa; 19. Jon Poll, Delmar, Iowa; 20. Jay Chenoweth, Wapello, Iowa; 21. Mike Garland, Morrison; 22. Shawn Mulvany, Moline.
1st heat – 1. Droste; 2. Emerson; 3. Malmstrom; 4. Fitzpatrick; 5. Aikey; 6. Zemo; 7. Chenoweth; 8. Kay. 2nd heat – 1. Beuseling; 2. Nezworski; 3. Guss; 4. Behning; 5. Wilson; 6. Dolan; 7. Mulvany. 3rd heat – 1. Ryan; 2. Zrostlik; 3. Webb; 4. DeFrance; 5. Brauns; 6. Poll; 7. Garland.