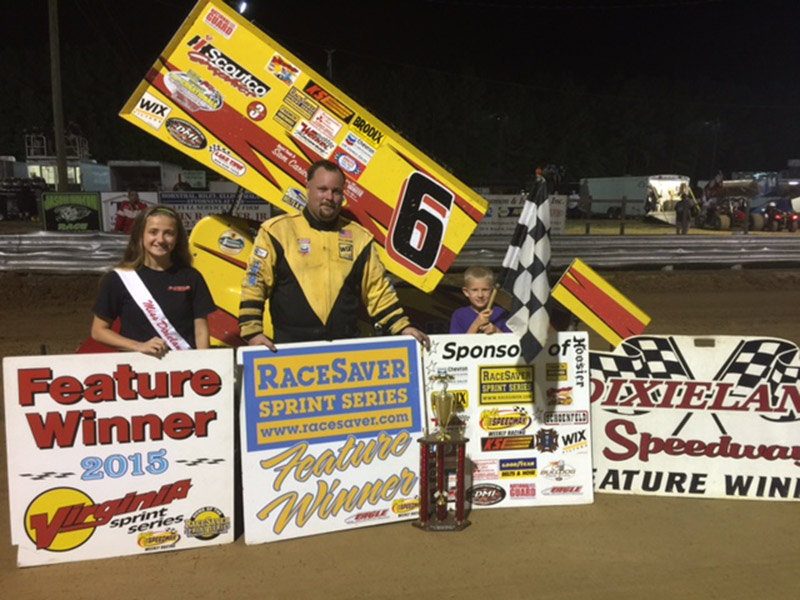 By Jim Haines
ELIZABETH CITY, N.C. (July 17) – Tony Harris has been struggling a little lately with handling in his IMCA Eagle Motorsports Sprint Car but on the third Fast Friday feature of the season he got everything right for his first win of the year.
The Virginia Sprint Series victory came at Dixieland Speedway. Charlie Ware and Harris paced the field to green with Harris out first and Ware taking up the charge.
The fast, short track suited Harris' style as he stayed on the cushion while the challengers lined up to fight for the lead.
Tom Humphries got by Ware but could only get on the leader's bumper and never around. It went wrong for Humphries when he got together with a spun car.
That incident ended his night and allowed Jerald Harris the next try for the lead. While cars sliced and diced behind him, Tony Harris stayed in the top spot to the checkers.
Jerald Harris and Daren Bolac were next across the stripe.
Feature results – 1. Tony Harris; 2. Jerald Harris; 3. Daren Bolac; 4. Troy Severin; 5. Kevin Fletcher; 6. French Grimes; 7. Charlie Ware; 8. Anthony Linkenhoker; 9. Glenn Worrell; 10. Eliah Omwake; 11. Chris Ware; 12. Carl Simmons; 13. Cassandra Davis; 14. Mike Leraas; 15. Brian Lawson; 16. Tom Humphries; 17. J.D. Coats.