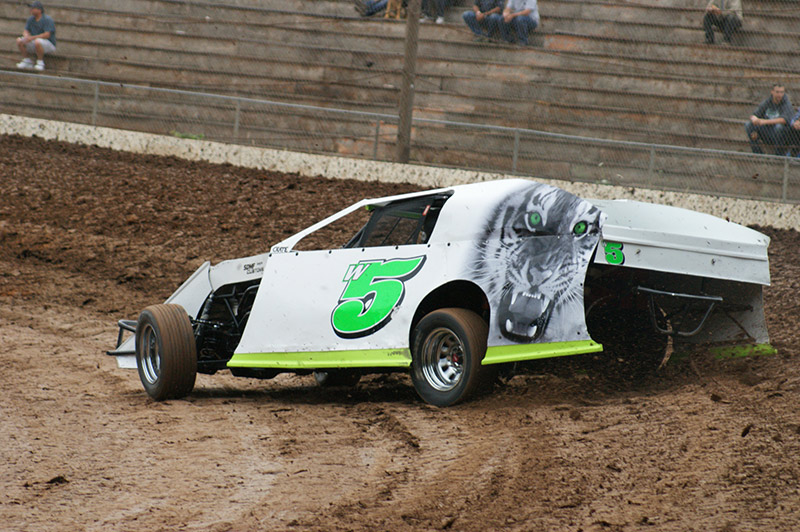 By Ben Deatherage
COTTAGE GROVE, Ore. (July 11) – Eight one hundredths of a second made the difference be­tween first and second Saturday night at Cottage Grove Speedway's Mark Howard Memorial Nation­als.
Jesse Williamson flashed across the finish line just ahead of Mark Wauge for the $2,600 Xtreme Motor Sports IMCA Modified victory. He now leads all drivers with five Howard Memorial career wins to his credit.
Tom Berry Jr., Curtis Towns and Jeremy Shank completed the top five. Williamson, who started 10th, overtook Trenchard on lap 14. The first 26 laps went non-stop before the field was halted for the mandatory pit stop at halfway.
Williamson was pressured later in the race by Collen Winebarger, who tried an inside move on the leader but spun and restarted at the rear.
Towns made the bottom of the track work and completed his pass for the lead on lap 42. William­son got the lead back on the next circuit, just in time to face the challenge from Wauge.
Wauge appeared to have gotten to the front out of nowhere on lap 48. Williamson reclaimed the lead via the high side on lap 50 but Wauge edged him at the stripe coming to the white flag.
On the final corner of the final lap, Williamson would get a little bit more momentum in his favor to beat Wauge to the checkers in a finish that became an instant classic.
Winebarger raced his way back through the field for sixth. Albert Gill won the consolation feature and ran seventh in the main event.
Williamson was already on the ballot for the Fast Shafts All-Star Invitational.
Feature results – 1. Jesse Williamson; 2. Mark Wauge; 3. Tom Berry Jr.; 4. Curtis Towns; 5. Jer­emy Shank; 6. Collen Winebarger; 7. Albert Gill; 8. John Campos; 9. Craig Hanson; 10. Aaron Sheelar; 11. Jesse Bailey; 12. Jeff Lovell; 13. Steven Sturdevant; 14. Kreg Britton; 15. Bruce Ray; 16. Curt Coggins; 17. Greg McDonald; 18. Kinzer Cox; 19. Nick Trenchard; 20. Jerry Schram.