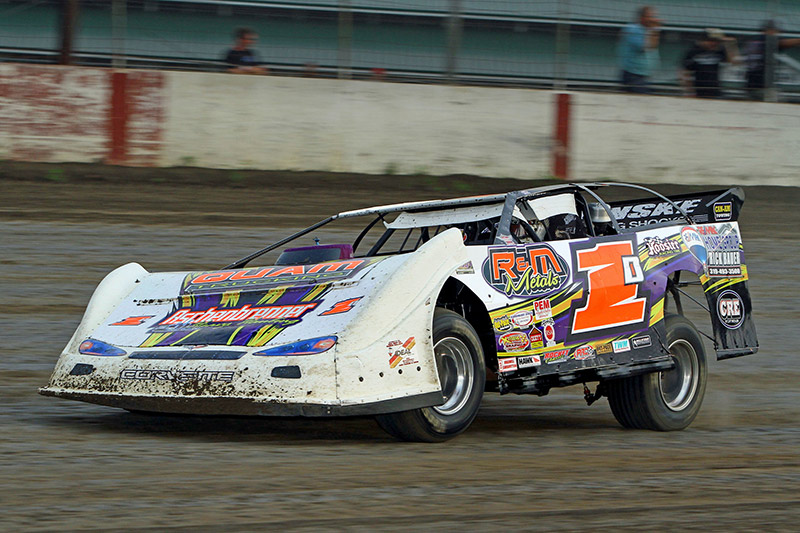 DUBUQUE, Iowa (July 12) – Ryan Dolan took the feature win while Jeff Aikey and Justin Kay taught their Deery Brothers Summer Series foes a thing or two about passing Sunday night at Dubuque Speedway.
Dolan led the last 46 of 50 laps in topping the IMCA Late Model tour main event. The $3,000 vic­tory was his first this season and career second.
Aikey needed a rare provisional, started 22nd and finished second. Kay, the defending champion and current point leader, spun out of second on a lap 33 restart, went to the back of the field and raced all the way back to third.
Jon Merfeld and Joe Zrostlik were fourth and fifth, respectively.
Leader the first four times around the track was outside row one starter Ray Guss Jr. Dolan got his nose under and took the front spot away the next time around, then set sail.
Kay worked his way from 12th to second, then saw his pass for the lead negated by a caution. He'd spin and bring out the next yellow when the race re-started.
A succession of cautions came out before lap 34 could be scored. Aikey had taken the top line to the second spot, challenging the lower line-running Dolan but never able to catch up.
Kay was back to third with eight laps left but Dolan pulled away late, beating Aikey across the stripe by six car lengths.
Charlie McKenna was the $250 Sunoco Race Fuels feature qualifier drawing winner.
With 11 of 18 events completed, the Deery Series is at Quad City Speedway in East Moline, Ill., on Wednesday, July 22 and at Hamilton County Speedway in Webster City on Thursday, July 23.
Both night's features pay $3,000 to win.
Feature results – 1. Ryan Dolan, Lisbon; 2. Jeff Aikey, Cedar Falls; 3. Justin Kay, Wheatland; 4. Jon Merfeld, Dubuque; 5. Joe Zrostlik, Long Grove; 6. Tyler Droste, Waterloo; 7. Andy Nezworski, Buf­falo; 8. Scott Fitzpatrick, Wheatland; 9. Ray Guss Jr., Milan, Ill.; 10. Bobby Hansen, Center Point; 11. Jay Johnson, West Burlington; 12. Doug Yates, Monticello; 13. Jon Poll, Delmar; 14. Brian Harris, Davenport; 15. John Emerson, Waterloo; 16. Jeff Tharp, Sherrill; 17. Darrel De­France, Marshalltown; 18. Charlie McKenna, Clear Lake; 19. Jonathan Brauns, Muscatine; 20. Todd Malmstrom, Silvis, Ill.; 21. Luke Merfeld, Dubuque; 22. Andy Eckrich, Oxford; 23. Jason Rauen, Farley; 24. Luke Goedert, Guttenberg.
1st heat (top three) – 1. Guss; 2. Hansen; 3. Johnson; 4. Nezworski; 5. Lyle Klein, Sherrill; 6. Brauns; 7. Harris; 8. Rauen; 9. DeFrance.
2nd heat – 1. Zrostlik; 2. Jon Merfeld; 3. Fitzpatrick; 4. Luke Merfeld; 5. Eckrich; 6. Emerson; 7. Jeremy Grady, Story City; 8. McKenna.
3rd heat – 1. Kay; 2. Poll; 3. Goedert; 4. Aikey; 5. Tharp; 6. Ryan Hill, Dubuque; 7. B.J. Jackson, Clinton; 8. Mel Abels, Freeport, Ill.
4th heat – 1. Dolan; 2. Malmstrom; 3. Droste; 4. Yates; 5. Jason Udelhoven, Potosi, Wis.; 6. Ross Pierce, Sherrill; 7. Steve Schueller, Dubuque; 8. Ron Klein, Sherrill.
1st "B" feature (top four) – 1. Nezworski; 2. Brauns; 3. Harris; 4. Tharp; 5. Aikey; 6. Klein; 7. DeFrance; 8. Rauen; 9. Hill; 10. Jackson; 11. Abels.
2nd "B" feature – 1. Eckrich; 2. Luke Merfeld; 3. Emerson; 4. Yates; 5. McKenna; 6. Grady; 7. Udelhofen; 8. Pierce; 9. Schueller; 10. Klein.
Provisionals – Aikey, DeFrance and Rauen. Hard charger – McKenna.