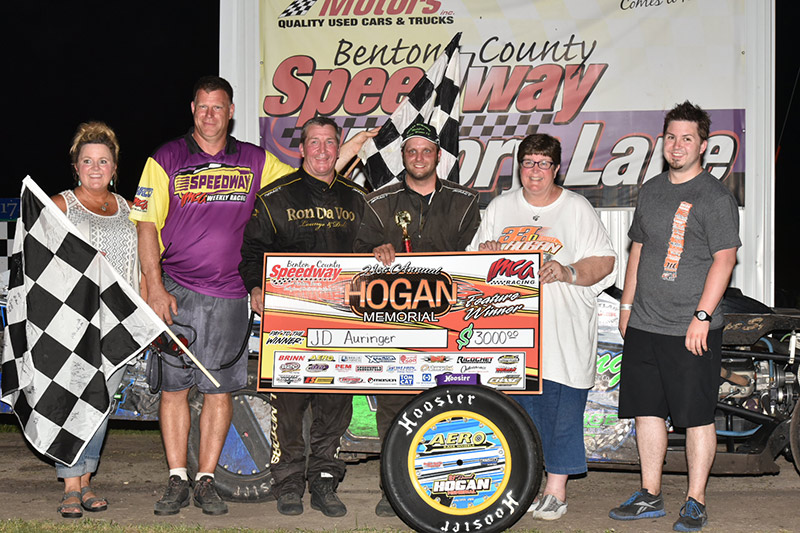 VINTON, Iowa (July 12) – J.D. Auringer raced his way into some rare company Sunday night at Benton County Speedway.
Auringer won the Hogan Memorial main event for Xtreme Motor Sports IMCA Modifieds for the third time in his career, and joined Scott Hogan as the only two drivers to have now accomplished the feat in back-to-back years.
"When I won last year, I started on the front row and led every lap. This year, I started ninth. It feels more like a win when you have to race your way to the front," said Auringer, who earned $3,000 – $1,900 for first and another $1,100 in lap money – for his efforts. "I've always been friends with the Hogan family so winning this race means a lot to me."
The 21st annual special played out in front of a full grandstand and Auringer was one of nine former race winners in the starting field of 26 for the 50-lapper, which was yellow flagged at halfway for a five-minute pit stop on the frontstretch.
Richie Gustin, winner of the 2012 event, took the initial green from 14th and closed to within a car length of the leader before finishing a very close second.
Hard charger Kyle Brown added $600 to his share of the purse with his drive from 17th to third. Former Hogan winners Cayden Carter (2013) and Vern Jackson (2004) completed the top five.
Jackson drew the pole start but Joe Docekal had the fastest car at the start, pulling away from the pack and getting into lapped traffic before the first caution on the 15th circuit.
Hunter Marriott motored into the lead on the ensuing restart. Two more quick yellows came out, the first of which sent second-running Kyle Strickler and the third-running Docekal to the tail.
Marriott collected $250 for leading at the break. Auringer, Brown and Gustin were scored next.
"We've made the mistake of changing tires (at halfway) before," said Auringer, who used the stop only to top off his fuel tank. "The track had a lot of moisture and I knew if I could get by Hunter we had a pretty good chance."
That strategy paid off when Auringer took over the lead four laps later. Brown took over second briefly before Gustin settled into the spot on lap 37.
He'd get close but couldn't get past before the checkers flew. Also the 2007 Hogan winner, Auringer had previously qualified for the Fast Shafts All-Star Invitational ballot with his victory at the Urbana 5/Iowa Donor Network Night special.
Forty-five Modifieds from three states were entered; more than 130 cars in five divisions saw action Sunday at Vinton.
John Oliver Jr. was the $1,000 IMCA Sunoco Stock Car feature winner. Kyle Olson and Brett Vanous scored $750 victories in the Karl Chevrolet Northern SportMod and IMCA Sunoco Hobby Stock features, respectively.
Vanous' win came by inches over Nathan Ballard.
Results
Modifieds – 1. J. D. Auringer, Waterloo; 2. Richie Gustin, Gilman; 3. Kyle Brown, State Center; 4. Cayden Carter, Oskaloosa; 5. Vern Jackson, Waterloo; 6. Darin Duffy, Urbana; 7. Scott Hogan, Vinton; 8. Hunter Marriott, Brookfield, Mo.; 9. Josh Gilman, Earlham; 10. Jeff Waterman, Quincy, Ill.; 11. Jerry Dedrick, Vinton; 12. Joel Rust, Grundy, Center; 13. Zach Less, Manchester; 14. Ed Thomas, Waterloo; 15. Jake Bowman, Maquoketa; 16. Corey Dripps, Waterloo; 17. Joe Docekal, Dysart; 18. Dakota Hayden, Wilton; 19. Troy Cordes, Dunkerton; 20. Bill Roberts, Burlington; 21. Dennis Betzer, Central City; 22. Ryan Maitland, Denver; 23. Kyle Strickler, Mooresville, N.C.; 24. Patrick Flannagan, Cedar Rapids; 25. Devon Havlik, Iowa Falls; 26. Jerry Luloff, Independence.
First heat (top two) – 1. Cordes; 2. Marriott; 3. Kyle Brown; 4. Luloff; 5. Kaleb Bentley, Fairbank; 6. Rich Smith, Davenport; 7. Tom Hanson, Vinton; 8. Brian Irvine, Oelwein; 9. Kyle Krampe, Baxter. 
Second heat – 1. Roberts; 2. Dedrick; 3. Flannagan; 4. Bowman; 5. Johnny Walker, Stanwood; 6. Brandon Maitland, Denver; 7. Derek Reimer, St. Anthony; 8. Cole Ferguson, Dexter; 9. Gilman.
Third heat – 1. Dripps; 2. Jackson; 3. Strickler; 4. Ryan Maitland; 5. Mike Burbridge, Delhi; 6. Rust; 7. Betzer; 8. Todd Shute, Des Moines; 9. Jesse Belez, Marengo.
Fourth heat – 1. Less; 2. Duffy; 3. Gustin; 4. Hogan; 5. Havlik; 6. David Brown, Kellogg; 7. Kevin Goben, Sherrard, Ill.; 8. Dustin Smith, Taylor Ridge, Ill.; 9. Dan Chapman, Clarence.
Fifth heat – 1. Auringer; 2. Docekal; 3. Waterman; 4. Carter; 5. Hayden; 6. Ronn Lauritzen, Jesup; 7. Jake Strayer, Newton; 8. Thomas; 9. Josh Barta, Cedar Falls. 
First "B" feature (top four) – 1. Carter; 2. Gustin; 3. Kyle Brown; 4. Bowman; 5. Rich Smith; 6. David Brown; 7. Burbridge; 8. Strayer; 9. Shute; 10. Krampe; 11. Reimer; 12. Chapman. 
Second "B" feature – 1. Waterman; 2. Flannagan; 3. Gilman; 4. Havlik; 5. Lauritzen; 6. Ryan Maitland; 7. Betzer; 8. Brandon Maitland; 9. Barta; 10. Dustin Smith; 11. Bentley; 12. Irvine. 
Third "B" feature – 1. Strickler; 2. Hogan; 3. Rust; 4. Hayden; 5. Thomas; 6. Walker; 7. Luloff; 8. Goben; 9. Ferguson; 10. Hanson; 11. Belez.
Stock Cars – 1. John Oliver Jr., Danville; 2. Kevin Rose, Waterloo; 3. Phil Holtz, Manchester; 4. Darin Duffy, Urbana; 5. Scott Pippert, Elberon; 6. Jared Daggett, Marshalltown; 7. Norman Chesmore, Rowley; 8. Abe Huls, Carthage, Ill.; 9. Scooter Dulin, Cedar Rapids; 10. Erick Knutsen, Cedar Rapids; 11. Mike Galli, Urbana; 12. Austin Evens, Independence; 13. Les Blakley, Fairfield;. 14. Shane Ebaugh, Evansdale; 15. Nathan Wood, Sigourney; 16. Chris Luloff, Independence; 17. Justin Stander, Shellsburg; 18. Curtis Roster, Vinton; 19. Todd Inman, Altoona; 20. Thomas Thompson, Hopkinton; 21. Jay Schmidt, Tama; 22. Scott Beauregard, Brandon; 23. Damon Murty, Chelsea.
Hobby Stocks – 1. Brett Vanous, Quasqueton; 2. Nathan Ballard, Marengo; 3. Adam Petrzelka, Norway; 4. Bill Bonnett, Knoxville; 5. Zach Swanson, Waterloo; 6. Matt Pohlman, Keystone; 7. Jason Cox, Maxwell; 8. Scott Siems, Cedar Rapids; 9. Brayton Boyer, Hawkeye; 10. Brandon Pitts, Ames; 11. Matt Brown, Dysart; 12. Jacob Floyd, Cedar Rapids; 13. Joe Luethje, Marshalltown; 14. Kyle Dulin, Brandon; 15. Chad Mannion, Waterloo; 16. Rod Grother, Cedar Rapids; 17. Gabe Phelps, Vinton; 18. Randy Byerly, Tipton; 19. Justin Wacha, Vinton; 20. Buck Swanson, Waterloo; DQ Brian Happel, Vinton.
Northern SportMods – 1. Kyle Olson, Cedar Rapids; 2. Danny Dvorak, Vinton; 3. Tony Olson, Cedar Rapids; 4. Sam Wieben, Dysart; 5. Ryan King, Montour; 6. Brett Timmerman, Wapello; 7. Dawn Krall, Evansdale; 8. Brayton Carter, Oskaloosa; 9. Creston Williams, Newhall; 10. Matt Petrzelka, Norway; 11. John Schaefer, La Porte City; 12. Kyle Bentley, Independence; 13. Scott Williams, Atkins; 14. Dan Keltner, Wapello; 15. Kurt Hogan, Vinton; 16. Troy Burkhart, Urbana; 17. Dakoda Sellers, Waverly; 18. Curt Hilmer, Dysart; 19. Dave Burrell, Dysart; 20. Jake Salisbury, Dunkerton; 21. Wesley Mayfield, Quincy, Ill.; 22. Lucas Lundry, Maynard; 23. Dave Schulze, Keystone; 24. Lee Rouse, Atkins; 25. Joey Schaefer, Waterloo; 26. Greg Hunter, Independence.