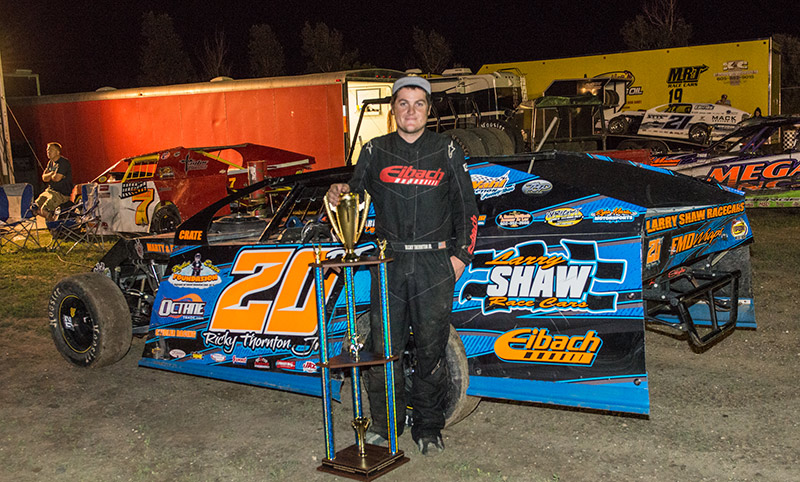 JAMESTOWN, N.D. (July 10) – Rain and wet track conditions were combined to kayo the final Xtreme Motor Sports IMCA Modified feature of the record-setting Kupper Chevrolet Dakota Classic Tour Week.
Ricky Thornton Jr. won his heat and drew the pole start for what was to have been the Friday finale at Jamestown. He headed home for Chandler, Ariz., with the tour championship, eight points better than 2013 king Aaron Turnbull and nine markers ahead of defending champion Jeff Taylor.
Joe Flory won the IMCA Sunoco Stock Car feature and $800 at Jamestown. Elijah Zevenbergen clinched his career second championship in the division with his second place showing.
With many of the best drivers in the division converging on North Dakota and Saskatchewan, a record average 90.33 Modifieds competed each night of the July 5-10 tour.
Track records were established each night while all-time series marks were set with 93 cars Sunday at Minot and 98 on Thursday at Mandan.
Modified Results
Heat winners were Dallas Rice, Minot; Lucas Schott, Chatfield, Minn.; Jordan Grabouski, Beatrice, Neb.; Hunter Marriott, Brookfield, Mo.; Ricky Thornton Jr., Chandler, Ariz.; Joey Galloway, Manor, Sask.; Dev Malmlov, Moorhead, Minn.; and Tim Perkins, Bismarck.
1st "B" feature (top four) – 1. Tim Ward, Gilbert, Ariz.; 2. Jeff Taylor, Cave City, Ark.; 3. Shawn Strand, Man­dan; 4. Jason Grimes, Jame­stown. 2nd "B" feature – 1. Rusty Kollman, Carrington; 2. Kelly Shryock, Fertile, Iowa; 3. Jason Wolla, Ray; 4. Wayne Johnson, Minot. 3rd "B" feature – 1. Ethan Dotson, Bakersfield, Calif.; 2. Mike Hansen, Dickinson; 3. Troy Heupel, Williston; 4. Steven Pfeifer, Minot.4. John Hansen, Brush, Colo.
Stock Car feature – 1. Joe Flory, Williston; 2. Elijah Zevenbergen, Ocheyedan, Iowa; 3. Andrew Altenburg, Tru­man, Minn.; 4. Nathan Burke, Minot; 5. Dalton Flory, Williston; 6. Austin Daae, Estevan, Sask.; 7. Cody Nelson, Kenmare; 8. Joren Boyce, Minot; 9. Eric Harpole, Bismarck; 10. Beau Deschamp, Bottineau; 11. Josh Defoe, Williston; 12. Brendan Eilts, Grand Island, Neb.; 13. Justin Striefel, Minot; 14. Gary Goudy Jr., Stoughton, Sask.; 15. Keith Mattox, Ray; 16. Jordan Durward, Trenton; 17. Mike Swallers, Minot; 18. Aden Clark, Surrey; 19. Scott Yale, Minot; 20. Jon Courchaine, Pound, Wis.; 21. Kyler Jeffrey, Williston; 22. Steve Kihle, Williston; 23. Rory Opp; 24. Greg Wichman, Bon­duel, Wis.
Heat winners were Jeffrey, Nelson, Joe Flory and Opp. "B" feature winners were Harpole and Dalton Flory.