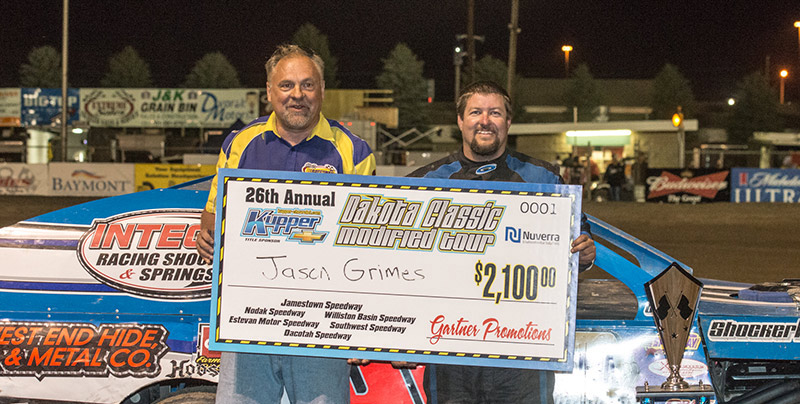 MANDAN, N.D. (July 9) – Jason Grimes became the fifth different Xtreme Motor Sports IMCA Modified winner on another record-shattering night Thursday for the Kupper Chevrolet Dakota Classic Tour.
An all-time tour best 98 Modifieds saw action at Dacotah Speedway, five more than the previous mark set on opening night Sunday at Minot. One hundred and twenty-two of the best drivers in the division have converged on the tour thus far, two more than the previous record set in 2010 and equaled last year.
Grimes drew the pole at Mandan but Jett Big Eagle rocketed into the lead from his outside row one start.
Seven circuits into the 30-lapper, Grimes was in front and found himself in a back-and-forth, slice-and-dice tussle with Mike Hansen.
"I'm not sure who was first every lap but I led the one that counted most," said Grimes, $2,100 richer and new to the Fast Shafts All-Star Invitational ballot. "Lapped traffic hurt me originally but I was able to use it to my advantage at the end."
Lucas Schott worked his way up to second. Hansen, Big Eagle and defending tour champion Jeff Taylor completed the top five.
Taylor had qualified by winning his "B" feature and started 14th. Point leader Ricky Thornton Jr. took a provisional start and finished 14th.  He leads 2013 champ Aaron Turnbull by eight points and Taylor by nine heading into the Friday finale at Jamestown Speedway.
Grimes is following the tour for the first time and had qualified for three of the first four main events.
"I've won a few big races before," he said. "The fact that this one came in my own (GRS) chassis makes this one of my biggest wins."
Elijah Zevenbergen became the first repeat IMCA Sunoco Stock Car feature winner adding to his points lead by taking the checkers ahead of Joe Flory and Andrew Altenburg.
Thursday was also a record-setting night for the Stocks with 37 entries at Mandan. Sixty-two driv­ers in that division have now competed over the course of the tour.
Feature Results
Modifieds – 1. Jason Grimes, Jame­stown; 2. Lucas Schott, Chatfield, Minn.; 3. Mike Hansen, Dickin­son; 4. Jett Big Eagle, Manor, Sask.; 5. Jeff Taylor, Cave City, Ark.; 6. Aaron Turnbull, Es­tevan, Sask.; 7. Shawn Ander­son, Minot; 8. Kyle Brown, State Center, Iowa; 9. Hunter Marriott, Brookfield, Mo.; 10. Jordan Grabouski, Beatrice, Neb.; 11. Donald Robinson, Underwood; 12. Ed Turnbull, Estevan, Sask.; 13. Spencer Wilson, Minot; 14. Ricky Thornton Jr., Chandler, Ariz.; 15. Curt Lund, Redwood Falls, Minn.; 16. Shawn Strand, Man­dan; 17. Kelly Shryock, Fertile, Iowa; 18. Joey Galloway, Manor, Sask.; 19. Justin O'Brien, West Union, Iowa; 20. Travis Hagen, Willis­ton; 21. Jason Czarapata, Pulaski, Wis.; 22. Jason Wolla, Ray; 23. Adam Larson, Ankeny; 24. Rusty Kollman, Carrington; 25. Mike Jergens, Plover, Iowa; 26. Ryan Ruter, Kanawha, Iowa.
Heat winners were Marriott, Robinson, Shryock, Hansen, Anderson, Big Eagle, Brown, Grimes, Aaron Turnbull, Schott, Ed Turnbull and Grabouski.
1st "B" feature (top two) – 1. O'Brien. 2. Wolla. 2nd "B" feature – 1. Taylor; 2. Galloway. 3rd "B" fea­ture – 1. Strand; 2. Wilson. 4th "B" feature – 1. Hagen. 2. Larson. 5th "B" feature – 1. Jergens; 2. Kollman. 6th "B" feature – 1. Lund; 2. Czarapata.
Stock Cars – 1. Elijah Zevenbergen, Ocheyedan, Iowa; 2. Joe Flory, Williston; 3. Andrew Alten­burg, Truman, Minn.; 4. Scott Yale, Minot; 5. Austin Daae, Estevan, Sask.; 6. Nathan Burke, Minot; 7. Jake Nelson, Williston; 8. Mike Swallers, Minot; 9. Brendan Eilts, Grand Island, Neb.; 10. Chris Ellis, Minot; 11. Dalton Flory, Williston; 12. Greg Wichman, Bon­duel, Wis.; 13. Cody Nelson, Kenmare; 14. Jordan Durward, Trenton; 15. Gary Goudy Jr., Stoughton, Sask.; 16. Joren Boyce, Minot; 17. Blaine Durward, Trenton; 18. Steve Kihle, Williston; 19. Scott Gartner, Bis­marck; 20. Matt Speckman, Sleepy Eye, Minn.; 21. Kyler Jeffrey, Williston; 22. Tyler Tix, Glen­burn; 23. Beau Deschamp, Bottineau; 24. Adam Klocke, Carroll, Iowa.
Heat winners were Dalton Flory, Daae, Burke and Joe Flory. "B" fea­ture winners were Jordan Dur­ward and Speckman.